Last week we posted a number of new Amex Offers including Lowe's Spend $50, Get $10 Back.
Hopefully you jumped on that deal right away.  After seeing this Quick Deal (published by Shawn), I logged into Amex and used the multi-browser trick (details here) to load the offer to all 21 of my family's Amex cards.
Hopefully you also followed the advice I laid out in the post "Holiday giving and getting: Prepare now," where I described ways to increase the number of Amex cards you have that are eligible for Amex Offers.
I'm not sure, but my guess is that this offer is no longer available if you haven't already loaded it to your account.
For those who were able to load the offer, here are my thoughts about how best to use it…
Offer Details
Spend $50 or more in one or more transactions by 12/31/2016 and get $10 back (statement credit)
Not valid for e-gift card purchases
Valid at any participating location in the US.
The offer doesn't specifically say that it is valid online at Lowes.com, but I tested out a $50 by-mail gift card offer and received the expected email "Great news! You just used your Amex Offer".  That makes it very likely that online orders are fine, but doesn't necessarily prove it (see comments).
Buying Lowe's Stuff
If your goal is to buy stuff from Lowe's, you can maximize this deal as follows:
Click through the current best portal for Lowes (found here).  At the time of this writing, TopCashBack is offering 6% cash back.
Buy a $50 physical by-mail gift card (do NOT buy an e-gift card!)
Pay with an Amex card enrolled in this offer.
Repeat each step above for each enrolled Amex card.
At minimum, the above steps will give you 20% off Lowe's Gift Cards.  Hopefully you'll also earn portal cash back.  Unfortunately the Frequent Miler Laboratory does not have recent reports of whether or not this works.  I'm currently testing this and will edit this post once I have results.
UPDATE: TopCashBack shows cash back pending from this purchase. While it is possible that the cash back won't actually post, it is a very good sign that it shows pending.
If the portal works and you earn 6% cash back, then you'll have bought these cards for 26% off.  Pretty good!
Once you have the gift cards in hand, refer to our old post "Extreme savings at Lowes," for details of how to save a lot more.  Some of the techniques may be out of date, but I'll do my best to update that post as readers give feedback about what works and what doesn't.
Buying stuff elsewhere via 3rd party gift cards
If you're not interested in extreme savings at Lowe's, consider instead that Lowe's sells a huge variety of gift cards in-store.  You can easily save 20% off these gift cards, as follows:
Bring all of your enrolled Amex cards to Lowe's
Pick out gift cards with values adding up to $50 x the number of Amex cards you enrolled.  For example, if you have four cards enrolled in the Lowe's offer, then you can get 20% off of $200 worth of gift cards.
When checking out, tell the cashier that you want to "split tender" and pay $50 with one card, $50 with another, etc.
Here are examples of gift cards you can buy:
Department store gift cards:
Grocery, Travel, Pets, Crafts, and more:
Restaurants:
Amazon, movies, music, more:
If you go with Amazon, don't forget that you can stack these 20% savings with the new option to earn 3X points per dollar from JetBlue!
17% off anything
Lowe's sells several types of Visa and MasterCard gift cards that can be used almost anywhere:
Fees for $200 Visa gift cards hover around 3%.  With 20% back (by splitting tender across multiple Amex cards), you'll still clear roughly a 17% discount!  And, don't forget that the Five Back Visa gift card offers the ability to earn additional rebates when using the card!  See: Five Back Visa Gift Card. A new way to earn 5X and save money?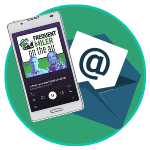 Want to learn more about miles and points?
Subscribe to email updates
 or check out 
our podcast
 on your favorite podcast platform.