As a complement to our Frequent Miler Insiders Facebook Group, we have started a new meetup / seminar series: FM to Go.  We have often had readers ask us to visit their town, and we've wanted to.  But we didn't previously have a good way to pick where to go or how to organize a gathering in towns we don't know well.  FM to Go is the answer. Our next FM to Go is going to be in Philadelphia on February 16th and there are still some spaces left. Read on for the key info and a link to register.
We held our first FM To Go in February 2019 in San Diego. We met at a local library that had free meeting space, which was available from 1pm to 5pm. We presented various topics and answered lots of questions. Afterwards many of us went to dinner at a nearby pizza place. Other than the fact that everyone had to pay for their own dinner, there were no charges for this event.
We then continued with FM to Go events in Minneapolis and the San Francisco Bay Area last year and both went very well. We had a good time and readers seemed to enjoy both the presentations and the opportunity to network with others "in the game".
Frequent Miler Insiders and now Meetup.com
FM to Go events are intended to be extensions of the Frequent Miler Insiders Facebook group.  Our Facebook group has proven to be much better than blog comments as a way for people to interact with each other.  We're now taking it a step further to hopefully get to know you personally.  Side note: if you haven't yet joined, you can join the Frequent Miler Insiders Facebook group here.
However, we recognize that not all readers have Facebook. For that reason, registration for our latest event is via Meetup.com. Attendance at this one is limited to 60 people based on the venue space, so please do not sign up unless you are sure you will attend. Here is the key info:
Next FM to Go event: Philadelphia
Date: Sunday, February 16, 2020
Place: Parkway Central Library, Philadelphia
RSVP Here: https://www.meetup.com/FM-to-Go/events/267973905/
How we decide where to go
The primary approach to picking the FM to Go date and location begins with Greg and I picking a weekend when we're both free to travel.  We then post that date on the Frequent Miler Insiders Facebook Group and ask for proposals.  Who wants to host us?  Group members who are interested can then discuss ideas via location specific chat groups within the Facebook group.  Finally, once a rough plan has been established, they post the proposal to Facebook.  If there are multiple proposals for the same date, we will pick the proposal we prefer.  For example, if we have to choose between Wisconsin or Florida in January, you can bet we'll see you in Florida, but a summer FM to Go would have the opposite result.
The second approach (which was in-play for the Philadelphia event) is for Greg and I to realize that we will be in the same place at the same time anyway and might as well do an FM to Go while we're there.  It happens that we will be in Philadelphia for a separate event anyway, so yeah.  We're doing it.
We're not looking for anyone to pay our way. We have our own miles for flights and points for hotels. We're doing this because we love meeting with group members and sharing things that we don't cover on the blog. This is a way for us to connect with you.  Hopefully we'll see you soon!
Other upcoming events
FTU Washington DC (+ Travel & Adventure Show) 3/7/20-3/8/20: Greg will talk about our 40K to Far Away challenge and I'll talk about Awards worth MSing for. Find more detail and a link to registration on our events page.
Ann Arbor Art Fair Do July 2020: I'm not sure whether we'll be able to make it this year, but I highly recommend this free event to all miles & points collectors. I don't believe that 2020 information is out yet, but keep an eye on Flyertalk for info. This was last year's thread.
Chicago Seminars October: We will likely present in Chicago at this annual event, which I believe will be held from October 16-18, 2020 . Once details are released (typically around mid to late summer), we'll update our event schedule page with a link. I highly recommend this one too. It's not free, but it's cheap.
We always add events like these to our Frequent Miler Event Schedule page, so bookmark that page if you are interested in keeping track of future events.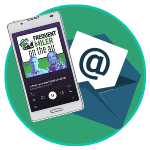 Want to learn more about miles and points?
Subscribe to email updates
 or check out 
our podcast
 on your favorite podcast platform.