SoFi Money is offering 20% cash back on Lyft Rides between 11/20/19 and 2/18/20 when you set your SoFi Money debit card as your default payment method in your Lyft account (up to $1,000 cash back). That's a potentially great offer since it should stack with other promos / partnerships with Lyft.
The Deal
SoFi Money is offering 20% back on Lyft rides when you add your SoFi Money debit card to your Lyft account and set it as your primary payment method (good for rides from 11/20/19 to 2/18/20, up to $1,000 back)
For those who missed our previous posts about SoFi Money, I strongly encourage you to read this postfor full details. If you're new and interested in  opening a new account, consider using one of our team's referral links with our thanks.
SoFi Money links
SoFi Active Investing links
Key Terms
Promotion with Lyft through the Program is open to current SoFi Money members.
No opt-in required. To participate, enter your SoFi Money debit card number in the Lyft app and use it to pay for rides.
Promotion Period: 11/20/19 12:00PM EST – 2/18/20 11:59AM EST. Only Lyft rides completed and processed for payment during the Promotion Period are eligible for the Cash Back Promotion.
20% cash back is calculated using the quoted price for your Lyft rides only – it does not apply to other charges such as tips, cancellation fees, and other services such as rental and bike rides. Cash back will be rounded up to the nearest cent.
The maximum cash back that can be earned during the Promotional Period is $1,000 USD per user.
During the Promotion Period, SoFi Securities, Inc. will credit the cash back reimbursement into the participant's SoFi Money account. Cash back reimbursements can be delayed by up to 14 business days. SoFi reserves the right to terminate the promotion at any time without notice.
Quick Thoughts
I know that many readers have recently signed up for SoFi Money thanks to the easy bonus offer and generous referral offers they have recently run. For those unfamiliar with SoFi Money, it is a cash management account that offers 1.6% APY (currently) and a debit card that reimburses most ATM fees worldwide, with no monthly minimums or direct deposit requirements. To learn more about SoFi Money and why they have an awesome deal going (including the current $50 bonus for opening a new account and funding it with $100 and the Investing bonus of $100 if you open an Investing account and deposit $1,000), see these posts:
This new offer is good for 20% back on Lyft rides through 2/18/20 (up to $1,000 back). That looks like a solid deal to me. Keep in mind that the cash back does not apply to tips, cancellation fees, etc. Terms also state that cash back reimbursements can be delayed by up to 14 business days, so I wouldn't expect the cash back to post immediately. Still, it's a nice offer if you take Lyft often and especially so if your rides are reimbursed by an employer or client.
The odd thing here is that I feel like SoFi is not really encouraging me to keep much money in the account. I love the idea of 1.6% APY on a checking-like account and the ATM fee reimbursements for the times when I need cash, but I don't like to keep a ton of money in an account with a debit card I intend to use just for the risk of fraud (SoFi does note Visa Zero Liability, which you can read more about here). That said, for 20% back, I think I'd just keep my SoFi Money balance at a threshold of a few hundred bucks at a time and add my debit card to take advantage of this promo if I took more Lyft rides. In fact, I do have an upcoming trip where Lyft could come in handy, so maybe I'll add my SoFi debit card. I've often found Lyft to be cheaper than Uber, I'm just in the habit of using the Uber app (maybe this offer can help me break that).
Overall, it's great to see SoFi continue to offer great value. Between the easy new account and referral bonuses, the targeted direct deposit bonuses, and this offer, I feel like this no-brainer account has worked out pretty well for many folks so far.
H/T: The Flight Deal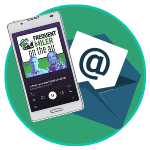 Want to learn more about miles and points?
Subscribe to email updates
 or check out 
our podcast
 on your favorite podcast platform.