My Chili's Rewards – the loyalty program for Chili's now that their partnership with Plenti is ending – is offering all members free chips & salsa or a free non-alcoholic beverage every time you visit.
The Deal
Get a free chips & salsa or non-alcoholic beverage every time you visit Chili's.
Key Terms
Must be a member of My Chili's Rewards.
Log in to your account at your table's Ziosk to redeem this offer at checkout.
The free chips & salsa or non-alcoholic beverage can be redeemed with any other available rewards.
Quick Thoughts
This is a fairly good offer seeing as it's free to join My Chili's Rewards and you can use it every time you visit Chili's. The chips & salsa usually costs $3.79, while the most expensive non-alcoholic beverage appears to cost $3.39 (assuming that the gallon servings for $7.09 aren't included.)
Chili's frequently sends me emails with an offer for a free appetizer or free dessert. Being able to stack one of those offers with the free chips & salsa means we'd be getting $10 of free food during every visit to Chili's. There's no minimum spend mentioned, so in theory there's nothing stopping you (other than your pride maybe) from only ordering chips & salsa and a dessert and getting a free "meal" if you also have one of the free dessert rewards in your account.
We bought quite a few Chili's gift cards for 40% off during last year's Google Express Amex Offer. We've therefore eaten there several times over the last few months, having not visited for a few years. I have to admit, I've been pleasantly surprised by their new menu, so this gives us a possible reason to return once we've used up our gift cards.
Personally, I think it's smart of Chili's to offer this. Everyone loves free stuff, but it's unlikely to cost them much given that chips & salsa and soft drinks probably have the highest markup of anything on their menu. That means it's only costing them a fraction of the $3.79 / $3.39, a small price to pay if it encourages customers to visit more frequently. Hopefully it'll be seen as a success so that other chain restaurants offer similar deals.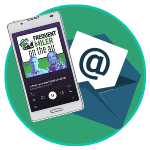 Want to learn more about miles and points?
Subscribe to email updates
 or check out 
our podcast
 on your favorite podcast platform.