It's Tuesday, so it's time for another set of T-Mobile Tuesdays offers – here's what on offer this week.
The Deals & Key Terms
Shell – Save 10c per gallon on up to 20 gallons.

Claim in app by March 21 at 4:59 am ET.
Add code to Fuel Rewards account and use at pump by March 23 at 11:59 pm ET.
Limit one per Fuel Rewards account.

Dining Advantage – Get $20 in credit.

Claim in app by March 21 at 4:59 am ET.
Redeem code at diningadvantage.com or on their mobile app by March 26 at 11:59 pm ET (it doesn't look like the credit itself has to be used up by then.)
Limit one gift code per person.

T-Mobile Umbrella – Free in-store.

Claim in app by March 21 at 4:59 am ET.
Present this offer at a participating T-Mobile store from store opening on March 20 until store closing on March 21.
While supplies last.

Vudu – Free movie rental.

Claim in app by March 21 at 4:59 am ET.
Redeem at Vudu by March 21 at 4:59 am ET.
Valid for rental of any movie or up to $5.50 off the purchase of a movie.
Once redeemed at Vudu, you have six days to make your rental selection.

HotelStorm – Save on hotel stays.

$40 off one-night stays, $100 off two-night stays, $160 off three-night stays and $60 off any additional nights more than three.
Claim in app by March 31 at 11:59 pm ET.
Redeem at hotelstorm.com/t-mobile by March 31 at 11:59 pm ET.
No code necessary.
No limit to number of reservations you can complete.
Reservations can only be made up to eleven months in advance.

T-Mobile – 25% Off All Phone Cases

Claim in app by March 21 at 4:59 am ET.
Use code TMT25 at participating T-Mobile stores or online at T-Mobile.com by March 21 at 2:59 am ET.
Quick Thoughts
None of these offers are particularly lucrative, but several could be useful. The Fuel Rewards code stacks with other Fuel Rewards discounts (such as this one), so that can save you some money so long as Shell isn't much more expensive than your other gas options.
I'd not heard of Dining Advantage before so had a quick look into it. It appears to be run by Entertainment.com and so features the restaurants you'd find in Entertainment books. The $20 credit from T-Mobile Tuesdays would then be used to purchase specific coupons for discounts when eating at those restaurants.
For example, I used to buy the Hampton Roads Entertainment book each year. Inside that, there'd always be a coupon for a Buy One Get One Free Burrito or Taco Your Way at 619 Cantina (which, incidentally, has delicious mango mojitos.)
With this offer, you could instead purchase that same coupon for $2 from your $20 of Dining Advantage credit.
In addition to locally-owned restaurants, it's likely that you'd also have participating fast-food restaurants in your area.
I guess the free T-Mobile umbrella would be worth it, so long as you don't mind being a walking advertisement in the rain.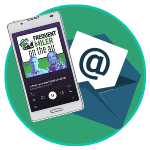 Want to learn more about miles and points?
Subscribe to email updates
 or check out 
our podcast
 on your favorite podcast platform.