Last year, I completed a promotion whereby I referred a business to SWABIZ and they booked (and I flew) a single round trip and I earned 25,000 redeemable Southwest Rapid Rewards points. That promotion returned earlier this year (See: [Back for 2022] Southwest offering 25K points for referring your company's travel manager). It was really easy. An unfortunate hang-up on that promotion was that the bonus points were not Companion Pass qualifying.
However, Southwest recently upped the ante big time for those who know small business owners: you can now earn 25,000 points per company you refer up to 125,000 points — and now these are Companion Pass qualifying points. In other words, you could refer 5 businesses now and potentially earn a companion pass that's good until the end of next year (though you'd be better off waiting to earn the 125,000 points early next year as you'd then be only 10,000 points away from earning a Companion Pass for all of 2023 and 2024, or if you currently have a Southwest credit card then the 125K earned here would be enough to get you the Companion Pass if the bonus points all post next year). Note though that the company you refer does need to book and complete a round trip for an eligible traveler of the company through their SWABIZ account within 90 days of being referred, so whomever you refer will need to be ready to book a ticket for someone in the near-term. I'd also probably err on the side of making sure that the round trip travel happens after January 1st just in case they backdate your points to the date the trip is completed.
The Deal
Southwest Business is offering 25,000 Rapid Rewards points per qualifying referral (up to 125,000 bonus Rapid Rewards points) when you refer a company between September 26, 2022 and December 31, 2023 and the company you refer is qualified by Southwest Business, the company you referred enrolls in SWABIZ within 30 days of when Southwest Business sends an email notifying the company it is qualified for the self-service (SWABIZ) business partnership with Southwest Business, and within 90 days from when the company you referred has enrolled in SWABIZ (such 90 day period, the "Post Enrollment Period"), the company books through swabiz.com using their company's corporate identification number, and an eligible traveler of the company flies one qualifying revenue round trip flight, you will earn 25,000 Rapid Rewards bonus points

If your company qualifies to enroll in SWABIZ:

Your company will have 30 days from the date that email was sent to enroll in SWABIZ.
After your company is enrolled in SWABIZ, you'll receive an email letting you know you have 90 days to book through swabiz.com and fly one qualifying revenue round trip flight. This email will contain additional instructions on how to earn the 25,000 bonus points.
Once the qualifying round trip flight is flown during the required 90-day period, you'll earn 25,000 bonus points.

If your company qualifies for a managed relationship, you'll earn 25,000 bonus points. (Note that there is no round trip revenue flight requirement if the company qualifies for this, though I imagine this would require an established company with substantial travel)
Key Details
Quick Thoughts
This process was very simple when I previously completed it. You fill out a form referring a company's travel manager to SWABIZ by giving their name, email, and phone number (and providing your Rapid Rewards number). Then they receive an email with a link to agree to receive information about travel management solutions from Southwest Business (note that they do need to opt in to receive info). They need to submit that form with their name, email, job title, and annual travel spend of their company and then you will either receive 25K points if the company qualifies for a managed relationship or if the company qualifies to enroll in SWABIZ instead they will have 30 days to enroll and then you will have 90 days to book one qualifying round trip revenue flight through swabiz.com in order to receive 25,000 bonus Rapid Rewards points. That seems like a great deal.
Note that the prices through swabiz are identical to the prices at Southwest.com — the difference is just that swabiz makes it easy for a company travel manager to have travel details for all employees in one place (while also making it possible for employees to use a company credit card to book their own travel without giving that card number to the employees, etc).
I imagine that there may be a threshold of annual travel required to qualify for Southwest Business booking, so some companies may not qualify. Also note that if your company only qualifies for the SWABIZ account and you need to fly a round trip to get the points, you'll need to only book the round trip after your company enrolls and it has to be a round trip returning to your city of origin according to the terms (so two separate one-ways won't work).
I was able to refer my wife's business and I flew the qualifying paid round trip in late 2021. The 25,000 bonus points posted about two weeks later.  My wife did have to answer some questions (via email) about how much her business typically spends on travel, which she answered with a non-pandemic level of travel in mind. Some readers haven't been approved, so YMMV. It really doesn't take much effort for a travel manager to complete their part here if you were worried about inconveniencing someone you know who owns a business.
A quick tip about the round trip flight requirement: while the Southwest rep told my wife that she / I could go ahead and book my qualifying round trip once she enrolled, the official email from Southwest saying that "you can now book your trip to earn bonus points" arrived a couple of weeks later. By a strict reading of the terms, we had to wait until that email arrived to book, though in my case we did not wait. We booked after the rep gave the green light but before the automated Southwest email and I still got the points as expected.
I mentioned in the intro that you might want to wait to complete the qualifying round trip until after 1/1/23 because it would stink if the points posted in 2023 but got backdated to the date of travel. For that reason, it might make sense to hold off on referring for another month or two since this promotion is scheduled to run through December 21, 2023.
For those traveling who know companies or friends who are small business owners who may qualify, this could be an easy 25K points per business. Of course, it's not super simple since those businesses will need to book someone to fly round trip, but I imagine that some readers likely know a person or two who may qualify and be able to meet the requirements. Earning all 125K points may be somewhat challenging, but if you run with an entrepreneurial crowd, it certainly isn't impossible. Note that the 125K limit is per rolling 12 months.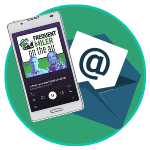 Want to learn more about miles and points?
Subscribe to email updates
 or check out 
our podcast
 on your favorite podcast platform.