Update 5/24/21: Success! Some will remember that the Wyndham shopping portal was briefly offering 124 points per dollar at Things Remembered (deal has since expired) and so I went for it despite knowing from readers that it was unlikely to work correctly.  And, as expected, the initial news was that my purchase only tracked at 31 points per dollar.  So, I filed a missing points claim.  I never heard from the Wyndham shopping portal's support team after filing that claim, despite the message saying that they would respond within 72 hours (I filed the claim more than 40 days ago).  But that's OK, because today I received a great message from the portal saying that all of the points I had expected were earned!  I really did earn 124 points per dollar!  Now I wish I had spent a lot more!  Here's to hoping that a similar promo returns someday…
---
Update 4/9/21: As expected, my Wyndham portal purchase tracked at far less than the promised 124 points per dollar.  The portal is showing only 31 points per dollar earned.  I filed a claim here, and was promised a response within 72 hours.  We'll see.  Readers have reported that the promised quick response did not happen …
The original post follows…
---
I know that I'll have to fight for the points, but I just couldn't resist…  We've reported before that the Wyndham Shopping Portal is currently offering some amazing rates including 124 points per dollar at Things Remembered.  I went for it.
That's a ridiculously good deal.  Unfortunately, multiple readers have reported that their pending points from Things Remembered are only 30 points per dollar.  This means that we'll have to fight for the correct points.  I decided that, for me, it's worth the hassle.  I recorded screen shots every little step along the way: the portal, the pop-up showing that I was on my way for 124X, items in the cart, the check-out screen, and the final confirmation screen.  I have all that plus the email receipt to prove my case.  It might take effort and time, but I hope and expect to eventually earn the promised points.
Wyndham free nights at Vacasa vacation rentals cost 15,000 points per bedroom per night.  As I've reported before, there are some very nice looking 1 bedroom rentals out there.  If the 124X deal plays out, you would only have to spend $121 at Things Remembered to earn enough points for a free night!  And if you have a Wyndham Earner card, which offers a 10% discount on awards, you would only have to spend $109 to get enough points for a free night.
I bought $143.49 worth of stuff that we might actually enjoy having (a scarf, pen, and bar set).  If I actually earn 124X, that purchase should result in 17,793 points.  After taxes, I paid a total of $152.10.  If you think of this as using the deal to buy Wyndham points at a discount, this should result in a per-point price of $152.10 / 17,793 = 0.85 cents per point.  That's not bad considering I'll also get stuff I kind of want from Things Remembered!
Caution: If you do this too, please don't blame me when it doesn't work out.  We've already been warned that the portal is tracking these purchases at only 30 points per dollar and so there's a chance that we'll never see the full 124X.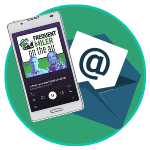 Want to learn more about miles and points?
Subscribe to email updates
 or check out 
our podcast
 on your favorite podcast platform.