Apple Pay is out with a new set of promotions good for savings at a number of popular merchants. This can make for some great stacking deals if you're able to combine it with either the Chase Pay deal (See: 1,000 Ultimate Rewards points w/ 5 purchases via Apple Pay) or better yet with the Amex Apple Pay deal (See: New offer for Apple Pay: Spend $5, get $2 back 5x [Targeted]) and a good Amex offer. I'm not positive whether or not Amex Offers will be triggered with Apple Pay as I'm not an Apple user, but I imagine they might be.
The Deal
Key Terms
Offer valid April 5th-18th, 2018
See each partner for offer terms
Quick Thoughts
If you're planning to spend money with any of these merchants, these offers could be pretty good. I haven't yet used Turo, but I've seen rentals that are pretty cheap — $25 off could be a great discount depending on which kind of car you want and your market.
The offer for Boxed.com could be very good if you're able to stack it with several Amex Offers:
Spend $5 or more, get $2 or 200 Membership Rewards points (depending on your offer)
Spend $75+, get $20 or 2,000 Membership Rewards points (expires 4/15/18)
Get 1 additional Membership Rewards point per dollar
The new Apple Pay offer offers 20% off an order of $60 or more with promo code USEAPPLEPAY. The terms state the offer is for new customers only. I don't know whether or not that will be enforced. However, it's a solid deal if you can take advantage of it. If you stacked all three, the math might look like this:
Go through a shopping portal (current high rate is 4%), spend $93.75, get 20% off with code USEAPPLEPAY = $75 – 4% = $72.96 net cost
Check out with a card that has all three Amex Offers loaded:
$72.96
     -22
$50.96 net cost, 146 or more Membership Rewards points earned
Fifty-one bucks for $93.75 in merchandise is a pretty sweet deal. Alternatively, if you use the Membership Rewards versions of the offers, you'd end up paying $72.96 net and earning ~2346 Membership Rewards points (an even better deal in my book).
The only other merchant on the list with a current Amex Offer to my knowledge is Sak's Fifth Ave, though the Apple Pay offer is only giving you free 2-day shipping, which probably isn't worth much since you can already get free 2-day shipping (and free return shipping) via Shoprunner. Keep an eye out in coming days in case any additional Amex Offers pop up.
Alternatively, if you make use of the Chase Pay offer, a couple of these transactions could help you earn a free 1,000 points.
H/T: Doctor of Credit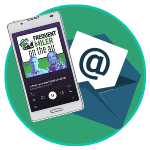 Want to learn more about miles and points?
Subscribe to email updates
 or check out 
our podcast
 on your favorite podcast platform.