Do you like to watch the game on a big TV? How about Planet Earth? Friends reruns? I won't judge. If you're in the market for a new home theater display, Dell has a very good deal on a Vizio 60″ 4K HDTV. With a couple of easy steps, it can be made into a great deal by stacking cash back, a gift card offer, and your credit card's price protection.
The Display
Update: Note that this is a home theater display rather than a TV — meaning that it has no built-in TV tuner. If you need a tuner, you'll need to buy one separately.
Dell has the VIZIO 60 Inch 4K Ultra HD Home Theater Display E60-E3 on sale for $749.99 and it comes with a $300 Dell Promotional Gift Card.
As you can see in the picture above, it says that with the purchase of this TV, you will receive a $300 Dell PROMO eGift card sent via email in 10-20 days and that gift card expires 90 days from issuance. Both of these details are important. If you are going to get in on this deal, understand that you will receive the $300 promotional card via email in a couple/three weeks and you must use it within 90 days. I suggest setting reminders on your phone both to keep an eye on your email and to use it within 90 days.
That's a pretty good deal
If you value the gift card at anywhere near face value, that's a pretty solid deal. Google Shopping says that most retailers sell it for $700-$750. Walmart has it for $628.
So if you have a use for an additional $300 worth of "stuff" from Dell, this looks like a good deal for sure. You're paying an extra $122 for a $300 Dell gift card — not a bad trade. But it gets better.
Ebates birthday week
As part of it its birthday week cash back special, Ebates is offering 15% cash back at more than 200 stores — including Dell Consumer today.
By shopping through Ebates, you'll get 15% cash back on the $749.99 — that's $112.50 cash back. You'll want to go back through eBates and search at Dell.com for the part number — A9261211 — in order to find the TV and add it to your cart.
Net cost on the TV above after cash back would be down to $637.49 for that TV + a $300 promo eGift card. That's a really good deal.  But it gets better.
Credit Card Purchase Protection
Several credit card issuers offer purchase protection — whereby you can get a refund from the bank if you buy something and then find a better price elsewhere. Two banks that I have used several times with this benefit in the past are Citibank and Discover. Utilizing Citi's Price Rewind or Discover's price protection, you should be able to buy this TV from Dell and then immediately submit a claim if you have found the same TV at a lower price elsewhere. Note that with Citi's Price Rewind, they will offer to automatically track the price for you — but if you've already found a lower price, you can fax in this form with the necessary information. As you may remember from Google Shopping above, we have already found a better price. Walmart.com is selling this same TV for $628.
If you buy this TV from Dell for $749.99, you should be able to submit a claim with Citi or Discover and receive a credit or check for the difference — $749.99 – $628 = $121.99. That's in addition to your Ebates cash back and the Dell promo eGift card.
Putting it all together, it will look like this:
$749.99 = price paid today
-$112.50 = Ebates 15% cash back
-$121.99 = credit card purchase protection
$515.50 for the TV + a $300 Dell Promo eGift Card
Even if you throw the $300 gift card in the trash, you're coming out more than a hundred bucks ahead of the best price I see on this TV. But I'm betting you won't throw it in the trash — and you're going to come out even further ahead in the end.
Is the TV any good?
I don't know. Vizio has made a good name for itself. The TV doesn't have all of the "smart" functions, but it's got a Chromecast built-in, which is all the "smart" function I really need on my TV. Reviews on Google and Newegg (where it's even a few bucks cheaper — might be better to make your claim against their price) look pretty good. That said, do your own due diligence and decide if the TV is good for you. If it is, the price is certainly right when stacking all of the above.
H/T: Slickdeals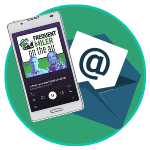 Want to learn more about miles and points?
Subscribe to email updates
 or check out 
our podcast
 on your favorite podcast platform.