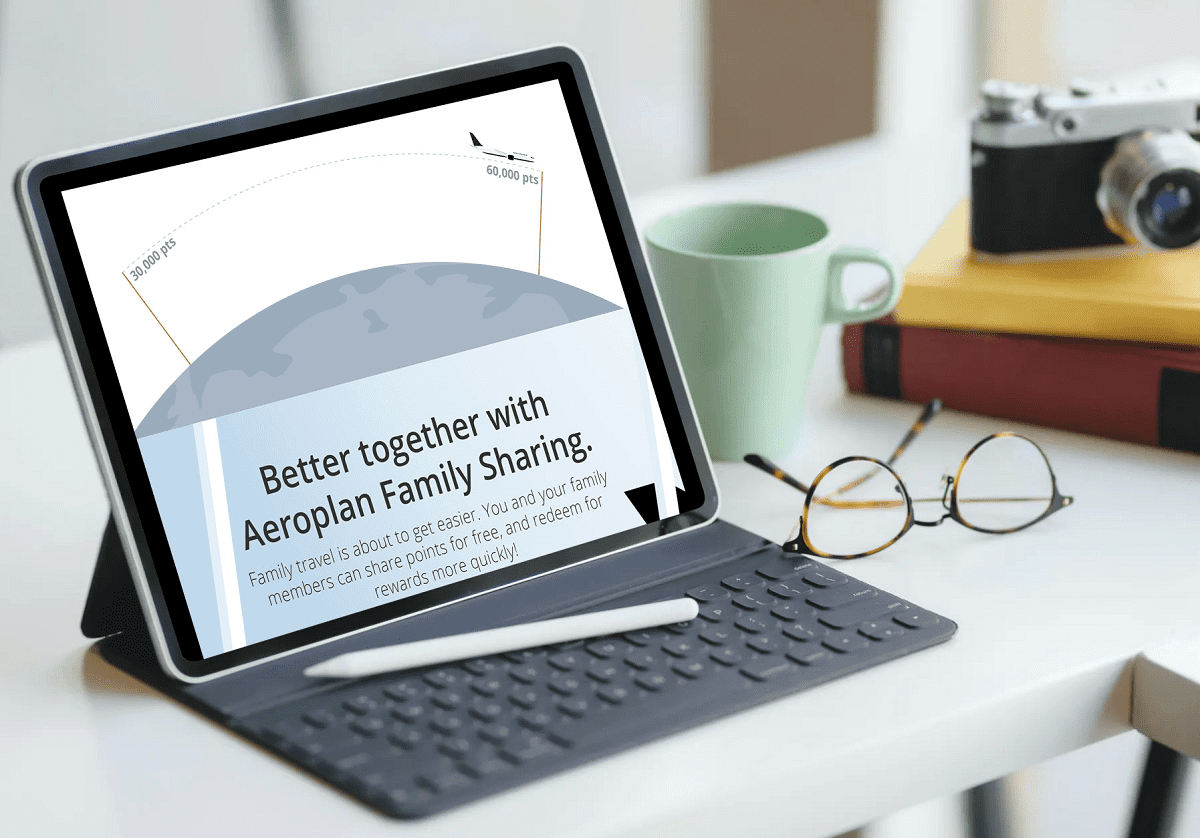 Air Canada's new loyalty program is now live.  Not interested?  Think again.  Air Canada Aeroplan points can be used to fly any Star Alliance airline (United, Lufthansa, ANA, etc.) or non-alliance partners (Etihad is particularly notable) with no carrier-imposed surcharges.  And you don't need to fly Air Canada to earn those points.  Points are transferable from Amex Membership Rewards, Capital One, and Marriott Bonvoy.
The following guide details what you need to know about the new Air Canada Aeroplan program.
Air Canada Aeroplan Overview
Aeroplan Points: Unlike programs which continue to call their rewards "miles", the new Aeroplan refers to their rewards as "points".
Every seat, every flight awards: Every Air Canada seat that's available to buy in cash, you can redeem for with points. No restrictions. No blackout periods. (this does not apply to awards on partner airlines).  Flights with higher cash prices will cost more points.
No cash surcharges (except $39 CAD for partner awards).  No fees for booking awards on Air Canada flights.  Partner flights no longer incur carrier imposed (fuel) surcharges.  Air Canada does charge a $39 CAD partner booking fee for awards that include partner flights.
Revenue based earnings: Earn points based on the price you pay rather than the miles flown.
Hybrid zone/distance based award charts: Award pricing is mostly distance-based, but with different award pricing depending upon which zones you fly between or within.
Family sharing: Combine points across your family.
Recent posts about Air Canada
Sorry, no posts were found.
Air Canada Aeroplan Pros and Cons
Pros
No carrier imposed fuel surcharges
Add a stop-over on a one-way award for 5,000 points
Flexible award routing rules
Family sharing makes it easy to share points
Points + Cash awards offer good value
Innovative elite perks such as status sharing (similar to Hyatt's Guest of Honor awards) and 50%-off awards.
Awards booked on Air Canada flights often price lower than the award charts suggest (see this post for details).
Cons
Stopovers are not yet bookable online.
$39 CAD award booking fee for partner flights.
Point earning on paid flights is very low (starts at only 2 points per dollar).
Distance based award charts sometimes lead to overpriced awards compared to competing programs.
Earn points
Flights
Currently, points are earned based on the number of miles flown, but later in 2021, earning will be based on the amount paid.  Exact earnings depend on fare class and elite status.  Basic economy flights earn 2 points per dollar and all others earn 3 points per dollar.  Your status can increase your point earnings, as follows:
Elite Status
Basic Economy
Points Per Dollar
Other Fares
Points Per Dollar
No Status
2
3
25K
3
4
35K
3
4
50K
4
5
75K
5
6
Super Elite
6
7
Compared to other North American airline programs (such as AA, Delta, and United), points earning through flights is very weak with Air Canada.
Partner Flights
When booking paid flights with Star Alliance airlines or non-alliance partner airlines, it's usually possible to assign your Air Canada Aeroplan number to the reservation in order to earn Aeroplan miles and status.
I recommend using Where to Credit to see if Air Canada is a reasonable option for the flight you are purchasing.
Transfer from other points programs
You can transfer points from transferable points programs as follows:
Non-flight options for earning points
Air Canada lists these non-flight options for earning points:
Hotels: Many hotel chains offer the option to earn Air Canada miles for your stay. Note that it is usually more rewarding to earn the hotel program's own points intead.
Car Rentals: Several car rental companies offer the option to earn Air Canada Aeroplan miles.
Airport Parking
Aeroplan eStore shopping portal.  Earn bonus miles when shopping online or at select merchants in-store.
Spend points
Award Partners
Aeroplan points can be used to book flights on Air Canada, any Star Alliance carrier, and select Air Canada Aeroplan partners.  Unlike many other programs, there is no problem mixing and matching on a single award.  For example, a single award can include flights from both Star Alliance and non-alliance partners.
In addition to the Star Alliance partners, the following partners are bookable with Aeroplan points (asterisks * indicate that this partner is bookable online):
Air Creebec
Air Serbia
Azul Brazilian Airlines
Canadian North*
Cathay Pacific*, but only for select flights connecting beyond Hong Kong: Chiang Mai, Thailand, Phuket, Thailand, Bangkok, Thailand, Cebu, Philippines, Manila, Philippines, Kuala Lumpur, Malaysia, Ho Chi Minh City, Vietnam,Hanoi, Vietnam
Etihad*
Eurowings
GOL*
Juneyao Airlines
Olympic Air
Vistara*
* Bookable online
Award charts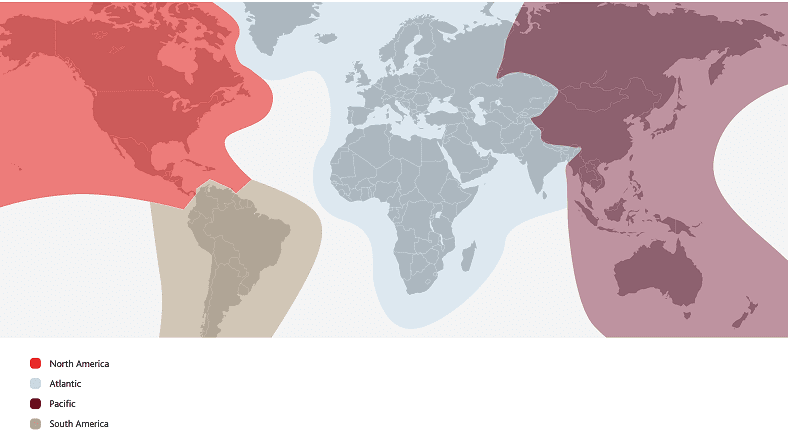 Air Canada Aeroplan offers different distance based award charts depending upon which zone you are traveling within or which zones you are traveling from and to.  The image above shows the four zones: North America (red), Atlantic (blue), Pacific (purple), South America (tan).
The complete set of award charts can be found here.  Award charts specific to flying from or to North America are also shown below.  The following award charts show one-way award prices.  Prices are based on the actual distance flown on all segments (not just the distance from the origin to the destination).
Flights on Air Canada itself show a range of prices because all seats are available for awards.  Surprisingly, awards booked on Air Canada often price lower than the award charts suggest (see this post for details).
Partner flights are available only when that partner makes seats available as partner awards. With most programs these are known as saver-level awards.  For example, when United shows a saver-level award available on one of its flights, you should be able to book it with Air Canada Aeroplan.
Within North America
Between North America and Atlantic Zone
Between North America and Pacific Zone
Between North America and South America
Stopovers
Air Canada allows adding a stopover to a one-way award.  They charge 5,000 points to add a stopover.  Stopovers are not available in Canada or the United States, regardless of itinerary, origin, or destination.
Awards with stopovers can be booked by calling Air Canada.  The ability to book these awards online is expected to be introduced in 2021.
Points + Cash Awards
After finding an award online, Aeroplan offers the option to pay with a combination of cash and points. The first option is to pay for the entire award, including taxes and fees, with points. This is the only option I don't recommend because you'll only get 1 cent CAD per point value for the points used to cover taxes and fees.  The next option is the standard award options.  The next two are options to pay fewer points in exchange for more cash.  These two options are like buying points for 1.8 cents CAD (1.4 cents USD) per point. That's pretty good!
Points + Cash Example
Here's an example where the award costs 23,800 points plus $11.83 CAD:

Options:
Pay for taxes & fees: Pay for the taxes & fees with points (24,983 points all-in).  The extra 1,183 points gives you only 1 cent CAD per mile value over paying 23,800 points + $11.83 CAD.  This is a poor value option.
Standard award: Pay 23,800 points + $11.83 CAD
Points + Cash option 1: Pay 19,100 points + $96.43 CAD.  This option saves 4,700 points in exchange for an extra $84.60 CAD.  It's like buying points for 1.8 cents CAD (1.4 cents USD per point).  That's a good value!
Points + Cash option 2: Pay 14,300 points + $182.83 CAD.  This option saves 9,500 points in exchange for an extra $171 CAD.  It's like buying points for 1.8 cents CAD (1.4 cents USD per point).  That's a good value!
Waitlisting
Waitlisting awards is not permitted.
Infants (Lap Children)
For international awards, Air Canada Aeroplan charges only $25 CAD or 2,500 points per direction of travel for a lap infant.  That's far cheaper than most competing programs!
The following is quoted directly from Air Canada's new flight rewards policy (found here):
Infants under the age of 2 and not occupying a seat may accompany an adult
travelling on a Flight Reward and will require a separate ticket for travel, subject
to the below:

For travel wholly within Canada, no fare will apply and the infant requires a ticket.
For travel between Canada and the United States, no fare will apply and the infant requires a ticket.
For all other itineraries, a discounted fare of CAD25 or 2,500 Points will apply per direction of travel and the infant requires a ticket.

Where applicable, taxes, fees and charges will be assessed and must be paid in
cash.

Only one infant under the age of 2 not occupying a seat is permitted per adult
travelling. Children over the age of 2 will require their own seat and Flight Reward ticket.
Award Change Fees
Cancel within 24 hours for no fee
Up until two hours before you fly, you can cancel or change any flight reward. While a fee does apply, in the case of a cancellation, you'll get a refund of all of your points back into your account, along with any eligible third-party taxes, fees and surcharges associated with the unused value of your travel.
Fees for changes and cancellations depend upon the fare class booked (see the image above).  In most cases you'll incur the following fees for making changes online:

Change itinerary at least 60 days prior to departure: $75 CAD
Change itinerary less than 60 days prior to departure: $100 CAD
Cancel award for a refund of miles and fees: $150 CAD

The above fees are waived for 100K "Super Elite" members.
In-flight spending points options
Bid on upgrades
Air Canada previously allowed bidding cash for upgrades, but now they allow bidding Aeroplan points as well.  When you purchase an Economy or Premium Economy Class ticket on an eligible flight operated by Air Canada or Air Canada Rouge, or under the Air Canada Express banner, you can make an offer for an opportunity to be upgraded to a higher cabin class.
At any time up until 56 hours before your flight, you can:
Around 48 hours before your flight, Air Canada will send you an email to let you know whether your offer was accepted.
If it is accepted, your credit card or Aeroplan account will be charged for the amount you bid. Your upgrade will appear on your boarding pass.
If your offer is not accepted, you won't be charged and you'll keep the seat you have.
Pay for in-flight wifi
Expected December 2020.  We will update this section with more information once it is known.
Non-flight spending points options
These options usually do not offer good value for your points:
Hotels
Car rentals
Air Canada Vacations
Aeroplan eStore (merchandise, activities, gift cards)
Aeroplan Elite Status
Air Canada calls its elite program "Aeroplan Elite Status".  As with most programs, higher levels of status offer more and more benefits.  Here's a summary:
Elite status requirements
Air Canada Aeroplan offers five elite status levels.  To achieve each level of status you must earn a set number of status qualifying miles (SQMs) or status qualifying segments (SQSs) and status qualifying dollars (SQDs).
Elite qualifications are based on calendar years.  In other words, you must earn at least 25,000 SQMs or 25 SQSs plus $3,000 in SQDs within a calendar year in order to earn 25K status for the rest of that year and all of the next.
If you earn more Status Qualifying Miles than are needed for the level of status you've achieved, Air Canada will rollover those SQMs to the next year provided that you have an Air Canada credit card that provides that benefit.  Same is true for unused eUpgrade credits.
Elite Earning on Flights
Elite Status Benefits
The following are the top benefits available at each status level.

Select Benefits
As you achieve each status level, Air Canada makes available "Select Benefits".  In other words, you get to pick which benefits you want. The following chart shows the available bundles:
Priority Awards
Aeroplan Elite Status makes it possible to earn vouchers for 50% off flight awards (including partner awards).  Unfortunately, you have to have "Super Elite" status to earn a voucher that works on business class international awards.  Vouchers are earned each time you reach a SQD threshold and the type of the voucher you get depends on your status at that time.
Status Pass (share status)
This benefit begins March 2021.  Those with 50K Status and above will be able to choose Status Passes as Select Benefits.  Here's how it works:
Give a status pass to anyone you want – a friend, a family member, or even a colleague. They can use a status pass when they're traveling without you.
Travelers with a status pass enjoy premium travel services when on flights operated by Air Canada.
They can even share the love – the premium travel services they get with a status pass extend to up to 9 people on their reservation.
Status Pass benefits include:
Priority Check-In
3 complementary checked bags with priority baggage handling
Priority security clearance
Maple Leaf Lounge access
Priority airport standby
Priority boarding
Shortcuts to elite status
Earn 25K status with 100K points
Starting January 2021, earn bottom tier elite status (25K status) when you earn 100,000 Aeroplan points within a calendar year through everyday transactions such as spending on Aeroplan credit cards, flying with Air Canada and partner airlines, and with any other travel and retail partners.
Point transfers from other programs (such as Amex Membership Rewards) will NOT count towards this total.  Here is the official list of exclusions:
Certain Aeroplan points are ineligible for Everyday Status Qualification, including:

Points accumulated through sign-up or welcome bonuses associated with Aeroplan credit cards
Points accumulated through conversion from other programs
Points accumulated as a benefit of Aeroplan Elite Status, including but not limited to the Aeroplan Elite Status bonus with partner airlines, or bonuses earned through the Aeroplan eStore for holding Aeroplan Elite Status
Points accumulated as part of a flight activity not operated by Air Canada or the Star Alliance member airlines
Points purchased, or received as a gift
Points transferred between member accounts
Points reinstated following account inactivity
Points redeemed as part of a Points + Cash reservation
Points accumulated as part of contest prizes, or for participating in Aeroplan research
Manage points
Aeroplan Family Sharing
Aeroplan lets you share points with others through their Family Sharing option:
Up to 8 family members can group together.
All points earned by members are added into a shared balance, including their existing points balances.
Redeem for rewards using points from your shared balance.
If you have an Elite Status Member or a primary Aeroplan Credit Cardholder in your group, everyone gets to benefit from their preferred pricing (meaning that you can often redeem for Air Canada flights at reduced award prices).
How to keep points alive
Points expire after 18 months of inactivity.
Reset clock by earning or burning points. (transferring points from another program like Amex or Capital One should work)
Credit cards
Air Canada advertises the following credit card benefits:
Status Accelerator

You can earn Status Qualifying Miles (SQM) and Status Qualifying Segments (SQS) just by spending on your eligible credit card.

Rollover SQM and eUpgrades

Have additional SQM above your qualification threshold, or unused eUpgrade credits about to expire? We'll roll them over if you have an eligible credit card.

Get higher priority at the airport

As a credit cardholder, many premium airport services will be available to you with priority, ahead of a member with the same status who doesn't have an eligible credit card.
Details about Air Canada's Canadian credit cards can be found here.  We are expecting Air Canada to introduce new cards to the US market as well. This section will be updated once details are known.
Questions?
Please comment below.  I'll change this to a Q&A section once we've accumulated a few.