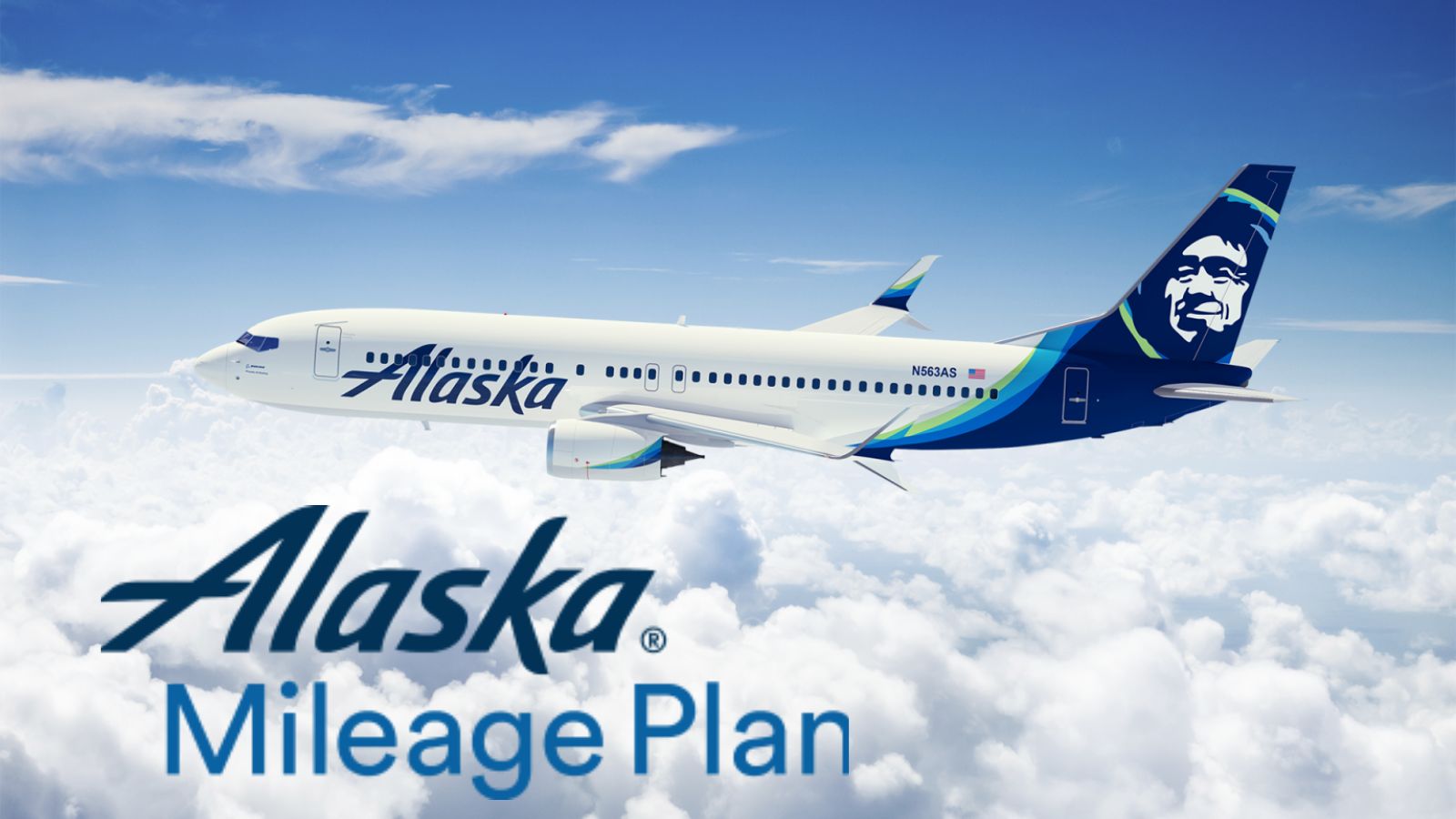 Alaska Air Mileage Plan Overview
Alaska Mileage Plan is the loyalty program for Alaska Airlines. For quite some time, Mileage Plan was considered to be one of the best loyalty programs around and Alaska miles were coveted throughout the world of points and miles. Even though it was an independent carrier, Alaska developed a compelling coterie of direct partnerships that created some very valuable sweet spots, especially to Asia and Oceania.
The last few years have been up and down for Mileage Plan. First, Alaska did a no-notice devaluation of its awards on Emirates Airlines and then, in 2021, lost access to Emirates First Class entirely. That same year Alaska joined the OneWorld alliance, news that some took with much trepidation since OneWorld also houses American Airlines and, at the time, many AA awards on OneWorld carriers were more expensive than Alaska's prices on those same carriers (for example Qantas and Japan Airlines).
Since then, we've seen devaluations to AA and Japan Airlines awards, new partners added at laughable rates, a lower-value "simplified" award chart and a severe cut to mileage earnings when flying basic economy.
It's not all bad news though, and there's still good value to be had with Mileage Plan. Earnings when flying Alaska are arguably the best in the US, meaningful elite status is easier to achieve than in many programs and there are still excellent sweet spots be had. For many folks, especially on the West Coast, it's a program worth paying attention to.
Alaska Air Mileage Plan Pros and Cons
Pros
Alaska offers very good return on domestic paid regular economy fares, primarily because its program still awards miles based on distance flown, as opposed to dollars spent.
Overall, it's relatively easy to acquire elite status.
Meaningful elite benefits start at lower status tiers than many programs.
Unique among US carriers, it offers a free stopover on most one-way awards.
Award changes are free and easy.
There are still excellent sweet spots on the award chart (US-Oceania/Asia/South America; intra-Alaska)
Cons
Although Alaska has an extensive international partner network, it doesn't offer any flights of its own outside of North America (unlike United, Delta, American and even JetBlue).
Alaska domestic first class seats lag behind many other domestic carriers, who have begun introducing lie-flat seating on transcontinental flights.
Alaska has been plagued by a series of no-notice devaluations over the last 2-3 years. Although they have repeatedly promised that it won't happen again, they continue to do it.
Recently, domestic awards have been expensive, with saver space more difficult to find than in previous years.
Alaska doesn't partner with any transferable programs (like Ultimate Rewards or ThankYou points), making their miles harder to come by.
Most newly-introduced partners have been added at terrible value.
It still doesn't allow awards with multiple partners (although that's supposed to change soon).
How to earn Alaska Air miles
Earning on Alaska and American Airlines flights
Alaska is somewhat of a unicorn amongst US-based programs, as it still awards miles based on distance flown. On Alaska-marketed flights, members earn:
1 mile per actual flight mile on all main cabin fares except basic and full-fare economy
1.25-1.5 miles per flight mile on economy flights booked in full-fare economy
1.5-2 miles per flight miles on first class flights (depending on fare type)
0.3 miles per flight mile on Alaska and American Airlines basic economy flights
In addition, elite members receive the following elite bonus:
MVP – 50% of actual flight miles
MVP Gold – 100% of actual flight miles
MVP Gold 75K – 125% of actual flight miles
MVP Gold 100K – 150% of actual flight miles
This can be quite lucrative on some flights, especially for elite members on discounted fares. I'm a 100K and took several flights to the East Coast earlier in 2023 that were around $200 roundtrip each. For simplicity's sake, let's just say that the total roundtrip distance was 5,000 miles. I earned 5,000 base miles, plus a 150% bonus (7,500 miles) for a total of 12,500 miles. We value the redemption of Alaska miles at 1.3 cents each, so for each of these $200 flights, I got back ~$162 worth of miles.
This can be made even better when you use Alaska as a chosen airline for the Amex Business Platinum. This then provides a 35% discount when using Amex Membership Rewards points to book Alaska flights via the Amex Travel portal.
In the East Coast example above, the price of booking the flight with Membership Rewards went from the normal 20,000 points (at 1 cent each) to 13,000 points after the 35% discount. So, I ended up spending 13,000 Membership Rewards points and got back 12,500 Alaska miles. Oh yeah, and a roundtrip flight to Boston (that was upgraded to first class each way).
Obviously, it doesn't always work like this, but Alaska's distance-based programs create opportunities for outsized earnings on economy (and first class) flights that no longer exist in the more common revenue-based programs.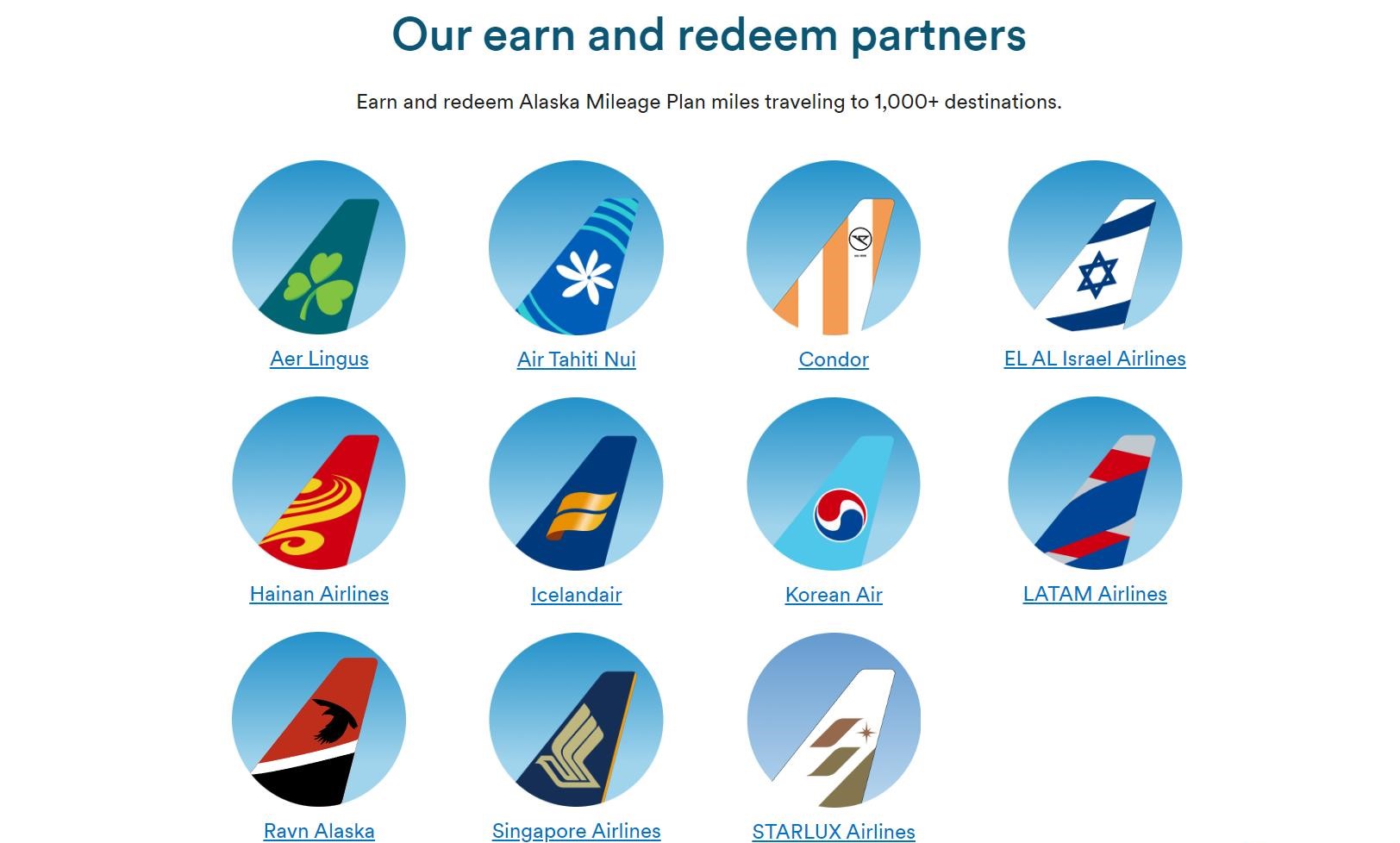 Alaska Mileage Plan earning on partner flights
Before Alaska joined OneWorld last year, it had developed an appealing group of international partnerships with multiple airlines worldwide. Now that they are officially a OneWorld member, most of their alliance partners have similar earn rates for economy flights, beginning at 25% of mileage flown for discount economy and going up to 100% on full fare. The non-OneWorld members (partially shown above) have a bit more variance. Condor, for instance, doesn't earn less than 50% and many regular economy fares earn 75% of total miles flown.
There is a ton of variance for earning on premium products, though. Here's the full British Airways earning chart:
Note that even discount business flights, which can sometimes be had for "reasonable" prices between Europe and the US, earn 250% redeemable miles and 150% elite-qualifying. This is without any elite status factored in. An MVP Gold member earns 100% bonus on miles flown, so that redeemable miles earn goes up to 350%. On a paid, roundtrip discount business fare from LAX-London (~11,000 miles), an MVP Gold member would earn ~38,000 redeemable miles and ~16,000 elite-qualfiying miles.
Not all Alaska's partners are so rewarding. Royal Jordanian only gives 125% of total miles flown in discount business, whereas Qatar Airways offers a measly 75%.
Alaska Airlines credit cards
Card Offer and Details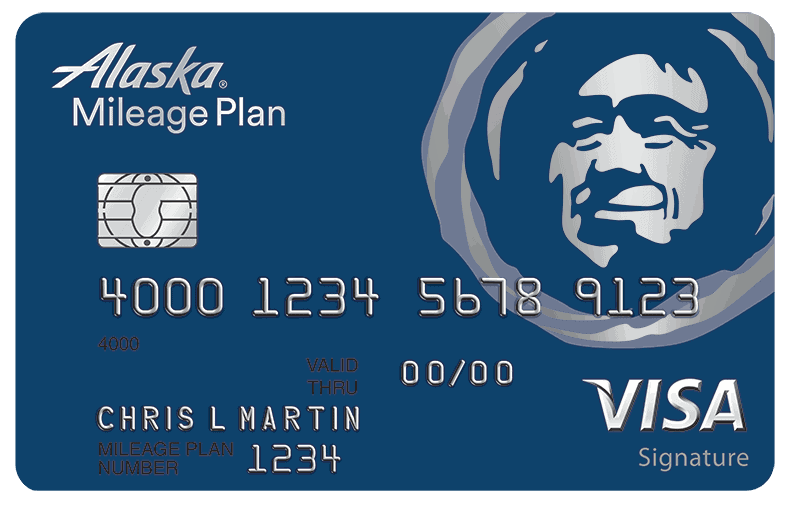 60k miles + Companion Fare ($99 fare + taxes) after $3K spend in 90 days$95 Annual Fee
Information about this card has been collected independently by Frequent Miler. The issuer did not provide the details, nor is it responsible for their accuracy.
FM Mini Review: Alaska miles are quite valuable so this offer is better than it appears
Earning rate: 3X Alaska Airlines ✦ 2x gas, EV charging, local transit, rideshare, cable, and select streaming services purchases ✦ 1X elsewhere
Card Info: Visa Signature issued by BOA. This card has no foreign transaction fees.
Big spend bonus: $121 companion pass every year after $6K spend.
Noteworthy perks: ✦ Free first checked bag for you and up to six other passengers on your reservation ✦ Priority Boarding ✦ 10% bonus on earned miles with eligible BOA account
Card Offer and Details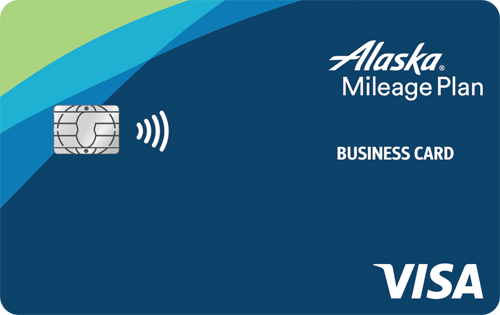 65K miles + Companion Fare ($99 fare + taxes) after $4K spend in 3 months (enter any random 6-digit number for referral code)$95 Annual Fee
Information about this card has been collected independently by Frequent Miler. The issuer did not provide the details, nor is it responsible for their accuracy.
Recent better offer: 70K after $4K in 3 months [Expired 4/23]
FM Mini Review: Alaska miles are quite valuable so this offer is better than it appears
Earning rate: 3X Alaska Airlines ✦ 2x gas, EV charging, shipping and local transit ✦ 1X elsewhere
Card Info: Visa issued by BOA. This card has no foreign transaction fees.
Big spend bonus: $121 companion pass every year after $6K spend.
Noteworthy perks: ✦ Free first checked bag for you and up to six other passengers on your reservation ✦ 10% bonus on earned miles with eligible BOA business account
There are two credit cards that earn redeemable Alaska miles. The earning rates and category bonuses on both of these cards won't be particularly inviting for most folks. The consumer card gets 3x on Alaska purchases, 2x on gas, transit, streaming and cable as bonus categories. It's 1x everywhere else. The business card is exactly the same, except it replaces cable/streaming with 2x on shipping. Both cards get an additional 10% bonus on all earned miles when the cardholder holds a qualifying Bank of America checking account.
Note that Bank of America (who issues the Alaska credit cards) occasionally sends out targeted spending offers which provide opportunities to earn additional points per dollar spent, oftentimes in specific categories.
Alaska Airlines Companion Fare
Alaska has long offered a companion fare with of both its credit cards. The companion fare allows a companion to travel for $99+taxes. It's valid on any economy fare class and the companion earns both elite and redeemable miles and receives elite benefits (like the fully-paid traveler).
Officially, the fare is only good for one-way or roundtrip travel, but Alaska is very flexible on both definitions. It allows up to three layovers of longer than a few hours. Thus, in practice, you can book four individual legs and three stopovers on one companion fare, provided they are wrapped around the semblance of a roundtrip flight. There's a lot of hidden value here. (play around with it, or talk to us about it at an FM to Go sometime)
These used to be no-brainers, as they were automatically awarded at each cardholder anniversary. Recently, though, Alaska has added a spending requirement of $6K annually for new cardholders to receive one on their anniversary. This new spending requirement has come and gone a couple of times over the last year and it still hasn't been applied to legacy cardholders. However, my assumption is that it will eventually be here to stay…and it does affect the value proposition of the cards, depending on how much you can optimize the companion fare (and how much of an issue $6K in yearly spend is).
Transfering from other programs to Alaska Mileage Plan
One of Alaska's weaknesses as a program is the lack of transfer partners. You can't move points from any of the major transferable currencies like Chase Ultimate Rewards or Citi ThankYou rewards to Mileage Plan.
The only loyalty program that does allow transfers to Mileage Plan is Marriott Bonvoy. Alaska is one of Marriott's many airline transfer partners and allows Marriott members to transfer Bonvoy Points to Alaska Mileage Plan at a rate of 3:1 (3 Bonvoy points = 1 Alaska mile). If you transfer in chunks of 60,000 Bonvoy points, you get a bonus of 5,000 Alaska miles, effectively creating a transfer ratio of 2.4:1.
Is this a good deal? Not really. Our most recent Reasonable Redemption Values pegs Alaska miles at 1.3 cents each, while we have Marriott Bonvoy points at 0.8 cents each. These numbers represent our estimation of the average value that you can expect to recieve from each of these programs without having to cherry-pick awards. Based on these valuations, even in 60,000 point chunks, you'd be giving up ~1.9 cents of value in Bonvoy points to get 1.3 cents of value in Alaska miles. That's obviously not a great return and probably only makes sense if you've got a bevy of Bonvoy points and need Alaska miles for a high-value redemption.
Non-flight options for earning points
Alaska offers several ways to earn miles beyond spend on flights:
How to Use Alaska Miles
Alaska Mileage Plan miles can be used to book via both its collection of OneWorld partners and its extra-alliance partners. Previous to joining OneWorld, each partner had a specific award chart and there were numerous sweet spots to be had. At the end of 2022, Alaska introduced a "unified" award chart (seen above). This isn't really much of a chart, as it just lists starting prices on saver awards and, in practice, many awards are much more expensive than the chart minimums would indicate.
One of Alaska's biggest benefits when booking awards is that it allows a free stopover on a one-way flight, or two stopovers on a round-trip ticket. This can be used in several ways. First, you can stop in two destinations on one international trip. For instance, it's possible to stop in Dublin when using Aer Lingus to fly to Europe, Doha when using Qatar Airways and so on. If you don't need an extra international stop, you can use the stopover policy for a free domestic ticket, ie, go from Doha to LAX on Qatar, then book a one-way from LAX-New York (or anywhere else Alaska flies) afterwards.
Finally, it's possible to effectively do an around the world trip with three stops by using two one-way tickets with stopovers. In this instance, you could book Condor to the Maldives from North America, but have a stopover in Frankfurt along the way and see a bit of Europe. Then, you could go from the Maldives to Doha on Qatar, do another stopover, and then go back to the US.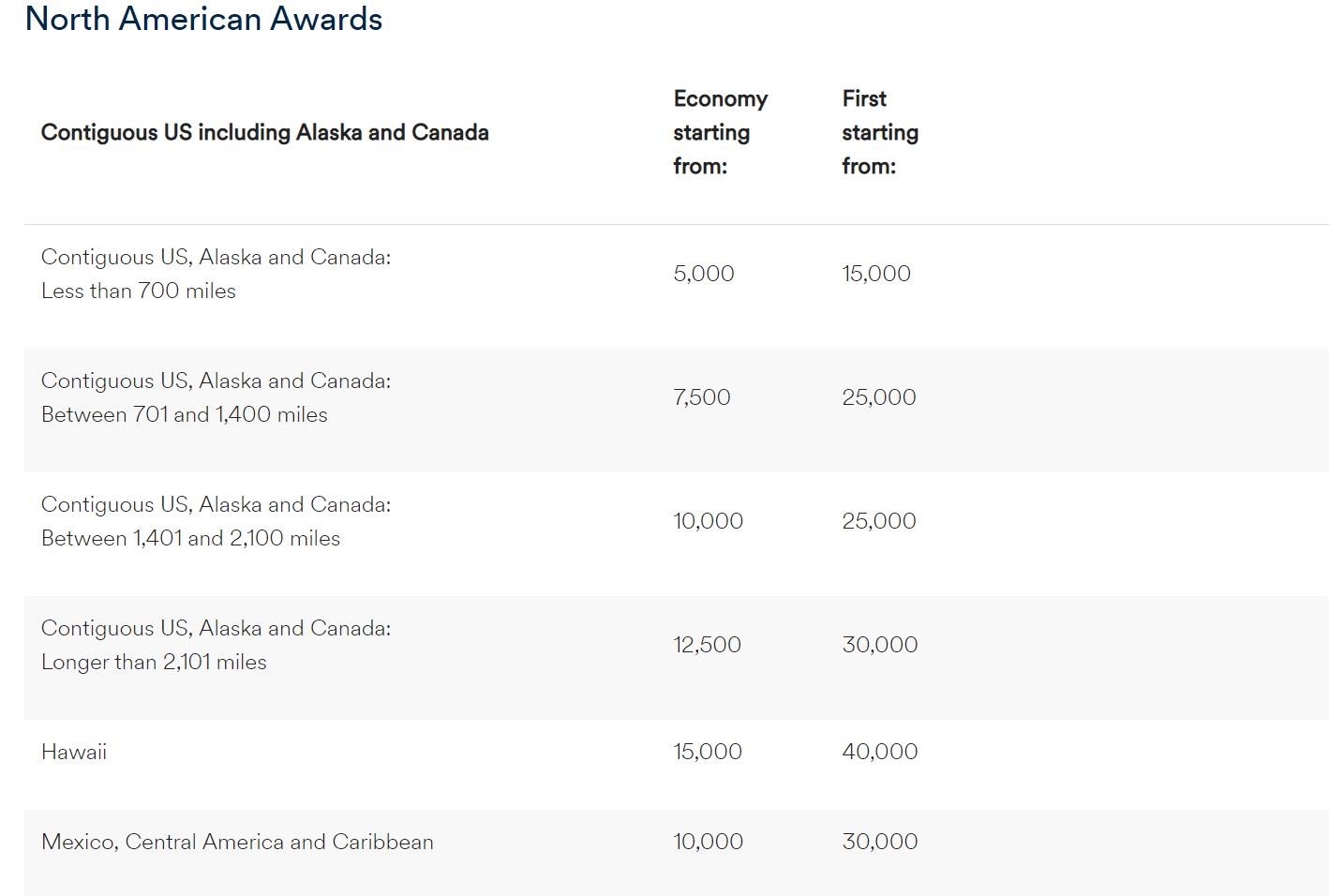 Domestic Alaska flights can be booked with American Airlines miles and vice versa. I've seen times where domestic Alaska flights have been a better value when booked via AA and conversely, sometimes AA flights are a better value when booked on Alaska.
Alaska is also a terrific program for booking flights that are within Alaska, especially given the free stopover. There are some pretty remote places it flies to within the state and those flights can be hundreds of dollars, often making award prices a bargain. Some of the most valuable Alaska redemptions that I've ever made have been these intra-state Alaska flights. It can be amazing the value you can get for 5,000-7,500 miles (or for free after a stopover to/from Anchorage or Fairbanks)
One difficulty of using Alaska miles for partner awards is that, currently, you can only book flights with Alaska and one partner on a single one-way award (for instance, you can't have Qatar and British Airways on the same one-way award). This is a legacy holdover from Alaska's history of having individual charts with each program. Alaska is supposed to add the capability of booking multiple OneWorld partners on a single award sometime this year, but we'll see if, and how, that's implemented.
Alaska Airlines sweet spots
There are still some international sweet spots available…when you can find them. In the last year, I've been able to book (prices one-way):
Aer Lingus Business from Seattle-Milan with a stopover in Dublin for 60K
Qantas Business from the US-Perth with a stopover in Sydney for 55K.
Cathay Pacific business from US-Hong Kong for 50K.
Air Tahiti Nui from Paris (CDG) to Seattle for 60K.
Japan Airlines business from US-Okinawa with a stopover in Tokyo for 60K. Note that Alaska recently did a no-notice devaluation on JAL flights from the East Coast (formerly, all of the US was priced the same).
Now that Alaska has added online searchability for LATAM (after years of having to call in), it can be a powerful program to get to/from Central and South America, with surprisingly good availability and business flights from the US – South America for 45K each way. The online integration can still be frustrating when looking at multi-segments flights, however.
Intra-Alaska flights can be an excellent value proposition for remote Alaskan travel.
Alaska Airlines award booking tips
Use free stopovers as much as possible, even for a later domestic trip.
Officially, stopovers are not available on award redemptions within international regions (e.g. intra-Asia or Intra-Europe). In practice, this is sometimes "fudgable."
Sometimes, the limiting factor in seeing partner availability is that there is no saver domestic connecting space on the relevant Alaska flight, especially when booking far out. It's usually better to search the from the international gateway you want (ie, LAX-Doha for Qatar). You can then add a positioning flight, or just a better positioning flight, later.
Alaska will show a mixed cabin business/first award, even if the only leg that's in first is a domestic flight. Be careful to verify that the leg you want to be in a premium cabin is actually available. This issue makes the mobile site and app sub-optimal for award bookings as you can't see which legs are in first/business until you get past the search screen.
Use the award calendar to easily find saver space around the time that you're looking for.
One-way Korean Air award bookings are charged the same number of miles as round-trip travel. When booking with Korean Air, always book awards as a round trip, even if the other leg isn't on Korean. This quirk makes Korean Air flights look twice as expensive when doing one-way searches. The actual one-way price is half of what you see displayed on a one-way trip when you book it as part of a roundtrip itinerary.
Alaska can strangely have better saver availability on some airlines than the airlines' alliance partners or even their own program members can see (notably Singapore and Aer Lingus).
Award change & cancellation fees
There is no fee to change or cancel an Alaska Mileage Plan award. There is a non-refundable partner award fee of $12.50 per person each way. When cancelling a flight, this fee is not refunded. However, when changing a flight, even to another partner, it is not collected again.
Alaska Air Mileage Plan Elite Status
How do you earn Alaska elite status?
Most airlines offer extra benefits to their most valuable customers. This is usually handled via elite status. If you fly (or spend) enough with an airline, you can become an "elite"member. Like most airlines, Alaska has multiple elite tiers and the best perks are offered to the highest tiers.
Alaska is one of the easier airlines to qualify with, primarily because it still allows you to earn elite status based on either a minimum number of flight segments or by how much distance you have actually flown. Either way, there is a minimum amount of segments for each tier that must be flown on Alaska-marketed and operated flights. Unlike most US airlines, there's no required minimum yearly spend with the airline to achieve elite status. Elite-qualifying miles are earned on paid flights only and do not include bonuses for elite status. On the other hand, class of service bonuses are elite-qualifying.
Alaska Airlines elite status requirements
Below are the earning requirements for each Alaska elite tier:
MVP: 20,000 miles or 30 total eligible segments (2 Alaska segments min.)
MVP Gold: 40,000 miles or 60 total eligible segments (6 Alaska segments min.)
MVP Gold 75K: 75,000 miles or 90 total eligible segments (12 Alaska segments min.)
MVP Gold 100K: 100,000 miles or 120 total eligible segments (24 Alaska segments min.)
Alaska Airlines elite status benefits
Below is a summary of the key perks available to elite members.  The full suite of Alaska elite benefits can be found here.
| | MVP  | MVP Gold  | MVP Gold 75K | MVP Gold 100K |
| --- | --- | --- | --- | --- |
| Elite Bonus Miles | 50% | 100% | 125% | 150% |
| OneWorld Elite Status | Ruby | Sapphire | Emerald | Emerald |
| Premium Class Upgrades at Booking | full-fare economy only | Most economy fares | All fares but saver | All fares but saver |
| Complimentary First and Premium Class upgrades  | 48 hours pre-departure | 72 hours pre-departure | 120 hours pre-departure | 120 hours pre-departure |
| Priority Check-In & Boarding | Y | Y | Y | Y |
| Preferred Seating | Y | Y | Y | Y |
| Free Checked Bags | 2 | 2 | 3 | 3 |
| Complimentary Same-day flight changes | N | Y | Y | Y |
| Complimentary Companion Upgrades | N | Y | Y | Y |
| Complimentary Standby on Full Flights | N | Y | Y | Y |
| Complimentary Premium Beverage in Main Cabin | N | Y | Y | Y |
| Complimentary Meal in Main Cabin | N | N | N | Y |
Additional Alaska elite status benefits earned when you reach new elite tiers:
When you reach each of the three tiers below, you'll receive the following additional benefits:
MVP Gold

Four First Class Guest Upgrades

MVP Gold 75K

50,000 redeemable miles
Gift one person MVP status
1 one-way international American Airlines upgrade certificate
Four Alaska Lounge Passes

MVP Gold 100K 

Additional one-way international American Airlines upgrade certificate
One choice benefit:

50,000 redeemable miles
Alaska Lounge+ Membership
Gifting MVP Gold Status
Free Wi-Fi on all flights
Complimentary Clear Plus membership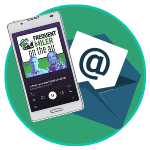 Want to learn more about miles and points?
Subscribe to email updates
 or check out 
our podcast
 on your favorite podcast platform.