Update from Nick: In the time between when this post was scheduled and when it published, we also received Uber credits on our Platinum cards ($35 each). Then, some of the credits began getting clawed back ("revoked"). At this point, it looks like this is just a mistake and the rest of the credits will probably get clawed back soon. Bummer!
Happy Holidays from American Express! Many (or all?) Amex Gold cardholders received an extra $10 in Uber Cash last night.
I received a notification from Uber Eats just after 6pm on Christmas Day advising that I'd received my $10 monthly Amex award and that it'll expire on January 1. I ignored it at first as I assumed it was simply a delayed notification as I knew I'd already received our $10 credits for December on the night of November 30.
Nick subsequently messaged asking if anyone else had received this additional $10 credit. That prompted me to check my Uber Eats app and to my surprise I saw that I had indeed received a $10 bonus amount. It seemed strange that we only received one credit though because we have two Amex Gold cards registered on my Uber Eats account and so receive two $10 credits each month. Sure enough, 1.5 hours later another $10 appeared.
Considering the day that Amex Gold cardholders received these $10 bonus credits, I'm assuming that these were unexpected Christmas gifts rather than it being some kind of glitch. Personal Amex Platinum cardholders already receive a bonus $20 Uber Eats credit in December on top of the $15 they receive as standard, so it'll be interesting to see if this $10 bonus for Amex Gold cardholders is a one-off gift or a permanent enhancement. Having said that, perhaps there was some kind of Amex intern working on Christmas Day who was worried that the bonus Uber Eats credits for December hadn't gone out, not realizing those are only meant to be for Platinum cardholders rather than Gold cardholders. Whatever the reason, getting an extra $10 per Amex Gold card is a nice little bonus to end Christmas Day with.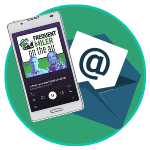 Want to learn more about miles and points?
Subscribe to email updates
 or check out 
our podcast
 on your favorite podcast platform.