A couple of months ago, I put together a resource page on hotel chain Best Rate Guarantees. I recently had occasion to put one of these to use, and the savings were pretty sweet. I wish I could take credit for being smart on this one – but really, I was just lucky. I had been busy and asked a family member to do me a favor and look for my best hotel option. It turned out to be quite the favor.
I was in need of a 3-night hotel booking. Actually, a family member was checking prices for me and she told me she found a Hilton property that fit the bill for $176. I pulled up Hilton.com and didn't see similar pricing at all. Thinking we had a misconnect, I asked her where she saw the price — and she told me Orbitz. Being a Diamond guest courtesy the Hilton Aspire card (which I wrote about this morning — see: Maximize Hilton resort credit without staying every year), I wasn't too keen on booking via Orbitz. Irrational as it may be, I wanted my free breakfast. Further, with Hilton offering as many as 54 points per dollar this month for Diamond members with an Amex Hilton card, I didn't want to pass on the points.
But when I looked it up on Hilton.com, it was $215.44 per night.
That was a lot more than the $176 my family member had fond on Orbitz. I thought for sure the Orbitz rate must have been some type of nonrefundable advance purchase rate for a broom closet in the parking garage or something of the sort. I took a look on Orbitz, and sure enough — the same room with 2 double beds and complimentary Wi-Fi was available for $176. Aware that the devil is in the details and that many chains play the game by denying your claim due to a difference in cancellation policy, I compared the limits of flexibility. Wouldn't ya know it — cancellation deadlines matched up. Both Hilton.com and Orbitz.com listed a cancellation deadline of 5 days in advance. Actually, Orbtiz also had a slightly higher rate (~$183 if I remember correctly) that had a better cancellation deadline (3 days in advance), but I was going tor savings over 2 extra days of flexibility in this case.
I went ahead and booked it through Hilton.com, and then immediately proceeded to file a Best Rate Guarantee claim form (check the requirements for a BRG claim with Hilton here). As soon as I submitted it, I went back to Orbitz. I wondered if I had booked the last of that room category / rate type. Hotels typically promise to respond to claims within 24 hours, but as we all know, Internet pricing can change at any moment. The cynic in me figured that either that room or rate came out of inventory the moment I booked it or it would come out of inventory before a claim specialist looked at it the next day.
And as fate would have it, that sure looked like what was going to happen. When I searched the hotel and dates on Orbitz again after booking through Hilton, it still showed the $176 price — but when I clicked "book" on that specific room type / cancellation policy, Orbitz kept giving me an error. When I chose any other rate it worked — but not that one. Ugh. I thought for sure I'd get a response from Hilton saying that the $176 rate wasn't bookable on Orbitz. I had tried to hedge my bets by noting in the Best Rate Guarantee claim that Orbitz actually also had a room with a better cancellation policy that was cheaper than Hilton's rate, albeit more expensive than the Orbtiz rate with a matching cancellation policy. I was hopeful they might honor the BRG based on the slightly higher rate if nothing else, obviating the need to submit a second claim.
Much to my surprise, about 18 minutes after submitting my form, I received the following email:
Dear Mr. Reyes,

Thank you for filing a Best Price Guarantee claim for your booking at the XXX Hotel. My name is Betty, I will be assisting with your claim.

I have taken the liberty to review your reservation, as well as, the rate available on www.orbitz.com. I was able to confirm that a lower rate of $176.00 per night (before tax) is being offered and will adjust your reservation to reflect the lower rate. In addition, as per the terms of the program, we will also apply a 25% discount to your adjusted rate. Please allow 48 hours for your rate to be adjusted and to receive a re-confirmation email.

We realize that every guest has a choice when traveling and we thank you for making Hilton family of hotels your choice. We look forward to the opportunity to serve your future travel needs.

Best regards,

Betty J.
Corporate Guest Relations Specialist
Hilton Reservations and Customer Care
That was much faster than I expected and exactly what I was hoping for. And it didn't take 48 hours to receive a re-confirmation email — in fact, I had a new confirmation email in my inbox before I even got Betty's email.
That's good for a difference of $288.49 — a difference of more than 38% from the price Hilton wanted for the Hilton Honors rate. And not only that, but after a couple of small incidentals charges, I did earn more than 18,000 Hilton points:
And that's not including the 14x I'll earn from paying with my Hilton Aspire card. I expect another 7,000+ points from that — for a total haul of about 25,000 Hilton points on top of saving $288 over the Hilton.com price. Based on our Reasonable Redemption Values, 25K Hilton points are worth more than $112.
Bottom line
I like a good free breakfast, an occasional suite upgrade, and a boatload of points as much as the next guy. But I'll admit that I have at times fallen victim to loyalty and failed to comparison shop. They don't give you Diamond status on the Hilton Aspire for nothing — they want you to be blinded by visions of chafing dishes bursting with eggos and egg beaters. Thank goodness my family member shopped around and reminded me of the all-important lesson: don't let these loyalty programs lure you into the realm of blind loyalty. And she learned a lesson, too — don't just see the cheap price on Orbitz and book it without trying a best rate guarantee claim. In the end, we looked an awful lot like the kind of consumers I imagine Hilton and Orbitz prefer: I would have paid too much; she would have forgone the points. In the end, we made out a heck of a lot better than either of us would have on our own, and thank goodness for that….because I may have needlessly burnt up a pile of money.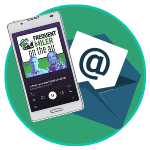 Want to learn more about miles and points?
Subscribe to email updates
 or check out 
our podcast
 on your favorite podcast platform.