At a local store over the holidays I threw my business card into a jar to try to win a shopping spree.  Something about the idea of a shopping spree sounds awesome.  You get to run around the store and get everything you want… for free.  Except this shopping spree was limited to a fixed dollar amount, and probably to a fixed time period for redemption.  Still, I wanted to win (spoiler: I didn't).
That contest got me thinking.  I realized that the idea of winning a shopping spree was more motivating than a contest to win a gift card.  It shouldn't have been, but somehow it was.  I don't remember the real details, but imagine that the shopping spree was limited to $100 max and would take place on a set day.  That sounds good, right?  If you won, you would prance around the store trying to get as much as you can while staying under $100.  Logically, a $100 gift card prize would be even better than the shopping spree.  With a gift card you could go to the store anytime and buy however much you want.  If you want less than $100 worth of stuff, fine.  Come back another day to use the rest.  Or, better yet, come back when the store is having a big sale.  I bet the store wouldn't be hosting any sales on shopping spree day.
So, yes, logically, a $100 gift card is a better prize than a $100 shopping spree.  Emotionally, though, you may get more joy from the spree.  Why?  I think the answer is that the more choice you have, or the more the prize is like money, the less it feels "free" to spend it.  The same is true when comparing a store gift card to cash.  I used to think it was idiotic to give people store gift cards as presents since cash is so much more useful.  But if you get cash as a present, you might just put it in your wallet and forget about it.  If you get a gift card, your purchases will feel closer to "free" than if you spent cash.  Again, this is an example where more choice (cash, in this example) may lead to less joy.
Similarly, it used to be a mystery to me why anyone preferred to earn 2X Capital One "miles" per dollar with the Venture Rewards card or the Spark Miles business card instead of 2% cash back from a fee-free credit card.  On the surface, you get 2% in rewards either way, but Capital One rewards are more restricted — they're only worth 2% back if you spend those "miles" for travel.  If you want to use Capital One rewards to buy ice cream, you're out of luck (actually I think it can be done at a half cent per point, but then you have the equivalent of a 1% cash back card).  What I now understand is this: when you redeem your Capital One rewards for travel, it feels closer to free than spending your 2% cash back for that same travel.  Less choice = more "joy of free".
Chase Ultimate Rewards is a great example of a program that offers more choice.  Points can be redeemed directly for cash back, or redeemed for travel at better rates (1.5 cents per point with the Sapphire Reserve for example), or transferred to various airline or hotel programs.  When I use my Ultimate Rewards points, I usually get great objective value.  In other words, I either save a lot of money over paying cash or I get a much more luxurious experience than I would have been willing to pay for.  The only problem is that these awards don't necessarily feel free to me anymore.  Ultimate Rewards are ultimately flexible and therefore feel more like spending cash.
Spending airline miles or hotel points is easier.  Usually, the best use for your airline miles is to get award flights, and the best use of hotel points is for free nights.  Of course, you still have a lot of choice with respect to which specific flights you take or which hotels you book.  But compared to transferable points, spending airline miles or hotel points feels closer to free.
Many stores offer loyalty programs too, and the same thing applies.  The more choice you get with their rewards, the less spending the rewards feels free.  When your favorite sandwich shop gives you a free sandwich after 6 purchases, it feels free.  When you get points that can be redeemed for many different things, those things seem a bit less free.  Less choice = more "joy of free".  Is it true for everyone?  Probably not, but I suspect it's widespread.
Don't get me wrong.  I am not advocating seeking out less valuable rewards in order to enjoy "free".  That would be silly.  I'm merely pointing out an observation. I'll continue focusing my reward earning on transferable points programs and cash back.  It just makes sense.
The Discover It card (and its student card twin) offers a nice compromise.  This card earns cash back in the form of Discover Cashback (notice the lack of a space between "cash" and "back") which you can redeem for cash or for gift cards.  And when you redeem Cashback for gift cards, you get a discount.  For example, you can get a $100 airbnb gift card for $90 Cashback.  There are similar discounts for gift cards from restaurants, department stores, gas stations ($75 Shell gift card for $70 Cashback), etc.  Specialty stores tend to offer bigger discounts.  Gift cards from stores like Athleta, American Eagle, and Bed Bath & Beyond are 20% off (e.g. get $50 gift card for $40 Cashback).  I love this approach because it feels good getting a discount on gift cards.  And once you get the gift card (especially if it offers limited options) spending it feels free.  See: Enjoying and Maximizing Discover Cashback.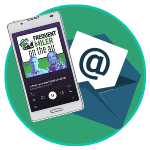 Want to learn more about miles and points?
Subscribe to email updates
 or check out 
our podcast
 on your favorite podcast platform.