Last week, I wrote about hopping on a couple of status matches currently available for those with some sort of hotel status (See: From zero to hero on the status-match-go-round). In that post, the final step I mentioned was matching to Hilton Diamond. Hilton has had a status match program (actually a status match challenge of sorts) going for quite some time, but until yesterday, it had been advertising a match through March of 2020. However, Hilton has now confirmed that status match challenges are now good for status through March 2021. If you don't currently have Hilton Diamond status, it might be a good idea to take advantage of this one. If for nothing else, it will position you to take advantage of other status match opportunities that arise over the next (nearly) two years.
The Deal
Match to Hilton Gold status from another program, then complete 4 stays in 90 days to keep status through March 31, 2021
Match to Hilton Diamond status from another program, then complete 8 stays in 90 days to keep status through March 31, 2021
Key Terms
Must show status with another program + 1 stay with that program in the past 12 months
Acceptable forms of status validation include a screenshot of your current account status or your membership card.
Acceptable forms of stay validation include a screenshot of your previous reservations or hotel receipt, redacting any personal information other than your name and membership number.
Quick Thoughts
As you can see above, this is actually a status match challenge of sorts. Hilton will initially match your status for 90 days. You'll then need to complete:
4 stays within 90 days to maintain matched Gold status
8 stays within 90 days to maintain matched Diamond status.
This means that you could maintain Diamond status for nearly two years with just 8 one-night stays in the next 90 days (though note that multiple back-to-back nights at the same property, even if booked as separate reservations, will likely count as one stay (indeed the terms mandate that it will — while it is always possible that you could get lucky with something like that, it is not probable. I recommend spacing reservations out by a night and/or switching hotels).
Hilton Gold status is "free breakfast status" — the ultimate mid-tier hotel status in my opinion. That is because the barrier to entry is quite low (the Amex Hilton Ascend card offers complimentary Gold status and has an annual fee of $95), but you get free breakfast at nearly all Hilton properties. Note that there are a few exceptions and/or properties that only offer a $10 or $15 credit per person per day, which doesn't actually cover breakfast, but the exceptions to free breakfast are fairly rare instances (notably, breakfast was not previously available at Waldorf-Astoria hotels, but since last year Diamond members have been able to get at least some credit towards breakfast even at Waldorf-Astoria properties). Many of the most desirable properties (Conrad Maldives, Conrad Tokyo, many resorts) offer free breakfast to all Gold members. You won't get #Bonvoyed here — no need to consult a complex database to determine whether or not you can get a bagel and a cup of juice in the morning.
Hilton Diamond status does not offer a huge upgrade over Gold status and is also available as a credit card benefit, this time with the Amex Hilton Aspire card (which carries a $450 annual fee). With Diamond status, you'll get guaranteed lounge access at properties with a lounge (this can certainly be a money-saver for family travel) and you'll earn more points per dollar spent. You theoretically have a better chance at a room upgrade and early check-in / late check-out, but I think I can count on one finger the number of times I've been upgraded to a suite….provided you'll allow me to curl that finger into a round shape and touch it to my thumb. Actually, I take that back — I did receive one massive upgrade last year at the Conrad Fort Lauderdale to a 2-bedroom residential suite. I was in fact surprised when I inquired as to how much it would cost to upgrade and they went ahead and gave it to me for free. That demonstrates why I've come to really like Hilton — I tend to more often be surprised by good customer service, even if I don't receive a suite.
While Hilton doesn't officially publish a matching guide on which statuses match to Gold vs Diamond, Deals We Like reports the following in terms of matching:
SPG Gold, Marriott Gold, Ritz-Carlton Gold, Hyatt Explorist, IHG Platinum Elite, Club Carlson Gold match to Hilton Gold
SPG Platinum, Marriott Platinum, Ritz-Carlton Platinum, Hyatt Globalist, IHG Spire Elite, Club Carlson Concierge match to Hilton Diamond
Remember that you'll need to show at least 1 stay within the past 12 months with the program from which you're matching.
A couple of reports at StatusMatcher.com indicate that Best Western Diamond matches to Hilton Gold. I'm not sure on Wyndham Rewards. If you have status with another program and could use a match, it's worth trying for this status match.
At the moment, your best bet in terms of leveraging Hilton status once you get it is to hop on the status-match-go-round as outlined in last week's post – unless of course you do not need any of those other statuses, in which case maybe you'll wait and bide your time for the next time Hyatt surprises everyone with an unbridled match to top-tier status (don't hold your breath).
H/T: Loyalty Lobby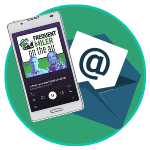 Want to learn more about miles and points?
Subscribe to email updates
 or check out 
our podcast
 on your favorite podcast platform.