If you followed this post last year and matched from some other hotel status to Wyndham Diamond to Caesars Diamond, it's time to match back from Caesars Diamond to Wyndham Diamond. While I matched to Wyndham Diamond last year, it was a temporary challenge. I did not complete the necessary nights and thus my status dropped to "Blue" (general member) in late summer. My Caesars status stuck as was expected (that status expires at the end of January). Today, I successfully matched Caesars Diamond back to Wydnham Diamond. On February 1st, I expect to be able to match back to Caesars Diamond again and hopefully leverage that for another $100 Diamond celebration dinner this year (which as Greg recently mentioned made for one of the most read posts on Frequent Miler in 2018) and free show tickets. If you currently have Caesar's Diamond status, go here to match back to Wyndham Diamond now. Read on for the original post about how the match works and the updated step 6 section about matching back as outlined in this opening paragraph. H/T to Miles to Memories for the reminder to do this today.
Original post published in May 2019 followed by the newly added Step 6:
We recently posted both here on Frequent Miler and in our Frequent Miler Insiders Facebook group asking readers about topics they'd like to hear about. There were some awesome suggestions that I'm looking forward to covering. One topic that came up a couple of times was status matching. Today I'm not going to cover a complete guide to status matching, but rather a current opportunity to start from zero and end up with useful status in several programs with relative ease – and to possibly bring it full circle to even higher status than one started with.
Real-life motivation
While I'm covering this topic in response to some folks asking for posts on status matching, the particular path I'm outlining today was inspired by an upcoming trip with family. I'm heading to Las Vegas soon for a few days and we'll be traveling with my sister-in-law and brother-in-law. We've recently dipped their toes in the miles-and-points pool, getting them set up late last year to earn the Southwest Companion Pass for 2019 and 2020. They did not yet have any hotel credit cards / points / status. We decided to do something heretical in order to better position them for our upcoming trip: my sister-in-law, henceforth referred to as "Sissy" for the purposes of this post, burned a 5/24 spot on the Hilton Honors Surpass card :-O.
Doing so bought her a ticket for the status match merry-go-round, or status-match-go-round if you will.
Why the Surpass?
The Hilton Honors Surpass card comes with automatic Hilton Gold status — good for free breakfast at most Hilton hotels and resorts and some extra points per dollar spent at Hilton. That's a good deal for the $95 annual fee and leads some to question the value of Hilton Diamond (I'd still argue that the Amex Hilton Honors Aspire is well worth the money, but I'll come back to why I had Sissy apply for the Surpass over the Aspire in a minutes). She used the link listed on our Best Offers page and set herself up to earn a nice haul of Hilton Honors points once she meets the minimum spending requirements.
A few reasons I suggested Sissy open the Surpass card:
Sissy doesn't have other hotel points, so she often pays for stays. This way, she'll get free breakfast and some extra points on those paid stays.
The Surpass card earns 6x at US Supermarkets, US restaurants, and US gas stations and she spends quite a bit in those categories.
The Surpass earns a free weekend night after spending $15K in a calendar year. She'll likely hit this requirement.
To get on the status-match-go-round
I suggested she open the Surpass instead of the Aspire, despite my strong affinity for the Aspire card, for two reasons:
Upgrade offers from the Surpass to Aspire are pretty common and sometimes as good as the new cardmember offer. She might be able to eventually snag two bonuses with one 5/24 slot.
She might be able to get Hilton Diamond status without the Aspire card….
More on #2 to come in Step 4. But first, here are the steps she took to leverage status matches, starting with Hilton Gold from the Amex Hilton Surpass.
Step 1: Apply for the Surpass
Not much to say here — she applied and was approved for the Hilton Honors Surpass card instantly.
Step 2: Status match Hilton Gold to Wyndham Diamond
Wyndham has been offering a status match since last fall whereby they'll match your status with another hotel chain (See: Wyndham Rewards Now Offering Status Match Up To Diamond Status). The interesting thing about the status match is that you don't necessarily need top-tier status in another program to match to Wyndham's top-tier Diamond status (this varies based on the program from which you match).
Specifically, reports have long indicated that Wyndham Rewards matches both Hilton Diamond and Hilton Gold to Wyndham Rewards Diamond status. Sissy signed up for a new Wyndham Rewards account and therefore had "Blue" status (i.e. no status).
To match, all you need to do is go to this page, sign in, and then:
Choose the competing program with which you have status from the drop-down menu
Type in the status level you have with that program
Attach a screen shot with proof of status. A screen shot of Sissy's Hilton Honors Gold card sufficed. Simply log in to your Hilton account and on the left side in your account overview click the link that says "My Hilton Honors Card" or find it in the Hilton Honors app under Account->My Account->Hilton Honors card.
Enter any comments in the comments section, then hit submit.
I don't think any comments are required, but here's what Sissy wrote at my recommendation:
To Whom It May Concern:

I'm writing with interest in your status matching program. I'm interested in being matched to Wyndham Diamond status from my current Hilton Gold status. Thank you very much for your time and assistance!

Sincerely,
Sissy
This match took a couple of business days to come through (4 calendar days). Once the match was completed, Sissy received an email with the subject line, "Your profile has been updated".
After logging in to her account, her Wyndham status was updated from Blue to Diamond.
That was followed by an email the next day from Wyndham confirming Diamond status.
Note that this status match is temporary: you'll need to complete 14 Wyndham stays within 90 days to maintain Wyndham Diamond status after the match. However, Wyndham Diamond isn't the goal but rather a stepping stone to the next match.
Step 3: Status match Wyndham Diamond to Caesars Diamond
Wyndham and Caesars developed a partnership last year that offers reciprocal benefits between the two programs (and even the ability to move points between them). One of the reciprocal benefits is a status match. Those with status in either program can match to the other.
In fact, the email from Wyndham confirming that Sissy had been upgraded to Diamond status explicitly stated that she could now match her Wyndham status to Caesars status.
In order to get this part set up, I had Sissy create a Caesars Rewards account online. Signing up online gives you a "temporary" card that you must bring with you (along with an ID) to a casino in order to complete your enrollment.
I wondered if this would prevent the match from Wyndham to Caesars  from working since she wouldn't get to a physical casino with an ID to complete the sign-up process until we arrive in Las Vegas. As it turns out, it doesn't prevent you from matching.
The process is simple:
Click the button on the right where it says that you're a Wyndham Rewards member.

Enter your Wyndham Rewards number on the next page. Note that Sissy had trouble copying and pasting it from the Wyndham site. For some reason, it was leaving out the letter at the end of the number and wouldn't let her add it. She had to type int th whole number without copying to make it work. She then received the message that her Caesars Rewards tier status would be updated to Diamond within 7 business days.

A few of us in the family have now done this match. While it did not take 7 business days, it took at least 4 or 5 for each of us.
Interlude: Why Caesars Diamond will come in handy
Caesars Diamond status is a pretty cool status to have if you'll be visiting Vegas as it comes with some great benefits:
Waived resort fees
Two free show tickets per month (to select shows)
A $100 "celebration dinner" (basically a dining credit that can be used towards select restaurants at Caesars properties)
A "free" 4-night stay at Atlantis in the Bahamas (not really free as you have to pay some tax / gratuity and a $50/nt resort fee)
Discounted rooms
For the upcoming trip to Las Vegas, this seemed like a no-brainer.
Single Flyer maintains a list of available shows for the free show tickets (last updated last month). While they aren't the most sought-after shows in Vegas, free isn't much of a gamble. I've actually always wanted to see the Mac King Comedy show (he's been playing in Vegas for about 19 years now, which tells me his show probably doesn't suck), but I wouldn't be unhappy with a couple of the other shows.
I checked around with some folks who said that two people should be able to use the $100 "celebration dinner" dining credit at the same meal. Single Flyer also maintains a list of eligible restaurants. I'd personally lean towards using it on the Buffet of Buffets, which gives you access to 5 buffets for 24 hours, but I don't think I'll persuade the rest of my group to commit to a day of eating Caesars buffets. Still, with a few of us having Caesars Diamond status, we should get a decent enough free meal — which will likely justify the $95 annual fee for Sissy's Amex Hilton Surpass card in one shot.
Maybe we'll use the free Atlantis stay benefit, though recent reports at DoC (see the last few comments rather than DoC's last update) indicate that they are now enforcing a policy that you must gamble or you'll be charged a nightly rate. Not sure I want to commit to four nights of losing money.
On the other hand, discounted rooms could always come in handy. I just pulled up the month of May flexible date calendar for Las Vegas rooms and room rates are quite good on some dates:
While I haven't stayed at Rio (just visited), I wouldn't be particularly excited about staying there due to its location. But those cheap/free nights might come in handy for…
Step 4: Leveraging this into other hotel statuses
Several other hotel chains currently offer status matches.
Best Western
Best Western offers a "status match no catch". I easily matched to Best Western top-tier status a few years ago and I'm not sure I ever lost that status. Unfortunately, I don't think that many other programs will match Best Western status, so it's not terribly useful.
Choice Privileges
Choice Privileges offers a status match as well. They only match to Platinum status (not their top-tier Diamond status). While Platinum status used to mean an award stay booking window that allowed for rooms to be booked farther in advance, now all members can book 100 days in advance. These days, the main benefit of Platinum status is additional points on paid stays.
Hilton Honors
Hilton has also been offering a status match for the past couple of years (See: Match status through March 2020 at Hilton). Hilton matches some competitor statuses to Gold or Diamond status with a requirement to complete 4 stays within 90 days to maintain Gold status or 8 times within 90 days to maintain Diamond status.
Hilton's status match page lists competitors from which you can match status.
While the drop-down indicates that you can match from Best Western or Choice Privileges, Hilton only matches status from those programs to Hilton Gold according to reports at statusmatcher.com. Unfortunately, reports I've read also indicate that Wyndham Rewards Diamond status is matched to Hilton Gold also.
However, I'm intrigued by the "other" category. Could Sissy get Hilton to match Caesars Diamond status to Hilton Diamond? It's far from a shoe-in, but it's probably worth a shot. The only problem is that the Hilton status match requires proof of a stay within the past 12 months with the competing hotel program from which you're trying to match. That means Sissy would have to book a night at a Caesars property (even though we aren't planning to stay at one). If only she could pick up a free ni–….hmm….
It probably won't work, but it's worth a shot. If she can turn Hilton Gold into Hilton Diamond by hopping on the merry-go-round, that'd be fun.
Step 5: Try to match to MGM Mlife Gold
There are some reports of success in matching Caesars Diamond status to MGM Mlife Gold status in Las Vegas. There are also many reports of failure to match. It's worth a shot, so I'll have Sissy give it a go at an MGM casino or two while we're in Vegas.
While MGM Mlife Gold status isn't amazing, it gives you several key benefits in Las Vegas:
Priority Check-in line (this can be yuge at busy times)
Dedicated buffet/restaurant lines (also a potential time-saver)
Complimentary valet or self-parking (which beats paying for it)
While you need Platinum status to bypass the taxi line outside of MGM properties, I've flashed my Gold card before and skipped the line.
Of course, the other benefit of Mlife Gold is that you can match to Hyatt Explorist. While that no longer comes with the club lounge access awards (now you have to stay to get those benefits), you'll at least earn a bit more on paid stays, get 2pm late checkout at Hyatt properties, and now and then get a decent upgrade. I recently got a nice upgrade at the Hyatt Regency Tokyo despite my lowly Explorist status (to a larger studio-suite-type-room). Sissy could probably stand to benefit from those things and to set herself up to potentially get on a merry-go-ground between Hyatt and M life.
Step 6: Match back to Wyndham Diamond in the new year
Wyndham status and Caesar's status operate on different calendars and that can be leveraged to maintain status long-term (for as long as this lasts, anyway).
Wyndham status ends on December 31st, with a new year beginning on January 1st. If you previously completed the match shown above and did not complete the stays necessary to maintain Wyndham Diamond status, your Wyndham status likely reverted to "Blue" on or before January 1st.
In my case, I had a handful of Wydnham stays last year, so I actually qualified for Wyndham Gold status. Therefore, on January 1st, my Wyndham status showed Gold.
However, Caesars status operates on a different calendar, with Caesars status being valid through January 31st. This means that since I matched from Wydnham Diamond to Caesars Diamond last year, my Caesars status was still Diamond on January 1st and until January 31st.
Therefore, I went to this page on the Caesars website and clicked where it says "I'm a Caesars Member. Match my status" so that I could match from Caesars to Wyndham.
That brought me to a Wydnham Rewards page. I had already logged in there in a separate tab, so it automatically populated the key info — I just had to enter my Caesars Rewards number.
I then got instant confirmation that the match was successful. Sure enough, I immediately went to "My Account" and my Wyndham status was updated to Diamond.

On February 1st, when my Caesars status drops, I plan to return to the same page and click the box under "I am a Wyndham Rewards Member. Match my status". At that point, I expect my Wyndham Rewards status will be matched back to Caesars Diamond, which I expect to leverage into another $100 meal in Las Vegas. Each of my family members who matched last year will do the same and maybe we'll have to roll the dice on another cheap trip to Vegas.
Bottom line
Hotel status from a single credit card can be leveraged into status with a handful of programs. I'm intrigued to find out if this match can bring the merry-go-round all the way back to Hilton Diamond status. Even if not, if you're planning to take a trip to Las Vegas, matching Hilton to Wyndham to Caesars can certainly be pretty valuable. Between the $100 celebration dinner and 2 free show tickets, we'll easily get more value than the annual fee on the Surpass card. If our travel plans put us near a Caesars property any time over the course of the rest of the year, you can bet I'll be inquiring about what show tickets are available for Diamond members. And while we don't visit casino areas very often, I'll be on the lookout for other complimentary night offers, especially since my wife and I are playing in 2-player double Diamond mode. And even more fun than all that is seeing Sissy get a taste of the good life in using the system to her benefit for a free meal, maybe a free room, and free show tickets — after all, the joy of free is what attracted most of us to this game in the first place. Thanks be to Caesar for being the founder of a free feast to come.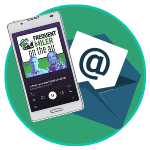 Want to learn more about miles and points?
Subscribe to email updates
 or check out 
our podcast
 on your favorite podcast platform.