Update 12/23/22: Loyalty Lobby reports that, at some point during December, the Hilton Honors T&C's changed from:
complimentary continental breakfast (All Inclusive hotels, hotels with Executive Lounges, and non-U.S. only), Daily Food & Beverage Credit (U.S. only , when guest does not have access to Executive Lounge)
To:
complimentary continental breakfast OR a Daily Food & Beverage Credit (varies by brand and region)
Expanding f&b credits worldwide (instead of free elite breakfast) is a move that many have suspected would happen eventually, and it appeared as though Hilton might be laying the groundwork for such a move here.
We reached out to Hilton and they told us that this change was made entirely because of the international expansion of the Motto brand, which only features f&b credits at all brand locations. They said that there are no plans to change the f&b offerings for elite members at other brands internationally…at least for now.
Update 12/14/21: Ugh. Hilton has extended the moratorium on elite members getting free breakfast at their properties in the US and will continue to offer daily food & beverage credits (that will probably continue to not fully cover breakfast in many markets) "into 2022" (I assume this means through the end of 2022.
In positive(ish?) news, beginning on February 1, 2022 at "lifestyle and full-service brands" in select cities, the credit will increase from $12 per person to $15 per person per night (for up to two registered guests in the room), and from $15 to $18 per person per night depending on the market (destinations include properties in Boston, Chicago, District of Columbia, Key Largo, Key West, New York City and San Francisco, the County of Los Angeles and the state of Hawaii). That may get you half a buffet at the Hilton Waikoloa Village on The Big Island….if only they sold half-buffets.
Overall, this is bad news for members who used to value Hilton Gold status as the best mid-tier hotel status based on the free breakfast benefit, but on the other hand it is good news for those who would rather eat breakfast elsewhere and use the food & beverage credit toward other meals at the hotel. And in reality, some properties didn't provide a proper breakfast before, so the credit at least gives members the ability to choose something better than what they would have otherwise been given. I'm still not a fan of what I assume will become a permanent change here. Original post follows.
Hilton has destroyed the value of elite status for me with yesterday's announcement that they will no longer offer free breakfast to Gold and Diamond members but will rather offer a food and beverage credit starting in July and running through the end of 2021. While some people may prefer this, I think that overall this is a huge devaluation of the Hilton program and I can't help but think that this will become a permanent change.
Starting in July, Hilton properties in the US will no longer offer free breakfast to Hilton Gold and Diamond members but rather will offer a credit per person for up to two people per room. Hilton hasn't officially said what the credits will be, but it has been widely reported that the credits will be as follows:
$25 for luxury brands, including Waldorf Astoria, Conrad, and LXR
$12 for full service brands ($15 for full service brands in high-cost markets)
$12 for lifestyle brands ($15 for lifestyle brands in high-cost markets)
$10 for Hilton Garden Inn properties
Gold members will be given an option for taking points or credits, Diamond members will get both points and credits.
Credits must be used daily (they can't be saved / stacked) and apply to up to 2 registered guests per room. You'll need to charge breakfast to your room and the credits will be applied manually at check-out.
That's awful. While $10 might cover breakfast at the Hilton Garden Inn across the street from Buffalo airport, I have stayed at many Conrad and full service Hilton brands I don't think these credits will cover both an entrée and a cup of coffee at any of them never mind the full breakfast buffets that I have enjoyed at many properties. Hilton bills these changes as adding flexibility:
Food & Beverage Credit for Gold & Diamond Members. You asked for flexibility, and we've got it. Whether you look forward to breakfast or would rather skip it in favor of a refreshing beverage and afternoon snack, the choice is yours. In early July, we'll begin offering a daily Food & Beverage Credit that will continue through the end of 2021. You can use this credit at the hotel brands where you currently receive a complimentary continental breakfast as your elite benefit of your membership. You'll now be able to dine when and how you want. We will share more details in the coming weeks.
If you aren't a breakfast person or you like to go out to a local spot for breakfast / brunch and would enjoy a glass of wine at the bar or appetizer back at the hotel later in the evening, I am sure you'll probably appreciate the flexibility as they suggest. If you'd rather have room service, I suppose these credits will work out to be a discount of sorts on getting breakfast-in-bed. In fairness, some hotels have long given credits in place of a full breakfast and the truth is that many hotels haven't been offering full breakfast in light of the pandemic anyway and many club lounges have been closed, so the breakfast benefit as-is has been highly inconsistent for the past year.
On the other hand, pre-pandemic, I had come to really enjoy Hilton precisely for consistency of things like being able to expect free full hotel breakfast at almost every property I've visited (even though the benefit is technically "continental" breakfast, most hotels at which I've stayed provided an actual full breakfast pre-pandemic). It's not that I don't enjoy checking out local breakfast places, but I have even more so come to enjoy the convenience of not having to travel farther than a few floors on the elevator to get breakfast without having to gather everything I'm going to want to bring with me for the day out. That's especially true now that I'm traveling with kids; I highly value being able to return to the room straight from breakfast to finish getting ready for the day. Getting what amounts to a discount on breakfast via these credits feels cheesy. I just wouldn't consider a Hilton property that offers a breakfast credit over free breakfast these days, which will make it highly unlikely that I'll stay at a Hilton property in the US for at least the rest of this year. Given that the CEO of Hilton has gone on the record recently saying that they expect hotels to become higher-margin now that they have essentially figured out how to cut costs during the pandemic, I just can't help but think this will be a long-term change once they do some sort of survey to determine that members "appreciate the flexibility".
These changes only affect US hotels at the moment and only from July to December 2021, but writing that sentence almost makes me feel like I'm telling Hilton's tall tales for them. I hope that this only lasts from July to December 2021 and then hotels return to giving a full breakfast. However, given that many hotels have significantly trimmed back breakfast during the pandemic, I find it hard to imagine a return to a more-generous-than-necessary breakfast benefit any time soon. Again, this is probably a positive change for some members who will be happier with a drink and appetizer mid-day, but overall I take this as a major devaluation to the program and to the Hilton Surpass credit card . That card has long come with the best mid-tier hotel elite status in Hilton Gold and the key benefit of that status is now going to be highly inconsistent moving forward.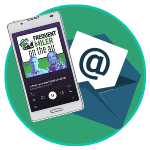 Want to learn more about miles and points?
Subscribe to email updates
 or check out 
our podcast
 on your favorite podcast platform.