On March 1st, my free status match to Copa Platinum status went kaput.  When Copa first created their own loyalty program there was a brief window of time where status matches were free and easy.  Then that stopped.  But, thanks to the match, I enjoyed having Star Alliance Gold status for over a year.  This gave me access to Star Alliance lounges whenever I flew airlines within the alliance.  So, when I flew United domestically, I had lounge access (see: Lufthansa Senator Lounge: a bit of luxury flying out of Detroit) and when I flew Lufthansa economy class while traversing Europe, I again had Senator lounge access (and, FYI, Lufthansa Senator lounges in Frankfurt are quite nice.  Not, first class lounge nice, but nice).
When flying internationally in business or first class (which is how I usually do it, thanks to airline miles), you get free access to lounges.  So, the benefit of having Star Alliance Gold status, for me, is just for the rare times when I fly within the US or when I fly economy outside of the US.  In other words, it's great to have if I can get it easily and for free, but it's not worth doing a status challenge which would require a certain amount of paid flights to complete.  So, I've been keeping my eyes open for new free and easy opportunities…
I was very interested to learn that Shangri-La and TAJ hotels had begun offering reciprocal elite benefits.  Specifically, they will now freely status match between the two programs.  Wait… wasn't I writing about airline status?  Yes, but, there is a connection…
Infinite Journeys
Shangri-La Hotels and Singapore Airlines have their own partnership, named Infinite Journeys.  And, of course, Singapore Airlines is a Star Alliance airline.  Through Infinite Journeys, "Golden Circle Diamond and Jade members will enjoy an accelerated upgrade to KrisFlyer Elite Gold which gives complimentary access to Singapore Airlines' airport lounges worldwide."  That sounds good!  Here are the specific details:
Golden Circle Jade or Diamond members

You qualify for KrisFlyer Elite Silver membership. In addition, you will enjoy an accelerated upgrade to KrisFlyer Elite Gold status when you complete the required number of flights on Singapore Airlines or SilkAir, within four months of registration:

Golden Circle Jade member: Three eligible flights
Golden Circle Diamond member: One eligible flight
Note that an eligible flight = "flying on Singapore Airlines or SilkAir in any booking class except 'G'"
Alright, that could work.  We've seen some great fares on Singapore Airlines lately from the US and they make it easy to upgrade with miles, so I could do this.  I just need to figure out how to get Golden Circle Jade or Diamond status…
Shangri-La Golden Circle Status
Golden Circle Jade status officially requires 10 stays or 20 nights "at any Shangri-La hotel, resort, Kerry hotel, Traders hotel and Hotel Jen."  And Golden Circle Diamond status officially requires 25 stays or 50 nights.  Given that my average annual number of stays at these hotels is zero, that's not going to happen.
How about a status match?  StatusMatcher.com shows that Shangri-La denies most match attempts.  There were a few reported successes in 2015, but nothing recently.  It's not going to happen.
In January of this year, though, One Mile at a Time reported that The Luxury Circle Program offered a shortcut to Golden Circle Jade status.  I was briefly excited about that. Then they added an update saying whoops: "For reservations made through the Luxury Circle program after February 10, 2017, accelerated Jade Tier status will no longer be available."
Another option, apparently, is to get the Australian version of the Amex Platinum charge card.  According to Point Hacks, this card gives you automatic Golden Circle Jade status.  But, while the Australian version of the card sounds really nice, they do charge a mighty $1200 AUD (about $900 US) annual fee.  Plus, of course, I don't actually have an address in Australia.
Taj InnerCircle Status
Now we're back to the Taj / Shangri-La partnership.  Since I hit a dead end trying to find ways to shortcut to Shangri-La status, I figured that it might be easy to find a way to shortcut to Taj InnerCircle status, then match to Shangri-La, and then match to Singapore.  At this point, it became a game.  Could I Rube Goldberg my way to Star Alliance Gold status?
At the time, there were no reported status match attempts at StatusMatcher.com, so I created a Taj account and I filled out an online contact form requesting a match from Hilton Diamond, Marriott Platinum, or SPG Platinum to any Taj elite level. The match request was denied. I received this email:
Thank you for writing to the Taj InnerCircle Member Services.

As per Taj InnerCircle programme, to become a platinum member (the highest tier) you need to have 80 eligible room nights or 8 lakh eligible spend per year.  Please be rest assured that we value your patronage towards Taj InnerCircle and look forward to seeing you at one of our hotels.

For any further assistance please feel free to contact us on 91-22-66014842 or innercircle@tajhotels.com
Oh well, it was worth a shot!  I reported my result to StatusMatcher.com:

The Hunt Continues
Truthfully, I don't need Star Alliance Gold status.  It's just a nice to have which I might make use of a few times per year.  But, I enjoy the hunt!
Do you know of any good shortcuts to Star Alliance Gold?  Please comment below.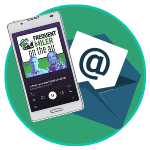 Want to learn more about miles and points?
Subscribe to email updates
 or check out 
our podcast
 on your favorite podcast platform.