In November I wrote about an opportunity to earn tens of thousands of IHG points by filling out and mailing in 3X5 cards to enter the "IHG Priceless Surprises" contest: More than 40,000 IHG points for more than $46 and a cramped hand.  Since then, many people have sent in cards.  Not surprisingly, it has taken a while to get responses from those mailings.  However, those who did receive email responses all "won" 500 points or more.
So far, so good.  Until Tuesday morning…
Early Tuesday morning, I and many others received some of the long awaited emails from our contest submissions:
You qualify for a Priceless Surprise®!

Dear GREG,
Success! You have qualified to play for Priceless Surprises, from IHG® Rewards Club and MasterCard®. Now it's time to open the elevator doors & see what's waiting!
Each floor holds a chance for a Priceless Surprise, like:

a private helicopter tour over NYC
1 million IHG® Rewards Club bonus points
and even more unforgettable surprises

Choose your floor here.
See you soon,
IHG® Rewards Club
For some, the salutation may not have said specifically "Dear GREG", but I expect that the rest of it was the same.  When we clicked on the "Choose your floor here" link, we got this:
All was well and good until we clicked "Play" and selected an elevator button.  We then saw that we didn't win:
We didn't win anything.  But, everyone is supposed to win at least 500 points!
There was a bug in the promotion.
A quick solution
A few hours after people started reporting that they didn't win anything, the Priceless Surprises website went down for maintenance.  The site displayed the following message:
Please check back soon
This promotion is undergoing a short maintenance period.
Once the site was back up, we tried our emails again, but we were told "you do not have any instant win chances to use":
That was worrisome.  Fortunately, later that afternoon, we received emails from IHGRewardsClub@eprizepromotions stating that we actually did win despite being told otherwise:
Big News From the IHG Rewards Club and MasterCard® Priceless Surprises

Dear GREG,
Thank you for your participation in the IHG and MasterCard® Priceless Surprises® Promotion! It appears that you may have accidentally received a message that you did not win when you played the game today. Please be assured that you have won the following prize:

500 IHG Rewards Club Points

Our system indicates that you should have won this prize 4 times, for a total of 2,000 IHG Rewards Club points.
We apologize for any miscommunication with the promotion and thank you for your continued support of the Priceless Surprises promotion.

Congratulations!

Prize Fulfillment Services
fulfillment@eprizefulfillment.com
Points won through this promotion do take a while to get credited, so I haven't actually received any of those promised points yet.  Still, I'm pretty sure they'll appear eventually.
Kudos to the team behind this promotion who quickly addressed the Tuesday problem!
There's still time: Mail by Feb 15
This is a great promotion for those who don't have the ability to earn points through credit card signups, or who simply don't mind filling out lots of index cards.  The official rules state the following dates for the mail-in entry method: "All mail-in entries must be handwritten and must be postmarked by February 15, 2016 and received by February 22, 2016."
Personally, I've only sent in 20 cards so far out of the 94 allowed.  Of those 20, I've received 7 emails with links to play the game.  For all 7, I won the smallest prize: 500 points.  I do expect to get the remaining 13 emails soon.
As a reminder, here's how to get up to 94 game entries:
Register for the promotion (Very Important!)
On a 3 x 5 piece of paper (I used 3X5 lined index cards), hand print:

Your full name
Complete mailing address
Day and evening phone numbers
Valid email address
Member number
First six (6) digits of your MasterCard (Many MasterCards have the same first 6 digits so this is not a security concern)
Date of birth

Put each 3×5 card in its own envelope for mailing
Mail to: "IHG and MasterCard® Priceless Surprises® Promotion," c/o HelloWorld, Inc., P.O. Box 5996, Kalamazoo, MI 49003-5996
NOTE: It's OK to print out labels for mailing – I did
The official rules state: you will receive an email within five (5) business days from the Administrator inviting you to play the Game and you will receive one (1) Game play for each mail-in request.  The 5 business day thing is not true.  Expect it to take more like 15 to 25 business days.
Send up to 94 entries.  Assuming all 94 go through OK, you should win a minimum of 500 x 94 = 47,000 points.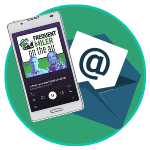 Want to learn more about miles and points?
Subscribe to email updates
 or check out 
our podcast
 on your favorite podcast platform.