The Chase Ink Business Preferred Card has, by some measures, the best current signup bonus available today (80K valuable Ultimate Rewards points via the public offer, or 100K Ultimate Rewards via a Chase Business Relationship Manager).  As I reported before, I tried to get the 100K bonus earlier this year, but failed.  My application was denied multiple times due to "Too many credit or loan accounts have been opened recently."
It was a bummer to lose out on such a big signup bonus, but I still wanted the card.  Officially, the card offers 3 points per dollar on the first $150,000 spent in combined purchases per cardmember year for each of the following:
Travel
Shipping purchases
Internet, cable, and phone services
Advertising purchases made with social media sites and search engines
On the surface, this earning structure doesn't look all that compelling. I already earn 3X for travel through my Sapphire Reserve card.  And I already earn 5X for internet, cable, and phone services from my Ink Plus cards and my wife's Ink Cash.  For phone service, the card additionally provides cell phone insurance when you pay your bill with this card.  It may be worth earning 3X instead of 5X for this additional coverage, but that's not exactly a slam dunk.  3X for online advertising is good for me since I do a bit of that for my blog business, but I don't do enough for that to be a huge factor.  No, the reason I really wanted this card is that it has been earning 3X for surprising things such as Plastiq bill payments.  Plus, as a blogger who focuses on this stuff, I think it is important to have direct experience with as many major reward cards as possible.
My options for conversion
I had two Ink Plus cards: one was an old Ink Plus Mastercard and the other was a relatively recent Ink Plus Visa which was approved only after my banker submitted a Special Consideration Form (see: Ink Plus success with Chase's Special Consideration form).  And my wife has an Ink Cash card that was recently converted from an Ink Plus in order to avoid the Ink Plus' $95 annual fee.
Both the Ink Plus and Ink Cash cards earn 5X points for office supply store purchases and Internet, cable, and phone services.  Since stores such as Staples and Office Depot sell a wide range of gift cards in-store (and Staples.com sells a wide range online), it is easy to earn 5X nearly anywhere by pre-buying gift cards for gas, Amazon.com, etc.  The Ink Plus cards have a $50k per year cap on 5X while the Ink Cash has a $25K per year cap.  I don't do enough 5X buying for the caps to matter.
Ultimately I decided to convert my Ink Plus Visa to the Ink Business Preferred Visa.  I'm pretty sure that my Mastercard wouldn't have been an option as I doubt they'd let me convert a Mastercard to a Visa.  And I'm happy with my wife's no-fee Ink Cash.
Conversion process
The conversion process was incredibly simple.  I logged onto my Chase account and sent the following secure message:
I'd like to product change my Ink Plus card ending in 7413 to an Ink Business Preferred card. Is that possible? If so, please make the change for me ASAP. Thank you!
They replied with details about the Ink Business Preferred card, details about the conversion (e.g. that I would not earn a bonus), and this:
Andrew, if you wish to continue with this request, please reply to this email with your confirmation. We're not able to process your request unless we receive your confirmation.
So, despite my name not being Andrew, I replied with my confirmation:
Thank you. Yes, please proceed with the switch
And then they confirmed the switch:
Hello Greg,

Thank you for confirming that you would like to switch your current credit card account.

I've changed your account to a Ink Business Preferred card as you requested. Here's what you need to know:
– You should receive your new card in three to five business days. We're sending it to the address we have on
file for you.
– You can continue to use your current card until your new one arrives and you confirm that you've received it.
Please destroy any cards and access checks for your old account.
– Your account number remains the same.

We appreciate your business and your trust. Thank you for the opportunity to assist you with your account.

Thank you,
Done!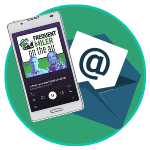 Want to learn more about miles and points?
Subscribe to email updates
 or check out 
our podcast
 on your favorite podcast platform.