Update 4/25/23: I recently had an opportunity to use inKind to pay for a restaurant bill and it was an incredibly easy process. I've added a section at the end of the post with more about that.
~
A new Amex Offer for a service called inKind showed up yesterday. It's an app that can be used at ~500 restaurants nationwide to pay for your meal, so this Amex Offer means that you can get $50 of free food at participating dining establishments. inKind also has a referral program that gives both the referrer and referee $25 off.
The Deal
Make a single purchase of $50+ with inKind & get $50 back with an Amex Offer.
My referral link – (you'll get $25 off when spending $50, as will I)
Key Terms
Expires February 28 May 14, 2023.
Offer valid online at US website pass.inkind.com/amex-special or through the merchant mobile app.
Excludes International restaurants purchases.
Valid only on purchases made in US dollars.
Quick Thoughts
I'd not heard of inKind before yesterday, but when seeing it listed in my Amex Offers I was intrigued considering it's giving $50 back on $50 spend.
What's particularly nice about this offer is that you can load your inKind balance with $50 in order to get the $50 statement credit, so there's not necessarily any need to spend more than that which could, in theory, mean you can get a completely free meal or two depending on where you redeem the credits.
Note that it seems like it's best to load your account via the inKind website rather than their app. In their app you can prefund your account via their inKind Pass feature but the minimum load is $99, although that does give you an $11 bonus for a total of $110. Prefunding your account at the landing page listed in the terms of the Amex Offer provides an additional option – the ability to load $50. You won't earn any bonus like you will with the other denomination options, but this ensures you're not out of pocket. Update: inKind has removed the option to prefund your account with $50, so the minimum load is now $99. You don't have to prefund your account in order to use the Amex Offer as you can simply use the app to pay for your meal with an enrolled card, but you'll need to ensure your bill comes to $50+ before tip as the Amex Offer is only valid for a single purchase.
As for what inKind actually does, it provides the opportunity to pay for meals in the app when dining at participating restaurants. To be honest, I'm not entirely sure what benefit this ordinarily provides beyond the ability for you to get a discount on your meal thanks to the bonuses you can get by prefunding your account with the inKind Pass. My initial thought was that it could be useful for times when you have a server who's rushed off their feet which results in a delay in you getting your check, but to close your check you have to let your server know that you want to pay via the inKind app and so it likely won't save any time. I imagine there'll be at least a few servers out there who won't be familiar with what you're talking about, so paying with inKind does have the potential to be problematic. That said, for $50 of free food, I'm willing to give it a try.
Even better is the fact that inKind has a referral program giving both parties $25. If you sign up using a referral link (see above for our referral links), that means you'll have $75 to spend after loading your account with $50 which will be reimbursed courtesy of the Amex Offer. If you have a partner, you can then refer them. They'll get that same $75 to spend if they have the inKind Amex Offer on one of their cards too, while you'll receive an extra $25 in credits for a total of $100. For people in two player mode, that's therefore $175 worth of food for no cost.
I say there's no cost, but that's not necessarily true. For starters, your bill could exceed the amount of credits on your account, in which case you'd obviously need to pay the balance. Second, you can't pay for the tip using your inKind Pass, so that'll be paid for separately via whichever payment card you select in the app.
Another good feature of the inKind Pass is that funds you add don't expire, although if you prefund with one of the higher denomination options, the bonus that comes with that does expire after three years. It would make sense to spend your inKind balance sooner rather than later though as there's no knowing how long this app will be around.
Update 4/25/23: My wife and I recently spent 1.5 weeks in St Louis and while we were there I noticed that there was a solitary restaurant there listed in the inKind app – City Winery. I had some inKind credits burning a hole in my pocket app, so we decided to head there for dinner one night.
Back in November, Grant of Travel With Grant shared about his experience using inKind and I'd been pleased that he'd confirmed that it was easy to use seeing as I'd not had a chance to use it myself yet. Sure enough, it was indeed a simple process.
After we'd finished our meal, our server brought over our check. I opened the app, selected the restaurant and then tapped on 'Pay Bill'.
City Winery is a small chain that's in a number of big cities. It looks like all of those locations participate with the inKind program, so the next screen had me select the specific location I was paying at.
The next screen had me entering the check number. This was easy to find, but I didn't think to take a photo of the check to include it in this post.
The following screen showed the total bill and gave a section to enter the tip (I apparently neglected to take a screenshot of that screen). As noted in the original post above, you can pay for the entire balance of your meal using inKind credit, but the tip has to be paid for separately on a credit or debit card.
After entering the tip amount and confirming which card I wanted to pay that with, I submitted the payment and received confirmation in the app that it had been paid.
I didn't want to leave without verifying that the transaction had indeed gone through correctly. When our server came back over, I mentioned that I'd used an app called inKind to pay for the bill. Apparently their manager had just recently mentioned the app to them, so she called over a co-worker to explain what I'd done. She checked her handheld device and saw that our check was indeed showing as having been paid, so we were good to go.
All in all, it was a seamless experience and made me more inclined to use inKind again once I've finished using up my referral credits. inKind offers bonuses when prefunding your account, so if I lived in a city where I frequented restaurants participating in the app, it's a good way to save money on dining at them.
It can also save you time at the end of the meal. Once you have your check, you can pay in the app and leave – no need to wait for the server to come back by your table to take your card and then return with the check for you to sign. When your server brings your check though, it'd be worth mentioning that you'll be paying with inKind so that they don't think you've done a runner.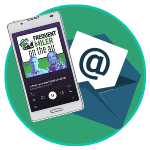 Want to learn more about miles and points?
Subscribe to email updates
 or check out 
our podcast
 on your favorite podcast platform.