A couple of weeks ago I stumbled upon a nice surprise.  I was looking at fares for one-way flights from Detroit to Asia on Delta's new Airbus A350 aircraft and discovered that Delta Premium Select (AKA Premium Economy) seats were often selling for less than regular economy.  Here's just one example:
Notice above that Delta was charging $1,462 for economy (Main Cabin), but only $1,184 for Premium Select.  You know how airlines sometimes charge more for one-way than round trip?  It appears that Delta was imposing a larger one-way penalty for economy fares than for premium select fares.  By adding a return flight, it was possible to fly economy for $1,291 (less than the one-way price), but premium select would cost $1,885, which was more than the one-way price:
Anyway, I only had need for an outbound flight, so I decided to book Premium Select.  In my case (not the flight shown above), the Premium Select price was $1299 and economy was slightly higher.  Obviously I'd take Premium Select over economy.
Keep in mind that Delta's new Premium Select class is very different from their other "upgraded" economy class called Comfort+.  Comfort+ consists of the same seats as regular economy with just a little more leg room and just a little more recline.  Premium Select seats are completely different.  They're wider, they recline more, they include footrests, and they have larger/better entertainment screens.  In many ways, international premium economy has become similar to the way business class was back in the days before lie-flat seats.  Currently, Premium Select is found only on Delta's Airbus A350 aircraft (most of which fly from Detroit to Asia at the time of writing).
More Savings via Amex Platinum
Just before booking the above flight online, I remembered something that might save me a bit of money: the Amex International Airline Program:
Anyone with an Amex Platinum or Centurion card can potentially save money by booking international premium cabin flights through Amex.  The program has the following rules:
Travel must originate in and return to U.S. gateway (may exclude certain overseas territories) and select Canadian gateways.
One-way travel permitted on some airlines where routing originates in U.S. or select Canadian Gateways.
Available service classes in First, Business or Premium Economy are subject to airline availability.
Card Member and up to seven additional First, Business or Premium Economy Class passengers must travel on same air itinerary.
There's a $39 per ticket servicing fee for Platinum members (waived for Centurion members)
I called the number on the back of my Schwab Platinum card (which I discussed signing up for here) and asked about booking my flight through this program.  The agent who helped me found that he could book the same exact Premium Select flight for me for $1,115 per ticket.  Compared to the $1,299 price on Delta.com, that was nearly a 15% discount!
The agent I spoke with thought that I could get the same discount by booking through AmexTravel.com and therefore avoid the $39 per ticket phone servicing fee.  I was pretty sure that I couldn't, but I humored him and gave it a try.  Nope. As I expected, AmexTravel.com came up with the same $1,299 price as Delta.com.  But, it was lucky that I had humored him since he offered to waive the fee because the flight wasn't bookable online!  For the record, if I had paid the $39 fee per ticket, I still would have saved 11%.
Other Airlines
I don't know if it's common to find premium economy for less than coach (probably not), but I'd bet that it often costs less than 15% more.  And (assuming similar savings to what I found), that means that it may be possible to book premium economy for less than coach if you have an Amex Platinum card!
Note, though, that Amex doesn't have discounts with all airlines.  At the time of this writing they advertise the following partners with which they can presumably offer premium cabin discounts: Air China, Air France, Air New Zeland, Alitalia, Asiana, Austrian, British Airways, Brussels Airlines, Cathay Pacific, China Airlines, Delta, Emirates, Etihad, Iberia, Japan Airlines, KLM, LATAM, Lufthansa, Qatar, South African Airways, Swiss, and Virgin Atlantic.
More advantages to premium economy
The flying experience alone isn't the only advantage to booking premium economy.
More Miles
Often with premium economy, you'll earn significantly more miles and/or elite qualifying miles than with discount economy.  For example, Delta offers 50% more MQMs (Medallion Qualifying Miles).
Upgrade to Business with Miles
Many airlines only allow using miles to upgrade to business class when you book expensive economy fare classes.  Often, though, all premium economy tickets are eligible.  Sadly Singapore Airlines recently changed their policy and only allow upgrades from premium economy when you purchase a "flexi" fare (details here).
Finding great premium economy fares
In my case I wanted to fly a specific flight on a specific date so there really wasn't much I could do about finding lower fares beyond what I wrote above (although, I could have looked into throw-away segments…).  But, if you have more flexibility you can use the same techniques I wrote about here "How to find great business class fares with Google Flights" to find great premium economy fares rather than business class fares.  Once found, if you have a Platinum card, call Amex to see if they can do even better.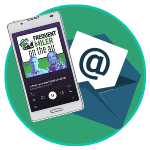 Want to learn more about miles and points?
Subscribe to email updates
 or check out 
our podcast
 on your favorite podcast platform.