This morning, Greg posted all about how to book Delta flights using Virgin Atlantic miles. The timing on that post seemed perfect because Delta is currently running its latest flash sale, with round trip flights to Europe for 128K miles round trip when you book by Saturday, May 11th for summertime travel. Generally, these flash sale seats have also been available for partner bookings via partners like Air France or Virgin Atlantic (the latter offering terrific value since they only charge 50K miles each way in business class and the current point transfer bonus means it would cost just 39K Membership Rewards points). However, based on many searches with the latest sale information, it looks like Delta may be blocking flash sale award space from partner awards (or if you look at it more generously: only making flash sale space available to Delta SkyMiles members). It is also possible that these particular peak summertime dates were blocked for partner bookings before the flash sale and that didn't change with the sale — but either way, it is notable that these flights are not available via partners for a few reasons.
Delta's list of city pairs is interesting
When Delta runs flash sales, they offer a list of example cities and prices. Typically, you'll also find sale pricing between additional cities not listed.
However, I found this week's flash sale list to Europe interesting after examining it for a few minutes:
That list probably struck me as notable because I search the Virgin Atlantic site for award availability almost every time Delta runs a flash sale — so I immediately knew that most of the European airports included are not listed on the Virgin Atlantic website. That doesn't mean you can't book flights to them — but you won't be able to search award availability online at Virgin Atlantic's website for airports like Frankfurt, Madrid, Berlin, Malaga, Prague, or Zurich. You should be able to call and check availability over the phone — but it's obviously more time-consuming to search for award space that way. That's probably just a coincidence — but that led me to doing many searches on the few routes available for booking online with Virgin Atlantic.
Neither Virgin Atlantic nor Air France are seeing award space on flash sale dates
Out of the few European cities listed this time around that are available on Virgin Atlantic's site, I found something even more troubling: despite the fact that that there is great availability on Delta.com at 128K round trip, Virgin Atlantic is not showing the same dates available.
As an example, here is Atlanta to Dusseldorf round trip in Delta One from late May into June on Delta.com:
As you can see, flights are available for 128K round trip on most of the date combinations shown.
However, searching one-way from either Atlanta to Dusseldorf or the other way around on Virgin Altantic results in no availability within 5 weeks.
I wondered if Delta had somehow strong-armed partners into only offering bookings round trip (as is necessary to get the deal with Delta), but that wasn't the case either.
Greg suggested checking Air France, which would be a good way to verify what I'm seeing (or in this case not seeing) with Virgin Atlantic because partner space should theoretically be available for booking with all partners or none of them (in this case anyway). No dice there — Air France didn't show any availability on direct flights in either direction nor round trip.
However, if you look at dates well outside of the flash sale, you will still find availability via Virgin Atlantic and Air France (despite the fact that Delta is charging higher prices). For example, here's a look at a round trip from Atlanta to Dusseldorf in February 2020 when priced at Delta.com.
As you can see, the lowest price is 210K round trip. However, many of those dates are available for 50K Virgin Atlantic miles. Here's Altanta to Dusseldorf one-way in February 2020 via Virgin Atlantic.
That's disappointing and was the case for all of the routes I checked — except London.
London still available with Virgin Atlantic miles during flash sale dates
Interestingly, I did notice that flash sale deals to London are bookable with Virgin Atlantic miles. Unfortunately, Virgin now charges more than $600 in fees one-way to London (even on Delta flights). For example, here's Boston to London in June on Delta via Virgin Atlantic.
And Portland to London is available both during off-peak dates for 67,500 miles one way and $624 in taxes.
And also during peak dates for ten thousand miles more at 77,500 plus the surcharges.
I didn't see availability out of Detroit, but I did out of New York.
The short story is this: the awards that you probably don't want to book (because of the $624 in taxes one-way) are available via Virgin Atlantic. But flash sale prices to cities with only $5.60 in tax from the US to Europe are not available through Virgin Atlantic.
Is this just a coincidence?
Since we're just noticing this with the latest flash sale, it is entirely possible that this is a coincidence. With Delta no longer publishing an award chart, there is no "saver-level" award today to know what should be available for partner bookings. We already knew that you couldn't count on Delta's price to know what would be available for partner bookings since you can sometimes book awards via Virgin Atlantic that Delta has priced at astronomical rates and sometimes can't book awards that Delta has available at lower prices. I don't know how Delta's computer system works in terms of marking seats available for partner bookings, but it is entirely possible that they already had the partner-booking-switch turned off for peak travel dates (which wouldn't be altogether uncommon as booking peak summer award travel to Europe can be challenging with all programs).
On the other hand, flash sale dates / routes have commonly been available via Virgin Atlantic in the recent past — I've not noticed this type of pattern before and have not generally had trouble finding Delta awards to Europe via Virgin Atlantic at various times of the year. Frankly, I was kind of surprised that Delta did not previously make flash sale space available only for members of its own program (again, this wouldn't be out of line with what many other programs do) — so I would be saddened but not shocked if that becomes the case moving forward.
Bottom line
If you plan in advance and/or aren't looking during flash sale dates, it looks like it is still reasonably easy to find great prices on Delta awards via Virgin Atlantic. Unfortunately, at least with this sale, it seems that Delta is holding back flash sale availability for its own members.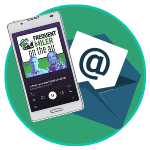 Want to learn more about miles and points?
Subscribe to email updates
 or check out 
our podcast
 on your favorite podcast platform.