If you listened to the most recent Podcast episode, you already know that we had a sort of exciting week, albeit a bit chaotic. You should listen to the episode to get the full story of an amazing opportunity that came our way for all 5 of us to fly ANA First Class in "The Suites", but I'll summarize a bit here as well.
Like probably many of you, the Frequent Miler team uses the messaging tool "Slack" to collaborate together, and yes, sometimes just to shoot the breeze. So when I was working on other projects this past Wednesday and heard my little Slack notifications clicking away in my ear buds, I didn't think too much about it. At a quick glance, it just looked like Greg and Nick were sharing excitement about some new discovery related to Seat Spy.
…but then I noticed this message:
This was my first indication that we weren't just bantering about Greg's cat Stripey this time and that I should do some catching up lest I miss out on something exciting. Again, you should go listen to the most recent Podcast episode to catch the rest of that (ongoing) story, but the whole stir got me thinking about the ways in which points and miles seem to favor this kind of "book first, plan later" attitude…(and how that's kind of a feature, not a bug…)
Cheap, on target, or timely: Pick 2
We freelancers often have to tell our clients that we can deliver projects "on budget, on time, or of high quality…but you'll have to pick 2." Similarly, miles and points can help you achieve just about anything, but getting a really good deal often means allowing a little flexibility with your destination, schedule, or both. You often have to compromise something.
"Mistake fares" for example typically are so random and restrictive that they not only dictate a trip's destination and schedule, but they require you to book immediately, before there's time to do much planning or research. Or as was the case for our team this week, surprise award availability can work this same way. None of us had a specific plan which included Tokyo or San Francisco.
I think these constraints are a feature…not a bug
One of the reasons I actually like the "book first, plan later" ecosystem is because I'm just "that kind of person" – I like to maintain a (likely delusional) view of the world as some exciting place where there could be an adventure waiting around any corner. I realize it's a luxury that comes with working remote and having no kids – we've jumped on more than a few spontaneous ideas that we'd never have been able to do if we were responsible for children or even animals. I get it.
But I think the constraints that come from jumping on a deal can be a huge benefit for even people who don't (or can't) favor spontaneity.
(As usual, I'll demonstrate with a completely irrelevant analogy.) When I was an art student I could sit all day in front of a sketchbook not knowing what to draw until my art professor provided some sort of constraint for our assignment, and then I'd start to have ideas. To take the analogy a step further, before I had any constraints to inspire me, I would often just draw whatever was on the cover of my National Geographic magazines.
I think trip-planning can be the same way. I didn't know anything about Oman before we booked a mistake-fare there (and it probably wouldn't have occurred to me to go there without the impetus). And the detour Drew and I made to Fiji for our first anniversary was entirely inspired by the InterContinental Fiji's appearance on the IHG "Points Breaks" list. ("Points Breaks" was a list of hotels IHG would feature for 5,000 points a night.) Points Breaks inspired quite a few trips for us, in fact.
Of course, this has backfired a few times too. We booked a mistake-fare once for an obscure hotel in some industrial park outside of Hamburg. That hotel was a total dud, but even in that case our dud-booking inspired us to ditch the whole thing and spontaneously hitch-hike to the incredible (and now rebranded) InterContinental Berchtesgaden instead. At ~$7 a night, I can hardly regret that booking, especially since ditching it turned into an adventure of its own. (That hotel is now the Kempinski Berchtesgaden Hotel.)
Getting past the bucket list
While we all have bucket lists of places we KNOW we want to see (and miles and points are an excellent way to get to those places), there are so many hidden gems out there which maybe wouldn't get our attention without a little curve ball deal to get us there. When I first started traveling, Ireland was at the absolute top of my bucket list for instance. Don't get me wrong – Ireland was just as magical as I hoped it would be and is still a place I adore, (and hope to get back to again). But I now also have lists of places which never would have occurred to me to visit if it weren't for miles and points – places which I've loved. I'm willing to bet many of you have a few serendipitous spots which you've visited primarily because of a good deal, and which have made it to your favorites list.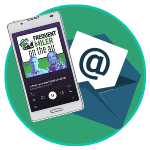 Want to learn more about miles and points?
Subscribe to email updates
 or check out 
our podcast
 on your favorite podcast platform.