Update 2/11: JetBlue is back again with the same great award prices that we saw on Monday. This is ostensibly "day 5" of their 22nd Anniversary sale, but it looks like most of the cash and award pricing is the same as we saw on Monday.  These prices are valid for 2/11 only.
JetBlue is offering fares as low as $21.60 in honor off their 21.6th…err, 22nd Anniversary. The $22 fares seem to all be East Coast to East or West Coast to West but there are some other good values as well.  Transcons are $70-88 between all four JetBlue destinations on the West Coast (SEA, SFO, LAX, SAN) and the East Coast, and there are some desireable $44 and $66 tickets (such as FLL-Guayaquil, Ecuador for $66).
Pricing is valid for Tues/Wed travel from February-April and books as Blue Basic, which charges extra for carry-on, checked bag and seat selection. "Upgrading" to Blue is ~$25 more, which provides free cancellation, carry-on and advance seat selection.
The best deals, however, are found by using True Blue points when booking Blue.  True Blue awards book into regular economy directly and in almost all examples I found it provides at least 1.7 cents per point value, well over our Reasonable Redemption Value of 1.33 cents.  That flight from FLL-GYE is $66 or $96 for regular economy.  The points price?  2,000 True Blue Points each way.  Round-trip from the US-Ecuador for 4,000 points is sensational.  There doesn't seem to be any rhyme or reason to the award pricing, so if you're in the market between February and April, it's worth taking a look.
The Deal
JetBlue is offering fares as low as $21.60 for travel booked on February 7th only.  Includes some international destinations, but not London.
Award booking in regular economy starting at 2000 True Blue points
Key Terms
Must book by 2/11
Tues/Wed travel only
Valid for Feb-April travel
Lowest cash fare books into Blue Basic, which is $100 to cancel and doesn't have free carry-on or advance seat selection.
Quick Thoughts
I started out looking at this sale without being terribly enthused.  The prices are good, for sure, but right now I'm not a big fan of booking without the option to cancel (or have a carry-on for that matter).  If you want to take a small backpack to Miami from New York for the weekend it would be ok…but the fares are only Tues/Wed, so you're locked into midweek travel. The additional cost to get Blue with a carry-on and free cancellation makes many of these flights worth looking at, but the more I dug into it, the more I found some interesting nuggets, especially using True Blue points (award prices are regular economy):
BOS-Cancun – $88/6-7,500 pts
FLL-Guayaquil, Equador – $66/2,000 points.
JFK-Aruba, Cancun, St.Lucia, St. Maarten, San Juan – $88/5,900-7,500 pts
JFK-Bermuda, Barbados – $66/4,400-5,900 pts
JFK-Grenada – $110/7,900 points
LGA-Sarasota – $22/2100 points
There are some excellent values here, especially when factoring in award pricing.  From the above examples, JFK-AUA is $88/128 for basic/regular economy, but the award price is only 6,700 points for regular blue with carry-on and free cancellation.  That's 1.9 cents/pp and a great value.  The previously mentioned FLL-GYE 2,000 point award is a whopping 4.9cent/pp...incredible for a flight to South America.
JetBlue partners with Citi, Chase and AMEX so their points are very easy to come by.  If mid-week travel works for you between February and April this sale is definitely worth poking around in.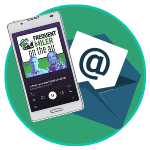 Want to learn more about miles and points?
Subscribe to email updates
 or check out 
our podcast
 on your favorite podcast platform.