My wife and I are workationing our way down the California coast in our endeavor to avoid big swaths of Michigan's winter.  The journey so far included a 5 night stay at Hyatt's all-inclusive adults-only Alila Ventana Big Sur.  Regular readers may remember that I fell in love with Ventana two years ago and vowed to return often.  My bottom line review at the time was summarized with this: "Wow. Wow. Wow. Did I say 'wow'? Wow."  Since then, my wife and I tried repeatedly to return, but Covid and a California fire conspired to keep us away.  Until now…
As we drove down the coast towards Ventana, I was both excited and nervous.  I was excited to finally return, but nervous that my expectations were too high.  It was possible that part of what made Ventana so great the first time was the novelty of staying in a luxury resort amidst redwood trees on the glorious Big Sur coast.  I had no doubt that the return visit would be good, but would it be as great as I expected?  I needn't have worried…
The check-in experience was encouraging.  When we first drove up to the outer gate, the employee who opened the gate called ahead so that the bellhops would be ready for us.  We pulled up and bellhops swarmed our car to take our bags and to greet us by name and declare "happy anniversary!" [It wasn't technically our anniversary yet, but we've learned that when asked if you're celebrating a special occasion it doesn't hurt to say yes. And, technically, this was the 2 year anniversary of our last visit to Ventana!].
Things got even better at the check-in desk when we were told that we were upgraded from the Big Sur Suite (which I had booked) to a two story Big Sur Villa.  Score!
As an aside, regular rooms are rarely available to book with points at Ventana, but suites are often available at higher point prices.  I booked the Big Sur Suite for 5 nights by booking two nights as suites and three nights in a standard room, plus I applied a suite upgrade certificate to those three nights.  Then My Concierge helped tie the reservations together so that we'd have a single suite for the stay.  For the record, this stay was before peak and off-peak pricing kicked in and so I paid standard rates, but here are the rates for stays beginning in March 2022 (expect to pay peak prices most of the time):
Room: 30K points per night standard, 25K off-peak, or 35K peak.
Suite: 48K points per night standard, 43K off-peak, or 53K peak.
Premium Suite: 60K points per night standard, 50K off-peak, or 70K peak.
With room rates often north of $2,500 per night, even peak prices offer incredible value.
Update: Ventana is increasing to category 8, effective as of Tuesday, March 22, 2022, at 8:00 a.m. CDT.  New pricing:
Room: 40K points per night standard, 35K off-peak, or 45K peak.
Suite: 61K points per night standard, 56K off-peak, or 66K peak.
Premium Suite: 80K points per night standard, 70K off-peak, or 90K peak.
Big Sur Villa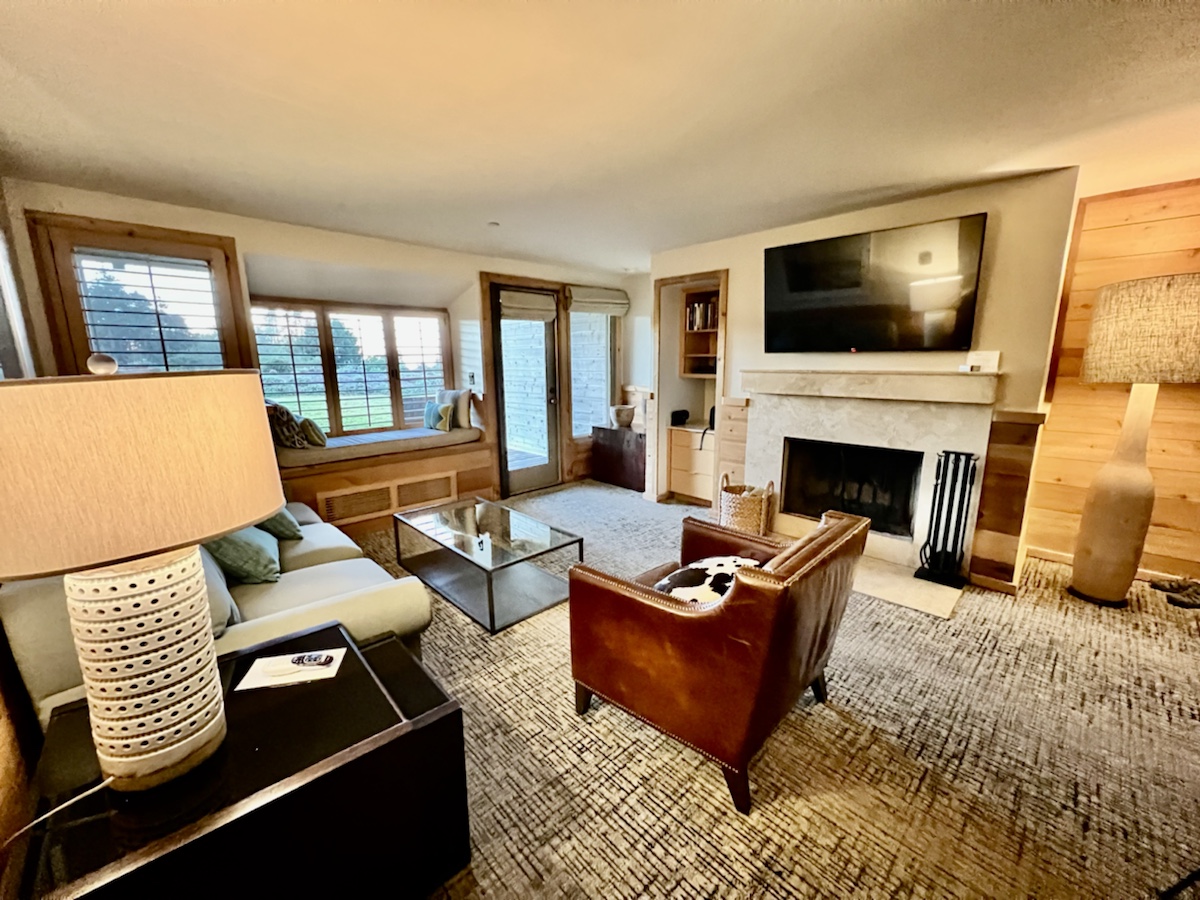 This two-story unit was perfect for us considering that both of us had to work during the stay and so we could do Zoom meetings on separate floors to avoid bothering each other.  We also appreciated that this unit (room 23) had a partial ocean view.
On our previous stay, we had been upgraded to an amazing Vista Hot Tub suite (see the original review for photos).  That one-story suite didn't have separate rooms to help with workationing (but we were truly vacationing that time), and it didn't have an ocean view.  But… it was much nicer than the Big Sur Villa.  The Villa (our lodging for the latest visit) had a much smaller bathroom, it's fireplace wasn't as nice and furniture was awkwardly placed for enjoying it, and it didn't have the outdoor hot tub or big lounger that were available with the Vista Hot Tub suite.  So, yeah, the new suite wasn't as amazingly awesome as the previous one, but it was still awesome and it fit our current needs even better.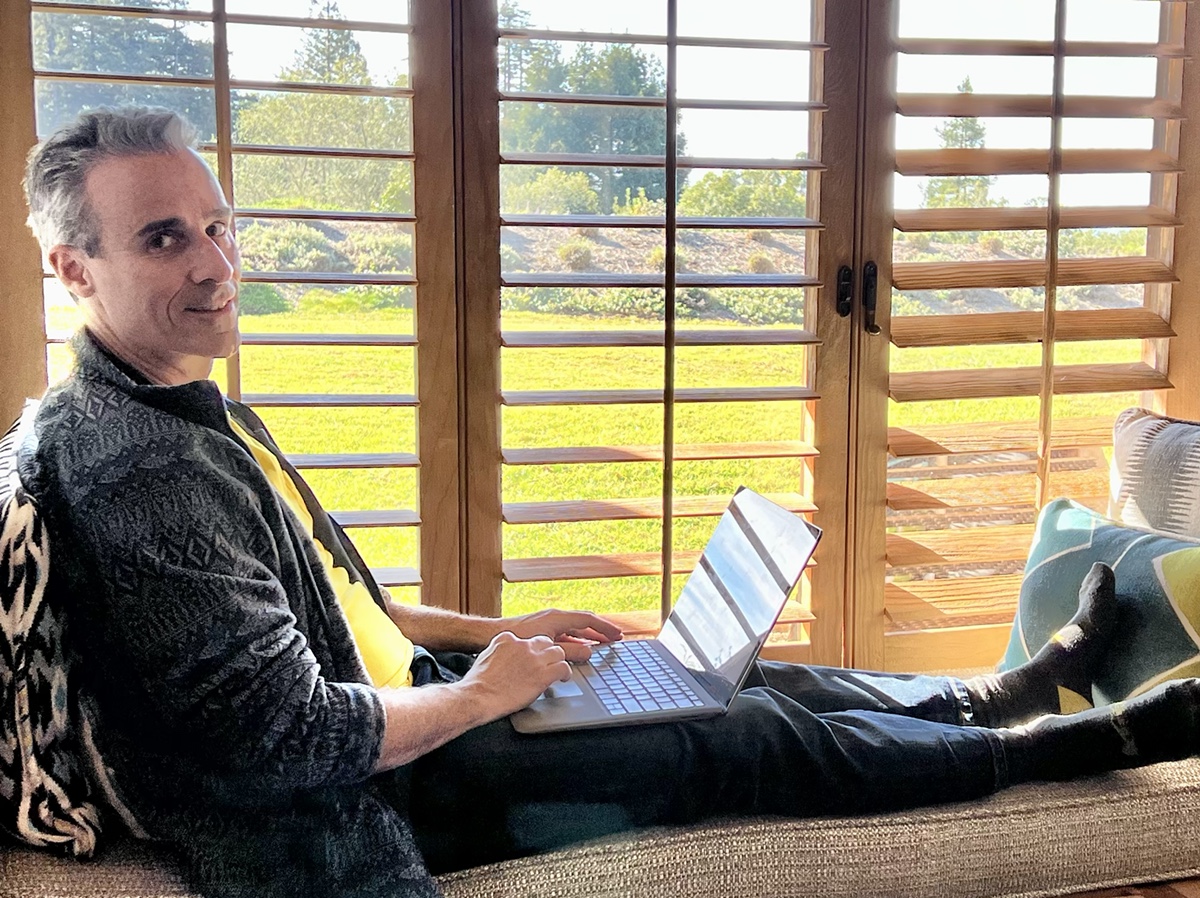 Dining
When we last visited Ventana, food wasn't included.  At that time, we were thrilled to get free breakfast as a Globalist perk (Hyatt's top tier elite status is called "Globalist").  Now, though, Ventana is all-inclusive.  All meals and regular drinks are free.  Alcohol and mocktails are extra.
All meals can be ordered as room service with no extra charge for delivery.  Alternatively, breakfast and dinner are available daily at the Sur House restaurant's outdoor terrace.  Lunch can be ordered at the pool or at the Sur House restaurant.
We often got lunch by the pool, but for breakfast and dinner we enjoyed going to the restaurant.  To get there, you can request a ride if you want (that wasn't our thing) or you can walk the 0.3 miles on a magical path through the redwood trees.  I love that.
At the restaurant, they seated everyone below heat lamps outdoors.  Usually we were warm enough with a sweater, but once the sun went down at night a cool wind sometimes made us uncomfortably chilly.  My recommendation is to look up sunset times ahead of your stay.  The concierge team will contact you before your visit to book your dinner reservations and so you can try to book times when you can watch the sun set during dinner.  If you get seated after sunset, you're likely to be quite cold.
Oh and yeah, the food was delicious.
Tipping
Update 2/15/23: For an upcoming stay I received an email that makes the tipping rule clear: "Gratuities: Gratuity on all included food items is covered, porterage and daily housekeeping gratuity is also covered. Gratuity on any item outside of the inclusive model is not covered and left to guest discretion."
At check-in we were told that this was a no-tipping resort.  That said, they still have you sign a check for meals even if you had a zero balance.  On that form is a spot for a tip.  This is confusing.  Is this really a no-tipping resort?  It doesn't seem to be.  We left tips, but I wouldn't blame anyone for not doing so given what we were told at check-in.
This is one area where Miraval does things much better.  During our recent stay at the Miraval Arizona, we similarly had to sign for meals, but there was no place to put a tip.  At Miraval, when they say "no tipping", they really mean it and enforce it by making it nearly impossible to leave a tip.
Activities
Update 2/15/23: The included activity list has changed since my stay in 2022. As of 2/15/23, included activities are:
Morning Movement: 8am Daily
Coast Ridge Hike: 9am Daily
Bees & Big Sur: 1pm Sunday, Wednesday, Friday
Foragers Hike: 1pm Monday & Thursday
Wildcrafting: 1pm Tuesday & Saturday
Redwood Hike: 3pm Daily
Sur House Social: 4pm Daily
S'mores: 8pm Daily
This is another area that has really been stepped up since our last visit.  The resort offers many complimentary daily activities…
Daily Complimentary Activities:

8am: Morning Yoga, Tai chi, or Meditation
10am: Guided Redwood property hike daily
3pm: Coastal View Hike
4pm: Sur House Social (Free specialty cocktail at the Sur House patio)
8pm to 10pm: S'mores

Additional Complimentary Activities (not available every day):

Falconry at 1:30pm Sunday and Friday
Foragers Hike: 1:30pm Tuesday and Wednesday
Beekeeping at 1:30pm Monday, Thursday, and Saturday (staring 2/22/22)
Astronomy at 8pm on Monday, Tuesday, and Thursday
There are also paid activities available, such as:
Axe Throwing: $50 per person
Wild botanical skincare (collect herbs to make your own skincare salves): $50 per person
Classic cars (drive a vintage Porsche Spyder or other classic car): Half day from $400 per vehicle.
Whale watching: $50 – $125 per person
We did most of the complimentary activities, but none of the paid ones.  The Coastal View Hike and Astronomy were a couple of my favorites.  Unfortunately, the Falconry class was already full when we checked in (but we've done it before) and so I recommend booking that in advance for your stay!  Also, we really wanted to do Beekeeping, but our stay ended before they started that new option.
Covid
If you're worried about Covid, I can't imagine a much better place to stay than Ventana.  All meals are served outdoors (or brought to your room).  At the time of our stay, staff wore masks both indoors and out.  Guests were required to wear masks indoors (other than in their own room), but there were very few occasions to be indoors anyway.
Service & Luxury
In my experience, the Ventana staff routinely go above and beyond to make guests' stays great.  Almost everyone seemed genuinely happy to interact with us, and went out of their way to help in any way they could.  In this time when hiring and keeping staff is so difficult, this is an amazing achievement.  According to one staff member I spoke with, Ventana has brought in staff from other Hyatts around the world that have closed or cut back staff due to the pandemic.
I also love that the resort's physical characteristics are top notch.  The grounds are absolutely gorgeous.  The room interiors seem to be very high quality.  They offer giant plush towels, ceramic mugs, etc.  The particular unit we were in on this trip was a bit dated (and the rug was noticeably worn), but we've been told that Ventana is planning to update  these units soon.
Not quite perfect
A very minor issue we ran into was that the information we were given at check-in was often incorrect.  For example, the daily calendar showed beekeeping at 1:30 on several days, but when we showed up for it we learned that it wasn't going to start until later in the month.  The sheet also said that all hikes meet at the Social House only to learn that the Coastal View Hike meets at the Sur House restaurant which is a third of a mile away.  You would think that the issue of having incorrect printed materials would be fixed by offering this information online but all menus are online and we learned that the online drink menu was wrong.  You had to look at the printed menu for the drinks.
Another minor issue is that we didn't know to sign up for Falconry in advance.  It was only available on the day of our check-in and after our check-out.  And the one on the day of check-in was full.  The concierge team is proactive about getting guests signed up for dinner reservations (prime eating hours do fill up), but it would be great if they would be similarly proactive with popular and limited activities like Falconry and Beekeeping.
Again, these were extremely minor issues.  Plus, after we mentioned the written calendar discrepancies to a staff member, he told us the next time we saw him that he had met with his manager to sort that out.
More photos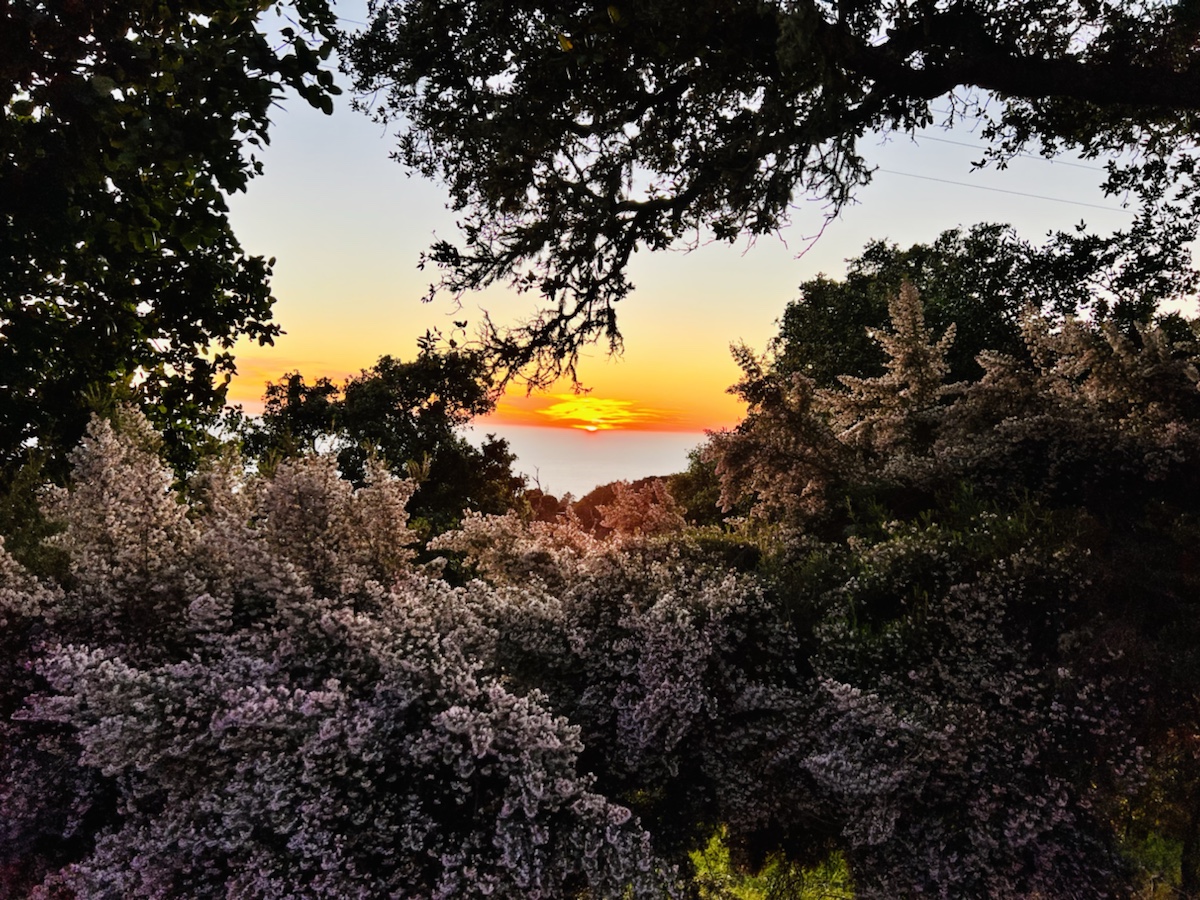 Bottom line
Ventana wowed us as much on our second visit as our first.  Or maybe even more!  If you want to get away from it all to a place full of beauty and luxury, this is about as good as it gets… especially within the United States.
See also my original review (updated with new info): Ventana Big Sur Hyatt. Bottom Line Review: Awesome.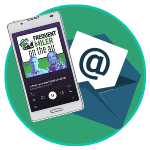 Want to learn more about miles and points?
Subscribe to email updates
 or check out 
our podcast
 on your favorite podcast platform.