Kroger has been launching new gift card deals online for the past week. Most – or all – of them are still available and they're a great opportunity to pick up a good discount on gift cards for personal use or for gifting this holiday season.
The Deals
Kroger is offering the following gift card deals online:

$150 Southwest Airlines for $135
$50 + $10 Sephora gift cards for $50
$50 DoorDash for $42.50
$50 Panera Bread for $40
$57.50 Happy Holidays for $50
$57.50 Happy You for $50
$50 Subway for $40
$50 Big Lots for $40
$75 Holiday Favorites + $10 Kroger for $75
$25 Zaxby's for $20
$50 Applebee's for $42.50
$57.50 Happy Holidays for $50 (this is a different version of the other Happy Holidays card)
$50 DSW for $40
$50 Topgolf for $40
$75 Bass Pro Shops for $65
$75 Cabela's for $65
$50 Brinker for $40 (Chili's, Maggiano's & On The Border)
10% off $25 Visa
$100 + $10 Macy's for $100
10% off $25 Mastercard
$75 Under Armour for $65
$50 Steak 'n Shake for $40
$25 FandangoNOW for $20
$50 Fanatics for $40
3 month DAZN for $16.99
12 month DAZN for $84.99
$75 Petco for $65
$75 Spafinder for $60
Key Terms
Expires December 24, 2020 or while supplies last.
Limit 1-5 depending on the brand.
Quick Thoughts
This is a great collection of gift card deals, with a few more deals set to be added every day until Christmas Eve. The new deals get added at 10am ET each day (or a few minutes after), so be sure to check the promotions page linked to above each day in case there are any other deals you might be interested in.
One of the nice things about these offers is that you can buy them even if you don't have a Kroger store (or a store of one of its affiliates like Ralphs, Fred Meyer, Smith's, etc.) in your area. The deals work out even more in your favor if you do have one of their stores nearby though because you'll earn 2x fuel points when buying these which can save you up to 7% on gas.
Some of the more notable deals include 10% off Southwest gift cards and 20% off brands like Panera Bread, Subway, DSW and Brinker. 16.67% off Sephora and 15% off brands like DoorDash are also decent deals.
A couple of things to note regarding some of the deals. 10% off Mastercard and Visa gift cards sounds great on the surface, but there's a $3.95 fee on those $25 cards. That means you end up paying $26.95 per card including shipping, so it's not going to be worth it for most people.
The Happy gift card deals can be worth a look as they can be redeemed online for gift cards for participating brands. Depending on the Happy brand you buy, you could be getting a 15% bonus on GameStop, Wayfair, Macy's, Ulta Beauty and more, opening up even more discounted brands.
All of these deals are due to end on December 24, but they might sell out sooner than that, so if any of these catch your eye then it'd be best to buy them sooner rather than later.
Although these are sold by Kroger, payment is processed by Blackhawk Network. That sadly means that buying these won't code as grocery purchases which means you won't earn bonus points by paying with a card which ordinarily earns more at grocery stores.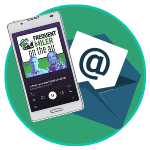 Want to learn more about miles and points?
Subscribe to email updates
 or check out 
our podcast
 on your favorite podcast platform.