Have you ever rented a car and hopped on a toll road only to realize after it was too late that muscle memory put you in the E-ZPass lane – even though your rental car doesn't have an EZ Pass? That recently happened to me. Except I wasn't driving a rental car….it was my own car, and I knew I didn't have the E-ZPass in it. In fact, it happened twice. Doh. The first fine came in the mail in a bright orange envelope, which quickly caught my wife's eye. She opened it and just about spit out her drink — "Sixty dollars?!?!?". What? That didn't sound right. It wasn't — but it was a lot higher than what I paid in the end: $1.95. Here's how you might be able to accomplish the same if you find yourself in my shoes.
I live in New York State, which uses E-ZPass for express toll collection. Quite a few other states participate in the E-ZPass program (as far south as Florida and as far west as Illinois) and I know there are other similar programs in other states. For those without toll roads nearby, you get a transponder device and then you can sail through the toll booth without coming to a full stop, with the transponder connecting to some receiver and charging the toll to your account. If you go through one of those lanes without an E-ZPass, a camera takes your picture (usually just the license plate area — I don't have any souvenir shots like the one that Greg posted about this morning from his trip to Germany) and you get a fine in the mail. The fine is typically the maximum toll at your exit point with an administrative fee tacked on.
In my case, that was actually $17.85. My wife had looked at the penalty rate if not paid within 10 days of receiving the mail notice, which was indeed $60. I definitely wanted to take care of this before it got to that point. But the bummer of it is that I knew that the actual toll couldn't have been more than a dollar or two based on where I got on and off the highway. I knew it would have been nowhere near $17.85 had I either had the E-ZPass or the mental fortitude to wake up enough to go through the line with paper tickets.
So I pulled up the website on the violation notice and plugged in the violation number and license plate number. To my surprise, it came up with not one but two violations on separate dates. So make that $17.85 times two. Ugh. More than thirty five bucks down the drain for no reason other than being a little tired and zoned out.
I was about to pay the $35.70 that was staring back at me in violations when, for some reason, I clicked on the hyperlink for one of the violations. That brought me to a magical page that looked like this:
Notice that there is an active drop-down menu that says Entry. I did not get on the Thruway in Newburgh – that's just presumably from where I was being charged. Wouldn't ya know it — I could use that drop-down to pick out the precise place where I entered the Thruway. I did that for both violations  and it made a substantial difference in what I would need to pay.
But it wasn't over. At the bottom of the page, there was an area to click to resolve the violations if you are an E-ZPass holder (boxed in red above). There were separate buttons for E-ZPass NY pass holders and one for other states. Since I have a NY E-ZPass, that's the one I chose. From there, I could log in or enter my E-ZPass number….and that removed the $5 administrative penalty on each violation — bringing my total down to $0.30 on one toll and $1.65 on the other. And that's what I paid — $1.95 total.
Bottom line
This may be common knowledge for some road warriors, but I had no idea you could enter your point of entry to correct your toll road violation. I'm further surprised that you can just self-select your entry point. I would like to pretend that this is the first time this has ever happened to me — but the turth is it has happened once or twice before and I've paid the fine as shown in the mailer. Needless to say, I'll not only be less worried about doing this again, but I'll never pay the maximum toll on these again when I know I entered somewhere else. Clicking on that hyperlink saved me about $34. I'll keep that nugget in mind should a bright orange envelope ever arrive again.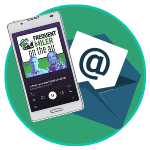 Want to learn more about miles and points?
Subscribe to email updates
 or check out 
our podcast
 on your favorite podcast platform.