This credit card hobby has spoiled me.  Among other perks, my collection of credit cards gives me access, one way or another, to most airport lounges.  I've grown accustomed to being able to duck out of the in-terminal commotion to find comfortable seats, free wifi, plentiful power outlets, clean bathrooms, and free snacks.  Both my Delta Reserve card and my Amex Platinum card (but, confusingly, not my Delta Platinum card) give me free access to Delta SkyClubs when flying Delta.  My Platinum card also gives me access to Airspace lounges, and Amex's own Centurion Lounges.  And my Citi Prestige card is my key to entering AA AAdmirals Club lounges when flying American Airlines.  Both the Platinum card and the Prestige card also give me access to Priority Pass Select lounges.  The Prestige card's Priority Pass benefit is better, though, since it lets me bring in a couple of guests for free.
The problem is that I primarily fly out of the Detroit Metro Airport.  When flying Delta, or one of its close partners such as Air France or Virgin Atlantic, there's no problem.  Delta and it's partners fly out of the McNamara terminal which has plenty of Delta SkyClubs.  The North Terminal which houses AA, Alaska, JetBlue, Southwest, Spirit, United, etc., though, only has one lounge.  And this lounge is dedicated to an airline that has only one daily flight out of the Detroit Airport: Lufthansa.
The Lufthansa lounge can be accessed when flying Lufthansa in business or first class to Frankfurt.   Another way to get in is to have Star Alliance Gold status and have a same day departing flight on a Star Alliance carrier.  The only Star Alliance carriers that fly out of Detroit other than Lufthansa are United and Air Canada (but the latter only has one route: Detroit – Toronto).  So, when flying from Detroit out of the North Terminal, but not on Lufthansa, the ticket to the lounge is to fly United or Air Canada and have Star Alliance Gold status.  I've been told that having a United Club membership (or owning the United MileagePlus Club credit card) will also get you in, but I have neither.
Getting Gold
There was a brief period of time last year in which Copa Airlines was offering easy status matches to elites in many other programs.  I matched from my AA Executive Platinum status to Copa Platinum status.  That gave me Star Alliance Gold status.
Unfortunately, most opportunities for status matching to Star Alliance Gold status, that I'm aware of, have gone away or have been converted to challenges that require flying.  Even Turkish Airlines, which used to offer free and easy status matches, now requires at least one international Turkish Airlines flight during a 4 month trial period.
Finding Opportunity
Since getting Star Alliance Gold status from Copa in October of last year, I haven't had a chance to benefit from it.  In 2015, I was still chasing status with American Airlines, so I flew AA as much as possible (I've since decided not to try to re-up status with AA).  Before that, and since then, I've mostly flown Delta.
This week, I visited the House of Miles (Boarding Area's headquarters) in Colorado.  I planned the trip just about 2 weeks in advance.  By then, ticket prices on regular carriers were quite high, so I looked for award flights instead.  I found a one-way non-stop saver level award on United First Class, which I booked with Singapore Airlines miles.  For the return, I booked a Delta economy award.  Delta allows elites with Gold or higher level status free upgrades on award tickets.  Thanks to my Platinum status, I instantly upgraded to Comfort Plus and my fingers are crossed for a last minute upgrade to First.
After booking the Untied flight, I pulled up the reservation on United.com and was happy to see that it let me set my frequent flyer program info for the trip.  I entered my Copa frequent flyer number.
Enjoying the lounge
I arrived at the airport about an hour before boarding was scheduled to begin and made a beeline for the Lufthansa lounge.  I handed my boarding pass to the desk agent who scanned it and then pointed me to the right side – the Lufthansa Senator Lounge (to the left is the lesser Business Class lounge).  I had brought my Copa membership card just in case, but it wasn't needed.
It had been about 3 years since I had been in this lounge (when I flew Lufthansa first class).  At that time, I remember being unimpressed with the lounge.  I think they've improved things, though, because this time I was happy with what I found…
Not just a few snacks, but real food and drinks…
It was early still and I knew that I would get dinner on the flight, so I settled for a small snack:
And, maybe I tried one of these…
As to the rest of the lounge, it was nice enough.  Wifi was adequate and seats were comfortable.  Many of the power outlets didn't work, but I found one that did.  If given the choice, I'll take this lounge over a Delta SkyClub any day.  Maybe I should start flying United more often…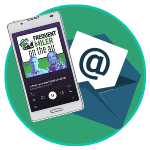 Want to learn more about miles and points?
Subscribe to email updates
 or check out 
our podcast
 on your favorite podcast platform.