Note: On January 8, 2016 American Express sent out a notice to a large number of Bluebird & Serve cardholders informing them that loading capabilities on their accounts had been terminated. For more information, see: Amex kills Bluebird and Serve for manufactured spend
From Serve to REDbird and back to Serve
There was a time when Serve prepaid cards could be reloaded at CVS, with a credit card, for free.  Back then, it was possible to buy large denomination Amex gift cards through a portal to earn cash back or extra miles.  The whole deal was ridiculously profitable.  We would earn credit card rewards plus portal rewards by buying Amex gift cards, then we would liquidate each Amex gift card at CVS by loading its value to our Serve cards.  Finally, we would use Serve's bill pay feature to pay our credit card bills.  It was a perfect perpetual point machine (PPM)… except for the "perpetual" part.  That PPM died in April 2014 when CVS decided to accept cash-only for most reloadable products.
The great PPM resurfaced last year when Target soft-launched their Prepaid REDcard (AKA REDbird).  For seven months, Target accepted credit cards for reloading REDbird.  And, we were again able to earn credit card rewards plus portal rewards when buying Amex gift cards.  Instead of CVS and Serve, we would go to Target to load our Amex gift cards onto REDbird.  Then we would use REDbird's bill pay feature to pay our credit card bills.
The REDbird PPM died in stages.  The first wound was inflicted when Target changed to debit only for in-store loads.  That hurt, but the PPM lived on with a new step thrown in: use Amex gift cards to buy Visa gift cards, then use those gift  cards (which are also debit cards) to load REDbird.  The process was more tedious and slightly less profitable, but it still worked.  Then, Amex stopped allowing portal rewards for gift cards with values above $200.  And the final nail in the PPM coffin came when Target moved to cash-only for REDbird reloads.
Thanks to family and friends, I had managed seven REDbird accounts.  When Target moved to cash-only reloads, we closed all of those accounts and applied for One VIP Serve instead (see: Complete guide to the many flavors of Serve. Which is Best?).  Six of the conversions to Serve went smoothly.  In only one case, Amex asked for proof of identity.  We haven't yet even bothered with that.  For now, at least, six Serve cards are enough for me.
The current PPM
The best current (and repeatable) options for earning outsized rewards when buying Visa and MasterCard gift cards are:
Credit card signup bonuses: Most credit card bonuses have minimum spend requirements.  Buying Visa or MasterCard gift cards can be a great way to meet that spend for minimal cost.
Credit card category bonuses: Some cards offer bonuses for spend at grocery stores, drugstores, office supply stores, etc.  By buying gift cards at such places, it is possible to earn rewards that far exceed gift card fees.
Credit card big spend bonuses: Some cards offer bonuses for high spend.  Often, those bonuses are credits towards elite status.  If you highly value elite status perks, buying gift cards can be a great option for running up spend on these cards in order to get status.
I regularly take advantage of all three of the options listed above.  See also: Best options for buying Visa and MasterCard gift cards.
Serve reload process
There are two Walmart stores within a 20 minute drive from my house.  One store is almost completely useless: the Kiosk never works, and staff are trained to not allow gift cards for reloading prepaid cards.  In fact, they seem to have been trained to assume that everyone with a prepaid card is a criminal who is there only to launder money.  My recent staff interactions at this store were not fun.
The other local store is much better.  The kiosk usually works.  Regular cashier lanes work to load up to $500 at a time.  And, money center employees will happily let me load one prepaid card up to its allowed limit ($2,500 per day for Serve and Bluebird).  They even understand that the loads must be done in increments of no more than $1,000 at a time.  And they're happy to split those $1,000 loads into two $500 transactions (which is necessary when I pay with $500 gift cards).
Despite the friendly employees, I would prefer to do all of my reloads at the kiosk.  The problem is that Walmart kiosks have reload velocity limits (see:  Complete guide to loading Bluebird or Serve at a Walmart MoneyCenter Express Kiosk).  If you try to load $2,000 or more within 10 minutes, the machine will lock up and require a manager override to continue.  That's not a problem for those loading $200 gift cards (since it takes longer than 10 minutes to load $2,000 worth), but loading $500 at a time is a problem.
After switching from REDbird to Serve, it took me a while to come up with an optimal Walmart process, but I think I have it down pat now.  Here's what I do:
Before visiting Walmart, I setup an ms wallet (a wallet I use for manufacturing spend) with separate sections dedicated to each Serve card.  Behind each Serve card, I place $2,500 worth of Visa gift cards, usually in denominations of $500 each.
I visit Walmart when I know it won't be crowded. I avoid lunch hour, rush hour, and early evening times.
My first stop is the kiosk.  I load my first Serve card to $1,999.99.  In other words, I usually load $500 three times, then I load $499.99.
With each load (at the kiosk or not), I pay with a gift card found in my ms wallet directly behind the Serve card that I'm loading.  This way, I always know how much I've done so far and how much I can still do.  Used gift cards and load receipts are discarded into a back pocket to be filed away later.
After my first trip to the kiosk, I do some shopping.  I almost always need a few staples.  If the cashier lines aren't too crowded, I'll skip the self-checkout lanes.  This way, in addition to paying for my shopping items, I can finish loading my first Serve card for the day with another $500.
Next, I go to the Walmart Money Center and fully load a second Serve card to $2,500 total.  At this Walmart, they'll only let me do one per day.
By now, the kiosk should be ready to go again (as long as no one else has hopped on in the meantime!).  I check my email for the timing of the last successful reload.  If it's been at least 10 minutes, then I go ahead and use the kiosk to load my third Serve card up to $1,999.99.
I could then return to a cashier lane to finish off the 3rd Serve card for the day, but I don't think it's worth worrying about this final $500.  I'd rather get going.
The last time I visited Walmart, the above process took a total of about 25 minutes from start to end.  While I'm not a fan of Walmart, in general, 25 minutes is tolerable.
What about Rite Aid, Dollar General, and Family Dollar?
Recently, American Express announced that they had expanded the Serve free reload network to include Rite Aid and Dollar General.  This was great news for those who need to liquidate Vanilla brand gift cards (which don't work as debit cards at Walmart in increments of $50 or more) and for those without a nearby reload-friendly Walmart.  Whether or not each store accepts debit gift cards depends on the individual store and/or cashier.  Reports from Dollar General have been mixed whereas Rite Aid seems to be accommodating more often than not.
Family Dollar has been an option for quite a while, but they seem to have a built in limit of $500 per day, and not all stores allow debit gift card payments.
For me, Dollar General and Family Dollar are inconveniently located.  If I'm going to make the drive to one of them, I might as well go the extra mile to Walmart.
Rite Aid is much better located and I've confirmed that they allow gift card debit loads.  Still, Rite Aid doesn't factor into my usual reload plans.  If I have a need to liquidate one or two Vanilla gift cards, then great.  However, at Walmart (as I outlined above), I can load up three Serve cards to almost $2,500 each in a single visit.  There is no way I would inflict this on a local Rite Aid store.  I believe that would only contribute to a quicker end to this great new option.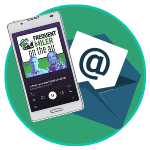 Want to learn more about miles and points?
Subscribe to email updates
 or check out 
our podcast
 on your favorite podcast platform.