Just before Greg and Nick went gallivanting on their Passing The GUC trip, my wife and I went on our own international adventure to Dubai, Egypt and Jordan as a surprise trip for her 40th birthday. One of the highlights of our trip was staying at the Marriott Mena House in Cairo.
I wasn't originally planning on having us stay there as there was a different hotel I'd booked – the brand new Hyatt Regency Cairo West.
I was really excited about the Hyatt Regency as it was due to open just before we arrived and had pyramid views from all guest rooms. I managed to submit a successful Best Rate Guarantee claim to get a standard room for less than $100 per night and applied a Suite Upgrade award to a one bedroom suite that was retailing for almost $450 per night.
Less than a month before our stay, they emailed to say that the hotel's opening was being delayed until September which was after our stay, so they had to cancel our reservation. With only a few weeks until our stay, other hotels had gotten more expensive, so I contacted my Globalist concierge to ask what kind of compensation they'd offer. They awarded me 24,000 points which was based on the property being a category 2 property (8,000 points per night) and we were due to stay there three nights. Although I'd booked a paid stay rather than an award stay, I was happy with that resolution.
That still left me needing to book an alternate hotel. The only chain property that seemed to have decent views of the Pyramids of Giza was the Marriott Mena House, so I booked three nights there. My disappointment at not being able to stay at the Hyatt Regency Cairo West quickly turned to elation when we arrived at Mena House and I realized how close we were to the pyramids. I'd looked at the hotel's location on Google Maps, but hadn't appreciated quite how close its proximity was to the entrance.
Marriott Mena House Bottom Line Review
Bottom line: The hotel's location is outstanding – so close that you can walk to the Giza Necropolis (the complex where the three Pyramids of Giza, the Sphinx, etc. are).
Breakfast is included for all guests, seemingly regardless of status. Their Club Lounge was open and pretty much fully operational despite a lot of other hotels still not offering full service in their lounges due to COVID. It can also be a good use of category 4 or 5 free night certificates if you don't mind not having a room with a view of the pyramids, or you can book into rooms with pyramid views by using points rather than free night certificates.
Points Price: Category 4, so 20,000, 25,000 or 30,000 points per night for off-peak, standard and peak dates respectively. That means this can be a good use of category 4 and category 5 free night certificates. You can book upgraded rooms with points by using the 'Redemption with Points Upgrade' option, but you can't use free night certificates for those room types, even if your certificate could in theory cover the points cost of that room.
Cash Price: Varies greatly. I booked a King room with a partial pyramids view which cost $206.34 per night including tax, but the same room costs $344.32 on a randomly picked night in December.
Points Value: Potentially good, although quite how good will vary depending on the room rate and if they're charging off-peak, standard or peak pricing for award stays during your dates. During our stay it made more sense for us to pay cash rather than using free night certificates, but for a stay in December 2021 it looks like you can get more than 1cpp of value by using points and even better than that if using Marriott's 5th night free benefit.
Resort Fee: None.
Parking: This is a little confusing. Their website says valet parking is free, but self-parking is $1.50 hourly or $8 daily. If you're only planning on staying in Cairo rather than venturing further afield, I'd just use Uber to get around which is what we did. Uber is extremely cheap in Cairo and if you're going to head downtown, that's not somewhere I'd want to drive. Three lane roads become unofficial five lane roads with approximately 3/4″ of space between cars on all sides. You're also only allowed to drive with one hand on the steering wheel because it seems like you're obligated to beep your horn for every half a yard you drive 😉 We lived in Bangkok for 6 months and so we're used to busier roads, but roads there had nothing on downtown Cairo (n.b. Marriott Mena House isn't in downtown Cairo, but we'd stayed three nights at the Ramses Hilton before that and that's in the center of the city).
Turndown service: Not that I'm aware of. If they do offer it, it might have been suspended due to COVID.
Housekeeping: I think this was offered daily if you wanted.
Internet: Excellent – the speed was very good and the connection never dropped. I was able to do a Zoom call from our room's balcony without any problem. When walking around the property, our phones always had a strong Wi-Fi signal.
Dining

Breakfast: Very good. This is served at 139 Restaurant and is buffet-style. During our visit (August 2021), it was a mix of self-serve and having some items served for you. There's an egg station, cold cuts, hot items, fruit, vegetables, breads, pastries, mezze and more. Breakfast was included in all room rates when we stayed; I don't know if that's always the case or if it's a COVID-related development. The Club Lounge had a few small breakfast items, but you wouldn't want to eat there for breakfast because of the simply stunning views of the Pyramids of Giza from 139 Restaurant (see photos below).
Lunch & Dinner: Available from 139 Restaurant and Moghul Room – an Indian restaurant. We didn't have dinner at either restaurant as dinner was available for free in the Club Lounge.
Club Lounge: I have Titanium status and so had access to the Club Lounge (Platinum members have access too). I was very impressed by the lounge as it was operating as normal. Drinks and snacks were available throughout the day, with dinner served in the evening with complimentary local wine and beer. Dinner seemed different to how they might normally offer it (there were unused buffet stations), but they offered a full sit-down dinner instead which was always delicious. Service was amazing too – Nagy in particular was incredibly kind and was one of the reasons we had as great a stay as we did.

Spa: Yes – they have the Saray Spa, although we didn't get any treatments there.
Fitness Room: They have a good-sized fitness room with lots of equipment.
Marriott Elite Benefits: I have Titanium status, so these were the benefits we were eligible for, although we weren't able to take advantage of all of them.

Suite Upgrade: I booked us straight in to a room with partial pyramid views as I didn't want to risk us not getting an upgrade to a room with that view. The hotel has rooms with premium pyramid views, although those were being renovated during our stay. It looks like renovations have finished or will be finished soon as they're bookable before the end of this year.
Club Lounge: As mentioned earlier, complimentary access to the Club Lounge is available for Platinum and Titanium members. If you don't have status, you can pay for a room with Club Lounge access.
Free Breakfast: Not applicable as breakfast was free for all guests.
4PM Late Checkout: We had an early evening flight and so didn't need to take advantage of a 4pm late checkout. We did arrange a 2pm late checkout though.
Welcome Amenity: With breakfast being included for all guests, that wasn't listed as a welcome amenity option. Instead, we had the choice between 1,000 Marriott Bonvoy points or a food and beverage welcome amenity. Although I'm normally all about the points, we picked the food and beverage amenity as this was half a bottle of wine and some mixed nuts.

Would I stay again? Absolutely. If we ever visit Cairo again, we'll definitely book at least a few days at Marriott Mena House. Its location is unrivaled, food was delicious and service was excellent.
Pros:

Location, location, location. The Pyramids of Giza are right outside the hotel.
Service was excellent. Nagy in the Club Lounge was particularly good, but other staff members were all friendly and helpful.
Swimming pool was the perfect temperature and very long, so it's ideal if you want to do laps.
Club Lounge was fully operational.
Category 4 property which means it's a great use of those certificates.

Cons:

Upgraded rooms (i.e. rooms with premium or partial pyramid views) can't be booked using free night certificates, although they can be booked with points.
King Room With Partial Pyramid View
The king bed was comfortable and the blackout curtains worked well.
There was a sofa (which I think was a sofa bed) and a good-sized coffee table.
Our room didn't have a desk, although there was a dining table and chairs that could serve as a desk.
The dining table had a welcome gift of a tray of fruit and some baclava.
That was in addition to the welcome amenity we'd chosen when checking in.
There was a closet with a safe, bathrobes and slippers, along with a mini fridge, TV and luggage rack elsewhere in our room.
The highlight of the room was the balcony as that's what provided the partial pyramid views – how amazing is this?!
The property was lit beautifully at night. One thing to note is that although there's a Light & Sound show at the Pyramids each night, it can't be seen from the hotel.
Breakfast
Breakfast was served at 139 Restaurant and had seating both outside and inside. Even if COVID wasn't a thing, eating outside would be preferable because this is the view that greets you in the morning.
As for the food itself, here are just some of the breakfast options: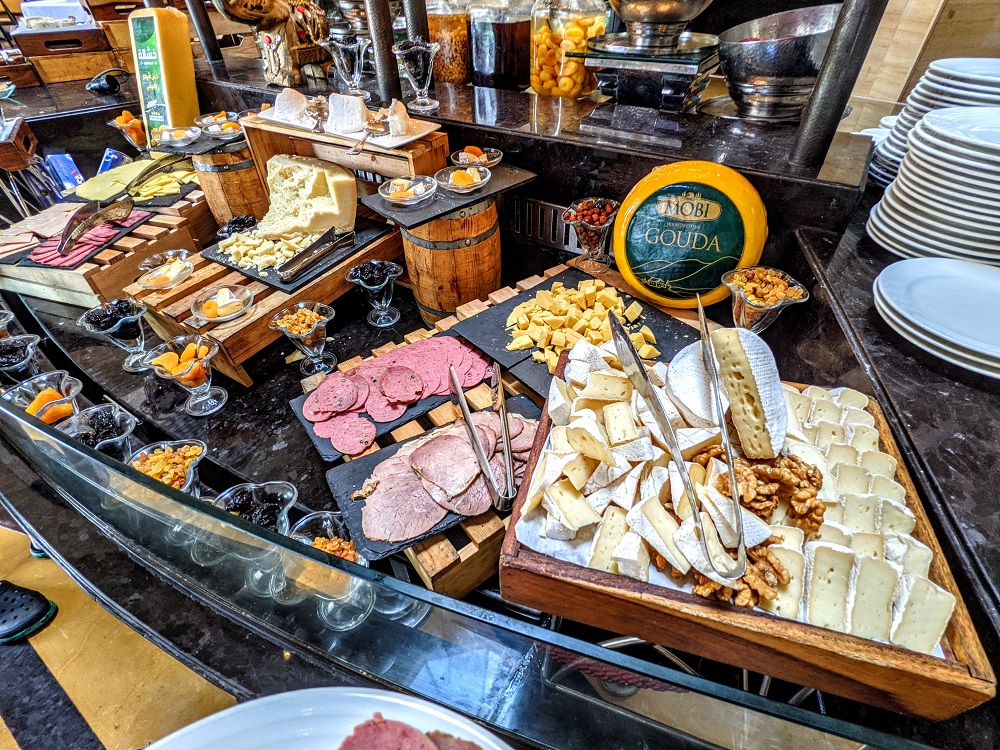 Breakfast really is the most important meal of the day when you have this view. To be fair though, you'd also get that view when having lunch and/or dinner at 139 Restaurant. So really, at Marriott Mena House every meal is the most important one of the day!
Club Lounge
The Club Lounge has plenty of seating options, with dining tables and chairs in the center if you're there to eat and sofas and other alcove seating if you're there to relax.
Dinner in the evening was a three course meal served to you rather than it being buffet-style. There wasn't a menu to choose from – it was all just brought out one course at a time. I don't know if they offer vegetarian options; we never checked as my wife and I are both meat eaters.
Dinner started with a selection from a bread basket along with salad and hummus. A selection of small sandwiches was then brought out.
This was followed up by a basket with a selection of three types of meat and/or fish dishes. For example, the evening I took the photo below there were beef cubes, shrimp and some kind of small meat pie.
That was followed by dessert which was a fruit plate and some other kind of dessert such as apple strudel, chocolate cake or bite-sized cheesecake.
The dinner setup was similar each night, although the dishes were different and so we didn't get tired of the food. We only stayed three nights though; I can imagine us eating at Moghul Room (the hotel's Indian restaurant) on at least one occasion if we'd stayed longer just for a bit more variety even though we'd have had to pay for dinner at that restaurant.
The Club Lounge offered plenty of food though as there were nuts, snack bars and more also available. Shae and I were able to do without lunch as having a large breakfast in the morning and the Club Lounge dinner in the evening was enough each day, other than perhaps a small snack in the lounge during the day. That meant we didn't have to spend anything on food or drink during our stay, other than drinks by the pool.
The Club Lounge also has mini fridges with soft drinks and bottles of water. They're happy for you to take drinks back to your room or stock up on water before visiting the Pyramids of Giza. We appreciated that as we got through all three liters of water we took with us when visiting the pyramids.
Amenities
Marriott Mena House has a beautiful outdoor swimming pool. It's the same depth (about 4 ft) for the entire length, seemed to be temperature controlled and was very long.
There's a separate paddling pool for small children.
The fitness room was fairly large and had a lot of equipment and weights.
The hotel had a spa called Saray Spa and a gift shop.
The hotel grounds are beautiful too, even before taking into account the views you get of the pyramids.
Location
For as lovely as the hotel is, its biggest selling point is its proximity to the Pyramids of Giza. When exiting the hotel, you can walk a few minutes up the road to the right to get to one of the entrances to the Giza Necropolis.
The photo below was taken right outside the hotel as we walked up to visit the pyramids:
If you visit the Pyramids of Giza during the day, it's no problem entering via this route. However, if you want to visit the Light & Sound show at night, you'll need to get a taxi or Uber to the other entrance as this particular entrance is closed in the evening.
Pyramids Of Giza
Here are a few photos from our visit to the Pyramids of Giza. They'd never been on my bucket list per se, but I'm incredibly glad we visited and they were far more impressive in person than I was expecting them to be.
You're not allowed to climb up the pyramids, although there are some steps you can walk up to stand a few rows high on the Great Pyramid. The photo below helps give some perspective as to how high the Great Pyramid is, as well as how large the rocks were that were used in its construction.
The steps up the Great Pyramid are there for you to be able to enter the King's Chamber. That has a separate fee, but it's well worth it. Entrance to the Giza Necropolis (which lets you view the pyramids, Sphinx, etc. from the outside) is 200 EGP (~12.75 USD). If you want to view the King's Chamber inside the Great Pyramid, that costs an extra 400 EGP (~25.50 USD) which is paid for when getting your entrance tickets.
You can get horse, donkey or camel rides around the Giza Necropolis, but we decided to walk everywhere.
It's also worth walking up to Panorama Point as that gives you a vantage point where you can take a photo with all three pyramids in the shot.
If you're thinking about visiting Cairo, I'd highly recommend it and I'd particularly recommend staying at the Marriott Mena House.