While I'm writing this post, Nick and I are on the final leg of our whirlwind GUC adventure.  As a reminder, "GUC" rhymes with "buck," and stands for "Global Upgrade Certificate".  These certificates can be used to upgrade from cheap economy flights to lie-flat business class on Delta or select Delta partners.  As a Delta Diamond Elite, each year I get to pick 4 GUCs as a Choice Benefit.  Usually my wife and I book a round-trip economy international flight for two and use these GUCs to upgrade to lie-flat luxury.  This year, I GUC'd instead with Nick.
Of course, I'm not as nice of a boss (and awful of a husband) as the above paragraph suggests.  This GUC "gift" to Nick had strings attached.  He had to plan the whole trip.  And, he had to meet a bunch of challenges: travel safely and without getting cancelled during COVID; travel far; earn elite status from the trip; get outsized point value when booking hotels and activities; etc.  We made this into a game: Nick's goal was to earn 200,000 "bonus points" from these and other accomplishments.  As we went along, I awarded points based on my subjective view of how well he did in meeting those challenges.
Later in this post I'll review the point bonuses to see if Nick succeeded in earning 200K points.  First, let's look at the trip from my point of view…
Our Trip, in Review
To Dubai
I've never before been to Dubai… or actually anywhere in the Middle East… but I was definitely interested.  From that point of view, Dubai was a good destination.  On the other hand, early September in Dubai is deadly hot.  That was not so good.  My expectations for this particular destination were mixed.
Nick and I met up at Washington Dulles (IAD) airport to begin our adventure.  Those who followed along with our 40K to Far Away adventure in 2019 may think that sounds familiar.  After all, we began our 40K trips from IAD too.  At that time, we picked IAD because it was a convenient place to kick off our trips.  This time, we picked it only because Delta happened to be offering great prices for partner flights from IAD to Dubai.  We each paid $608 round-trip and we used my four GUCs to upgrade each of us in each direction.  Nick covered some of the details of applying our GUCs here: How we used our Delta Global Upgrade Certificates to fly business class on Air France.
We flew to Dubai on Air France, with a layover in Paris (CDG) along the way.  I've flown Air France business class once before, but it was long ago and before they offered lie flat seats.  On the GUC trip, I found Air France's business class to be solid.  The lie-flat seats were comfortable.  Everything worked as expected.  Service was good, but not remarkable.  Food was better than average.
The Air France Lounge at CDG was crowded, but otherwise pretty good.  I especially liked that they offered free 20 minute facials.  I also took advantage of their complementary shower rooms where I showered and shaved.  Between the facial and the shower, I was refreshed and ready to go on.  Here's our lounge review in video form:
The Prince Suite at Grand Hyatt Dubai
When we arrived in Dubai, Nick picked up a rental car and then we checked into the Grand Hyatt Dubai's Prince Suite.  As you can see above, the suite was enormous.  Hyatt makes it possible to book premium suites like this one with points.  In this case, Nick paid only $150 plus 9,000 points per night.  Nick covered the details here: Prince Suite at the Grand Hyatt Dubai: amazing use of Hyatt points.  Also, since Nick has Hyatt Globalist status, we were technically allowed lounge access, but the lounge was closed.  Instead, they offered us free restaurant breakfast and dinner daily.
Check out this video walk-through:
Flying something new
Most of the activities we did on this trip were surprises to me.  Nick booked them and I just followed along.  For this particular adventure, I was completely in the dark.  Actually, I was literally in the dark for our 4am hotel departure.  I was a bit grumpy about this until I saw what was up… or, rather, what was soon going up:
I've never flown in a hot air balloon before, but it's been on my bucket list.  And… wow!  I loved it!  What an incredible experience!  I sometimes experience motion sickness (read this experience, for example: Learning Scuba and feeding fish), but standing in the balloon felt like standing on solid ground.  I never felt motion at all except when we landed.  You can see more of our experience in this brief video:
Or if you'd prefer to simply see the beautiful view, watch this one:
Camel Riding, Travel-Show Style
Our balloon ride package included a desert breakfast, along with optional camel rides and falcon holding (I skipped the latter).  The camel ride was fine, but I was more excited about putting my tech to good use than the ride itself…
For this trip, I brought along wireless microphones: Rode Wireless Go II.  Along with a special iPhone lightning connector, we were able to record video from my iPhone while capturing sound from these wireless microphones.  This worked pretty well on the airplane (click here to see an example), not so great in a car (click here), but incredibly well on camels!  It's almost like we're on a real travel show.  See for yourself below (make sure your sound is on!):
Driving Abu Dhabi
After our balloon and camel adventure, and a nap or two, we drove to Abu Dhabi.  Nick had tickets for the Formula YAS 3000 driving experience.  Getting into Abu Dhabi was a nerve racking experience in itself (see COVID Notes near the bottom of this post), but the idea of driving a racecar also made me a bit nervous.  When we arrived at the racetrack, we were given our freak-out briefing which they misnamed "educational briefing" and I went from "a bit" nervous to "very."  The actual racing experience was a blast though!  I had a ton of fun despite filling my entire car with sweat (it was about 500 degrees outside at the time).  Read more about the experience here: Formula 1 racetrack experience in Abu Dhabi.
Three Meals at the Four Seasons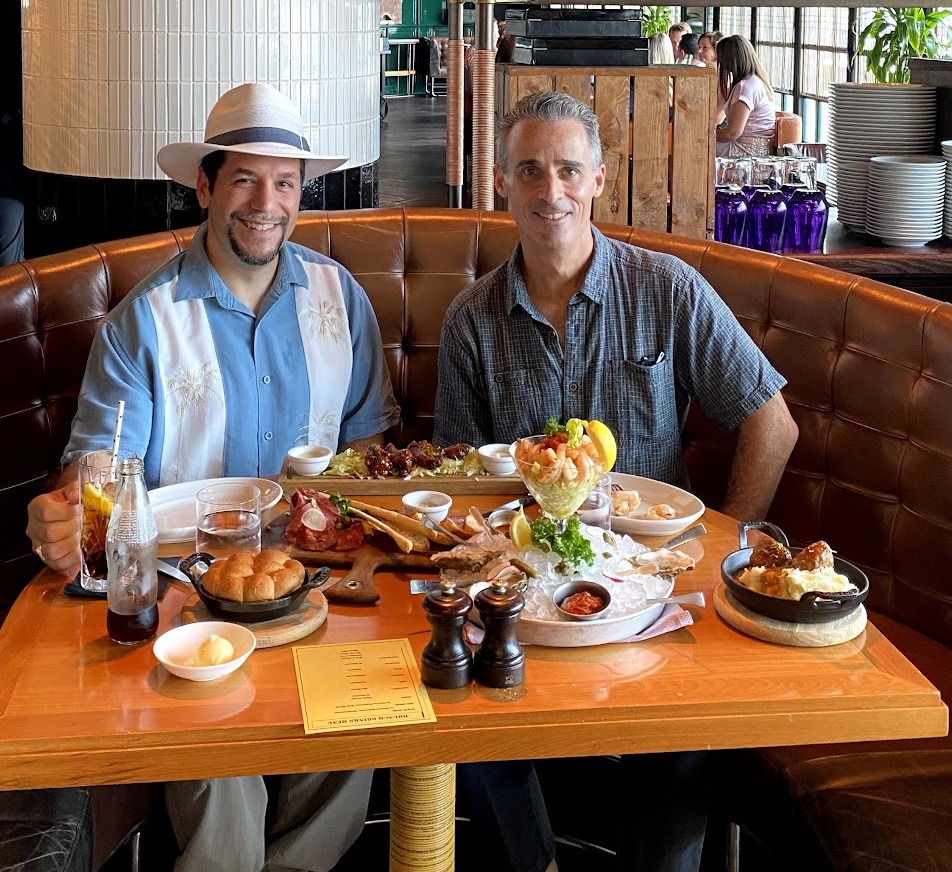 Four Seasons is a very highly regarded luxury hotel chain, but unlike St. Regis, Ritz, Park Hyatt, etc., Four Seasons hotels cannot be booked with hotel points.  So, when we found a great deal for a one night stay at the Four Seasons Abu Dhabi, we jumped on it and booked a separate room for each of us.  Amex Platinum cards now offer $200 rebates each year for Fine Hotel & Resort bookings.  By booking the Four Seasons through Fine Hotels & Resorts with our Platinum cards, we would get the following benefits:
$200 back from Amex
$100 food & beverage property credit
Early check-in at noon, if available (we didn't need this)
Room upgrade (we were given "double upgrades" to water view deluxe rooms)
Daily breakfast for 2 people
Guaranteed 4 p.m. late check-out
The pre-tax rate for the Four Seasons for the night we booked was exactly $200 and so the Platinum rebate covered the entire stay except for taxes!  And the $100 food & beverage credit went really far in that it completely covered two meals each!
Dinner: On Thursday evening, we checked into the Four Seasons only an hour before we had to leave for the driving experience, and so we had to hurry up and eat.  We separately ordered room service for about $30 each.
Friday Brunch: Friday brunch is the thing to do around there and so Nick booked us a table for Friday at 1pm at the hotel's steak restaurant: Butcher & Still.  They call their brunch "The Meat People Brunch."  Without alcoholic drinks (which we didn't want at 1pm anyway), this cost us $70 each.
On Friday morning, well before brunch, we each got breakfast in the hotel restaurant named Crust.  This was fully covered by the Fine Hotels & Resorts free breakfast perk.
Mini review:
Room: My room was beautifully appointed.  It really did stand out as something special.  I was very surprised to find, though, that the bed was a bit lumpy and uncomfortable.  Fortunately I was so dead tired that I slept well anyway.
Food: My room-service dinner (meat lasagna) was disappointing, but I gobbled it down anyway because I was starving at the time (that would be the last time I could say that on this trip). At breakfast, I ordered the Eggs Benedict with turkey ham from the menu, and it was excellent.  The few things I tried from their truly beautiful buffet were just OK.  The brunch was very good.  Nothing stood out as amazing, but everything was tasty.
Service: Service was very good, but they didn't wow me.  To be clear: there was nothing at all wrong with the service, but I expected to see some of that vaunted Four Seasons hospitality that I've previously read about.  Maybe they reserve that for guests who aren't piling on so many freebies.
Sheikh Zayed Grand Mosque, Abu Dhabi
After Friday brunch, we rushed over to the Grand Mosque after it opened at 3pm.  The Mosque is free, but you do need to get tickets online.  We arrived later than expected and so our tickets had timed out.  Nick got new tickets online via his phone and we were then good to go.  The Mosque is beautiful, of course, but we probably set an in and out time record because we had to rush back to Dubai in time for a food and walking tour…
Dubai Food & Walking Tour
Nick had booked a private food and walking tour of Dubai.  He says that the tour advertised, among other things, a camel meat burger, saffron ice cream, and a coffee museum.  Of those, we only did the one we could have happily skipped: the camel meat burger.  Still, the tour included two boat rides across Dubai Creek and plenty of excellent food (the camel burger notwithstanding).  The restaurant shown above was one of my favorite stops.
Emirates First to the Maldives & Back
Emirates is the only airline that flies direct between Dubai and Malé in the Maldives.  Emirates charges 71,250 miles plus less than $100 in taxes to fly this route one-way in First Class.  It was perhaps a bit silly to spend so many miles to fly only four hours, but I'd never before experienced Emirates' highly regarded first class bling (see the video above) and so we happily splurged.
In addition to the excellent in-cabin experience flying first class, we got ground perks too.  On our outbound flight to the Maldives, flying first class gave us access to the Emirates First Class Lounge before our flight.  We each took advantage of a free 15 minute massage and some high-end drinks.  Upon return to Dubai after the Maldives, we were greeted by Emirates employees who carried digital signs displaying our names.  They then escorted us through an exclusive immigration checkpoint.  We were through to baggage claim in no time!
Mini review: Compared to other international first class products I've flown (off the top of my head: Lufthansa, Thai, Singapore, Etihad, American Airlines), I thought that the in-flight experience compared favorably.  It wasn't as amazing as Singapore or Etihad, but probably on par with Lufthansa, and much better than Thai or AA (so much better than AA that it's almost silly to compare).  The ground experience when departing Dubai was surprisingly weak compared to the amazing services offered by Lufthansa and Thai out of their hubs, but the arrival experience was very good.
Le Meridien Maldives
Our visit to Le Meridien Maldives blew me away.  Le Meridien Maldives is a brand new resort with its own island in the Maldives (as is true with most resorts there).  Since it was brand new (it opened less than 2 weeks before our arrival), I expected lots of problems.  After all, problems are standard with new hotels and resorts.  But not here.  The property's general manager, Nilesh Singh, has previously worked at Ritz-Carlton and St. Regis properties (two of Marriott's most highly acclaimed luxury brands).  He told us that he expects the same level of service from his Le Meridien staff.  And it shows.  Seriously.  I can't think of any time I've stayed anywhere with such consistently great service (except maybe Necker Island, but that's a whole different thing…).  Plus, the property itself is drop-dead gorgeous.  It doesn't remotely look like a work in progress as is usually the case with new resorts.  The snorkeling was fabulous too!  For more about the resort, see: Le Meridien Maldives first impressions: Wow!
Finally, check out these videos showing our experience at the resort:
KLM to Home
We flew KLM business class from Dubai to Amsterdam and I'm finishing this post as we're flying from Amsterdam to Washington Dulles.  I've never before flown KLM so I was excited to give it a try.  Our first of the two flights was on a 787 with modern new reverse-herringbone seats, as shown above.  That was excellent.  I've flown reverse-herringbone business class many times with other airlines and this was probably my favorite.  The seat was comfortable and very private thanks to a privacy guard by my head, a privacy screen between seats, and the fact that the seats across the aisle are staggered in such a way that you can never look directly at the person next to you.  That might not be so good when flying as a family, but for privacy it's great.  I especially appreciated how the footwell was organized with a lower shelf under which I could store my shoes and an upper shelf with USB power for my phone.  These thoughtful but simple design decisions make a big difference in overall comfort, in my opinion.
Our current flight aboard an A330-200 (shown above) isn't nearly as nice as the 787, but it actually works well for me and Nick to talk and work together during this daytime flight.  We're both glad that we had the 787 for the overnight flight!
The main reason Nick chose KLM flights was that I had offered to award bonus points if we collected KLM Delft Blue Houses along the way.  KLM gives these gin-filled collector's items to business class passengers on intercontinental routes.  The photo above is the house I was given on the flight from Dubai to Amsterdam.  I expect we'll each get another at the end of our current flight.  The house is in a sealed bag so that it is allowed to be carried through airport security.
Nick's Performance Review
As Nick's boss it makes sense for me give him an occasional performance review.  In this case, I'll make it public (and specific to this trip).
General Impressions
I'm not gonna lie… I was nervous about turning over the reigns of this trip entirely to Nick.  After all, in our 40K to Far Away Challenge he nearly missed his connection to Hawaii, he fell asleep on a bus and missed his stop, his overnight plans fell apart and he spent a night on a concrete slab, he wasn't allowed out of the Bangkok airport and so spent an entire day there, he missed a ferry boat in New Zealand… should I go on?
Fortunately, this trip was not like that one!  Nick did a great job in the main task: getting great value from my GUCs.  I've never before applied GUCs to any flights other than Delta and so I expected it to be very difficult.  The fact that he found cheap flights all the way to Dubai on two different airlines (neither Delta) and that we were able to secure business class upgrades the whole way was phenomenal.
Nick also exceeded expectations in planning activities.  With the exception of a trip to the Dubai Mall (I'm not a mall guy), I liked everything we did and I loved (is there a stronger word I can use there?) the balloon flight!
Nick further hit it out of the park with respect to getting great value and great luxury for less.  The Grand Hyatt Prince Suite and the Four Seasons were terrific.  The Le Meridien Maldives was another level of awesomeness at an incredibly low cost.
Bonus Point Success!
Nick easily earned more than the target 200K points!  Here's a list of bonus point opportunities and how many points Nick earned for each:
Bonus Point Opportunity
Points Awarded
Target
Notes
Travel safely & don't get cancelled
45K
50K
This was a major achievement. I gave Nick slightly less than the full target amount due to us having to spend a significant time in Dubai trying to avoid having the Abu Dhabi side-trip cancelled.
Travel Far
(Circle the world)
20K
30K
No doubt, the Maldives is "far", but the GUCs took us "only" to Dubai and back.  That's still far, but not crazy-far.
Airline elite status for Nick
15K
20K
Between a spirited status challenge and the GUC flights, Nick has secured Delta Gold elite status through January 2023!  I would have given him the full 20K if he had somehow secured Platinum.
Free stopover perks
0K
20K
Nick tried to get me to award stopover perk points for lounge benefits we used, but I had in mind things outside of airports like free tours, free hotel stays etc.
Destination points
40K
20K
+20K Destination bonus for UAE
+20K Destination bonus for Maldives
Business class suite
0K
10K
We didn't fly in a business class suite. We did fly Emirates' first class suite, but that wasn't booked with GUCs.
Fly something new
25K
10K
+5K Air France
+10K Hot Air Balloon
+10K KLM
KLM Delft Blue houses
15K
10K
+10K for first house
+5K for second house
Airport lounge experiences
20K
10K
+10K Air France Lounge
+10K KLM Lounge
Outsized hotel point value
40K
10K
+10K Grand Hyatt Dubai
+10K Four Seasons Abu Dhabi
+20K Le Meridien Maldives
Outsized activity point value
25K
10K
+10K Balloon & camel ride
+10K F1 racetrack
+5K Dubai Food Tour
A GUC for a duck
10K
5K
+10K for two ducks
Spirit swag
5K
5K
Nick brought his Spirit hand sanitizer and water bottle (which was used as a phone stand)
Luxury bonuses
30K
5K
+5K Grand Hyatt Prince Suite
+5K Emirates Lounge Massage
+20K Le Meridien Maldives
+10K KLM lounge
Subtractions
-30K
-10K
-10K for champagne debacle
-20K for lame layover planning
TOTAL
260K
Other Stuff
COVID Notes
Our latest episode of Frequent Miler on the Air was all about international travel during Covid.  International travel simply doesn't happen these days without COVID being a front-and-center issue.  Every place in the world has different rules about whether you need to have been vaccinated or tested, and what types of vaccines and tests count, and how soon before travel those tests must happen.  To travel to Dubai we needed PCR tests completed no more than 72 hours before travel.  To the Maldives, tests needed to be completed no more than 96 hours before travel.  To return to the U.S., tests must be done no more than 3 calendar days in advance.  On this trip, Abu Dhabi was the most problematic…
Before our trip, Abu Dhabi put the U.S. on the unsafe list and so we had to abandon plans to visit.  But at the last minute they made an exception for vaccinated travelers.  We were back in!  To go there, though, we had to figure out how to register with their Al Hosn app.  After much trial and tribulation (including buying local sim cards in Dubai because the app requires a local phone number), I was all set.  Nick wasn't.  At the border to Abu Dhabi, we were sent back a few miles to the above pictured testing & quarantine center.  It turned out fine in the end (he had to sign a form promising to self quarantine even though he was promised that it didn't mean what it said), but only after lots of stress.
Ideas for our next adventure?
This adventure was inspired by an email from a reader.  Eventually, we'll do something exciting like this or like our 40K to Far Away challenge again, but we won't repeat either of the same challenges.  Do you have ideas that would be both interesting and informative?  Please comment below.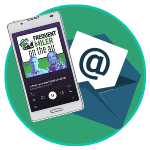 Want to learn more about miles and points?
Subscribe to email updates
 or check out 
our podcast
 on your favorite podcast platform.