American Express regularly hosts terrific "Sync Offers" in which you get a statement credit after using an Amex card to spend a targeted amount at a participating merchant. For example, one current offer is for Sony: spend $100, get $25 back. You must register for these promotions in order to qualify. In the recent post "Maximizing Amex Sync offers. Part 1: sync multiple cards" I showed how to easily register all of your Amex cards for promotions like these. Keep in mind that with most Amex cards you can get additional free authorized user cards and those qualify for these promotions too.
Now suppose that you really want to buy something from a participating merchant. How can you maximize point earnings and savings? Let me walk you through a real life example. It was time to buy a new computer and I had chosen one from Sony. Here's how I went about saving some dough…
Step 1: Find best price
The price for the computer I wanted was $999 at Sony.com. The best alternative I could find was $989 at Amazon.com. This presented me with an interesting dilemma because I had registered all of my Amex cards (a total of 10 between my wife an I) for both the Sony and the Amazon promotions. The Sony promo was "spend $100, get $25". The Amazon promo was "spend $75, get $25". On the surface, the Amazon promo looked better since it was like a 33.3% discount vs. the Sony 25% discount. However, with 10 Amex cards, the best I could do was total $250 back from either promotion, so they we're really about equal on that front for me. I decided to order from Sony for several reasons: 1) Sony is available through point and cash back earning portals, whereas portal options for Amazon are severely limited; 2) I was aware that I could likely find additional discounts at Sony; and 3) I intended to use the Amazon discounts for other purchases. So, even though the Amazon price was $10 cheaper, I decided to go with Sony.
Step 2: Find the best discounts
Even with all of the Black Friday and Cyber Monday discounts going on, the particular computer I had my eye on didn't go on sale and wasn't eligible for any coupons that I could find. However, I did find that Sony has a "student store". Students, faculty, and parents of students can sign up for free. By shopping through the student store, I would get an automatic 10% discount! I also found that Sony has a "Sony Rewards" program that gives the equivalent of 1% back in points for all purchases. I signed up for both the student account and the loyalty program, and linked the accounts together.
Step 3: Find the best portal option
Via CashBackMonitor, I found that the Sony Store was eligible for 5% cash back through a number of portals. None of the point-earning portals offered more than 2 points per dollar, so I decided to go with cash back. Also, a reader had recently reported a successful triple dip at the Sony Store via Amex Sync and TopCashBack (see the Frequent Miler Laboratory). He went through TopCashBack to buy a $100 Sony e-gift card and then went back through TopCashBack to use his e-gift card. From buying the e-gift card, he earned 5% cash back from TopCashBack and $25 back from Amex! Then, he earned an additional 5% back for the purchase of merchandise with the gift card. The fact that he earned portal cash back when buying an e-gift card surprised me because tests I had done about a year ago showed that e-gift cards did not earn portal points. At the time, though, Sony e-gift cards were sold via Cashstar.com and so didn't earn points. Now, Sony sells the e-gift cards directly from their site and so the cash back worked.
Step 4: Buy gift cards
When buying online, not many merchants will allow you to split an order across multiple credit cards. So, a good way to get the benefits of an Amex Sync offer across multiple Amex cards is to use each card separately to buy gift cards and then use those gift cards to buy what you want. First, though, make sure that the Amex Sync terms will let you earn cash back from a gift card purchase. In some rare cases, it won't. For example, a Sync promotion for BP states "Get a $5 statement credit each time you use your enrolled Card to make a single qualifying purchase of $25 or more at the pump at any BP station." I tried buying a $25 gift card in-store at BP, but I didn't get $5 back. They key was that the terms demanded you pay "at the pump." With most Amex Sync offers, though, buying gift cards is fine. If you're buying gift cards online, be sure to go through the best available portal just in case it pays out for gift card purchases.
Warning: If you plan to make an online purchase, make sure that the merchant will accept multiple gift cards per order. Staples, for example, has a limit of 5 gift cards per order, so don't buy more than 5 Staples' gift cards if you plan to use them for a single online order.
I calculated that my total purchase would come to about $950 after the 10% discount + sales tax. So, one by one, I went through TopCashBack to Sony to buy ten $100 e-gift cards. I decided that I didn't mind having a bit of extra Sony credit on hand. I can always sell the remainder if I don't end up using it. With each purchase, I immediately received an email from Amex congratulating me for using the synced card. Processing the order took several hours, but once done, I received the ordered gift card via email and I also received notification of cash back from TopCashBack. And, to top it off, every gift card order received 1% back in Sony Rewards!
I couldn't find any posted limits on the Sony store regarding the use of gift cards, so when I was half way through ordering gift cards I did a test order in which I input 5 gift cards. The system appeared to be ready and willing to take more, so I removed the test-order from my cart and took a chance in ordering the rest of the gift cards. Yes, I should have called to ask, but I didn't.
Step 5: Buy!
Once you have all of the gift cards you need, you can place your order. Again, if ordering online, go through a portal first. I clicked through TopCashBack to Sony and logged into my student account. I found the computer I wanted and checked out.
The total purchase price came to $953.99. I applied all 10 of my gift cards and $10 worth of Sony Rewards points (which I got from buying those gift cards). One of my gift cards still has over $50 remaining.
TopCashBack now shows pending cash back for all but one of my gift card purchases. And, it shows $40 pending for my "$799" purchase (the actual purchase price before tax was $899, so this is an error). Altogether, TopCashBack shows $85 $90 pending even though I really should get $95. Maybe I'll get around to filing a ticket for the extra $5 someday.
Assuming I receive all of the pending cash back from Amex and TopCashBack, my total cost will be as follows:
Amex Sync rebates: $250
TopCashBack rebates: $90
Total cost: $1000 – $250 – $90 = $660
And, in exchange for $660, I have / will get:
A computer worth ~$1000
A Sony gift card with a balance of $56.01
900 Sony Rewards points, worth $9
That's a terrific deal!
Warranty thoughts
When buying things like this with gift cards, it's important to keep in mind that you lose the automatic purchase protections given by most credit cards. You could, of course, buy an extended warranty, but those tend to be really bad deals. In my case I'm willing to take a chance that the built in manufacturers warranty is all I'll need.
Nothing to buy?
You might be wondering how to take advantage of Amex Sync deals when you don't have anything in mind to buy. There are some good options. I'll follow up soon with another post in this series.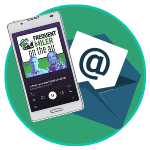 Want to learn more about miles and points?
Subscribe to email updates
 or check out 
our podcast
 on your favorite podcast platform.