Background: Early in January, I introduced the idea of challenging myself (and anyone foolish enough to join me) to earn a million points in one month. So, starting March 1, I'll do everything I can to earn as many points as I can while keeping within my ethical boundaries. As a reminder, I don't expect that a million points will have been credited to my account by March 31st: points often take quite a while to get credited. Instead, I'll track all of the points that I expect, and I'll declare victory if the expected total is over a million. Oh, and to keep things challenging, I will try to keep my net costs below $1,000.
Previous Million Mile Madness posts include:
Credit Card churn planning
In order to earn a million miles in a month, I plan to sign up for quite a few credit cards with the best signup offers. These won't get me all the way to a million points, but they'll go a long way. First, though, I need to plan carefully.
Last week, I reported my plans regarding Chase credit cards and Amex credit cards.  With regards to Chase planning, I said that I hoped to get the 55K United MileagePlus offer, but that one seems to have dried up since then (please correct me if I'm wrong).  So, I'll probably go with my backup plan of the MasterCard version of the Sapphire Preferred card for 40K points. With regards to Amex planning, I said that I would sign up for just one card: the Platinum Mercedes card for 50K points.  Since then, a 50K offer for the Premier Rewards Gold card surfaced (see this post for details).  If that one is still around on March 1st (Friday!), I'll go for that one instead.  Unless, maybe, I can get both?  Anyone know?
In this post, I'll discuss my thoughts and plans concerning Citibank credit cards, and I'll follow up in future posts with similar discussions about Barclaycard and others.
Current cards
I currently have the following Citibank credit cards:
Forward
ThankYou Premier
American Airlines Amex
American Airlines Visa
I signed up for the two American Airlines cards this past July.  I signed up for the Forward card in October, and I renewed the Premier card in December after accepting a $75 statement credit offer to not cancel.
From what I've read about Citibank, it seems that they are very firm about not approving more than 2 cards in approximately a 65 day period.  So, I'll try to get just two Citi cards with this churn.
My Plan
The best current Citibank offers, in my opinion, are the 50K American Airlines offers detailed in this FlyerTalk thread.  Many people have successfully churned these cards every 18 to 24 months, but since I signed up for the personal versions of these cards about 8 months ago, it's too soon for me to go for the same cards again.  Luckily, there is a business version of the same offer so I can go for that one.  For my second card, there are several good options.  I could try for the 30K Mastercard AA offer since that's different from the cards I already have.  Or, I could go for one of the Hilton cards such as the Hilton Reserve card which offers two weekend nights at almost any Hilton property worldwide.  Ironically, though, I'm most interested in a card with a tiny 6000 point signup bonus…  In my recent post "ThankYou!" I mentioned that Personal Finance Digest found a working link to an application for the ThankYou Preferred card that offers a year of 5X earnings at gas stations, grocery stores, and drugstores.  Frequent readers will understand why I really want that one.  I think I'm willing to forgo some signup bonus points in order to get in on that deal.
So, this plan leaves me with 50K AA miles after spending $3K, and 6K ThankYou points after spending $300.  I'll earn at least 3K AA miles from the $3K spend, and 5 X 300 = 1500 points from the $300 spend.  So, in total, I'll earn at least 60,500 miles & points.  That's not an amazing haul by itself, but remember that I plan to earn many other points from Chase, Amex, and others.
Reader Feedback
Please let me know what you think about the above plan.  Do you have other ideas or suggestions?
Related Posts & Pages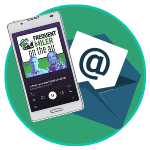 Want to learn more about miles and points?
Subscribe to email updates
 or check out 
our podcast
 on your favorite podcast platform.