Background: Early in January, I introduced the idea of challenging myself (and anyone foolish enough to join me) to earn a million points in one month. So, starting March 1, I'll do everything I can to earn as many points as I can while keeping within my ethical boundaries. As a reminder, I don't expect that a million points will have been credited to my account by March 31st: points often take quite a while to get credited. Instead, I'll track all of the points that I expect, and I'll declare victory if the expected total is over a million. Oh, and to keep things challenging, I will try to keep my net costs below $1,000.
Previous Million Mile Madness posts include:
Credit Card churn planning
In order to earn a million miles in a month, I plan to sign up for quite a few credit cards with the best signup offers. These won't get me all the way to a million points, but they'll go a long way. First, though, I need to plan carefully.
Here are the plans I've reported so far and my latest thoughts:
Chase cards: I plan to go for two Ink Plus cards (with separate businesses) and the United MileagePlus card if I can get a 50K or 55K offer, or the Sapphire Preferred MasterCard with its 40K offer.
Amex cards: I plan to go for both the Platinum Mercedes 50K offer, and the Premier Rewards Gold 50K offer unless I hear from readers that the combination would not be allowed.
Citi cards: I plan to go for the AA business 50K offer and the ThankYou Preferred 6K offer (which gives 5X at gas stations, grocery stores, and drug stores for a year).
In this post, I'll discuss my thoughts and plans concerning Barclaycard cards, and I'll follow up in future posts with similar discussions about US Bank and others.
Current cards
I currently have the following Barclaycard cards:
US Airways MasterCard (applied July 2012)
My Plan
Barclaycard has recently stepped up its game with some pretty good cards and offers.  In fact, I recently broke out Barclaycard into its own table in my "Best credit card offers" page.  Previously, it was lumped in with US Bank, BOA, etc. in the "Other Bank Cards" section.
There are a couple of things worth noting about Barclaycard.  First, many people have reported success getting more than one US Airways MasterCard.  For example, see this post by Will Run for Miles.  Second, people have reported success getting quite a few Barclaycard cards at once, and all get combined into a single hard credit pull.  For example, see this post by Rapid Travel Chai in which he describes how he got 4 cards at once, and a friend of his got 5.  So, I might as well go for as many good offers as I can find!
Here are the cards I plan to signup for:
US Airways MasterCard: 35K miles after first use.
US Airways BusinessCard: 25K miles after first use. $79 annual fee not waived first year.
NFL card: 40K points worth $400. Requires $2500 spend in 90 days.
Arrival World MasterCard: 20K/40K.  Requires $1K spend in 90 days.
Here are my thoughts about each card:
US Airways MasterCard: US Airways miles are quite valuable right now thanks to some great redemption options such as 90K miles for round trip business class to Northern Asia.  If/when US Airways merges with AA, the miles will still be valuable as AA miles for one-way redemptions, great award availability to South America, etc.
US Airways BusinessCard: For all of the reasons that I want the personal card, I'd like to get this business card too for 25K more miles.  The first year $79 annual fee isn't great, but its worth it to get 25K miles.  I wonder if I can get two of these?  One for each business?
NFL card: If I can get $400 back without an additional hard credit pull (since all of the pulls from Barclaycard will merge into one), then I'll take it!  I'll treat the $400 as contributing to my March spend budget rather than counting the points towards the million mile target.
Arrival World MasterCard: This might be the best card available for day to day non-bonus spend.  It essentially earns 2.22% back towards travel for all purchases (or 2% cash back).  See my post "Barclaycard Arrival World MasterCard" for details.  My wife received a targeted 40K offer for this card (which has expired), but there is a public offer for 20K (worth $220 towards travel).  I'll probably call to see if they'll extend me the 40K offer.  If not, I'll go for the 20K offer.  I'm not sure yet how I would count the signup bonus.  20K towards a million miles?  $200 towards my budget?  $220 towards my budget?  Probably the latter.
My hopeful tally
If I successfully apply for the cards listed above, I'll earn 60K miles, and between $620 and $840 worth of cash back / travel.  I know that I could go for more cards such as the 35K Frontier offer, but I'd rather get points and miles that I'm more likely to use.
Reader Feedback
Please let me know what you think about the above plan. Do you have other ideas or suggestions?
Related Posts & Pages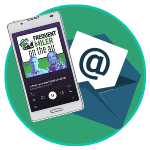 Want to learn more about miles and points?
Subscribe to email updates
 or check out 
our podcast
 on your favorite podcast platform.