Background: Early in January, I introduced the idea of challenging myself (and anyone foolish enough to join me) to earn a million points in one month. So, starting March 1, I'll do everything I can to earn as many points as I can while keeping within my ethical boundaries. As a reminder, I don't expect that a million points will have been credited to my account by March 31st: points often take quite a while to get credited. Instead, I'll track all of the points that I expect, and I'll declare victory if the expected total is over a million. Oh, and to keep things challenging, I will try to keep my net costs below $1,000.
Previous Million Mile Madness posts include:
Tracking points and expenses
In order to track all of my Million Mile Madness activities and expenses, I created a Google Docs spreadsheet. I consider it to be in draft form right now. Based on responses to this post, or other factors, I may modify the spreadsheet before March 1.
The spreadsheet is made up of 3 tabs: Transactions, Time Log, and Summary. Each tab currently contains sample data that I input in order to try out the format.
You can view the sample spreadsheet here.
Transactions
This sheet was the hardest to develop. Simple transactions are easy to record, but double or triple dip purchases followed by merchandise sales can be tricky. I could have tried to record all aspects of a buy/sell transaction on a single row, or I could have gone completely the other way and recorded every aspect of every transaction on a separate row. For clarity, I chose a middle ground (view the spreadsheet to see examples). I have columns for tracking credit card payments and cash earnings, gift card payments and gift card earning, point earnings, and more. Here are the columns I created (this is subject to change):
Date: Transaction date. If the transaction has not yet happened (such as an expected sale via EBay), put in a future date such as 4/1/2013. After the event happens, change to the correct date and correct any other amounts (such as cash back received from the sale).
Merchant / Portal / X: If buying something, list the name of the merchant, the name of a portal you started with (if any), and the bonus points or cash back expected as a multiplier or %. For example, you may have "Sears / UR Mall / 3X" or "Staples / TopCashBack / 5.5%"
Item Purchased / Sold: If buying, selling, or acquiring anything, list it here. Example: "United MileagePlus Credit Card" or "Sears Gift Card"
Price: If buying something, this is the total price after taxes & shipping costs. This is primarily for reference only as other columns track actual expenses.
Amt Paid CC: If buying something and paying partially or entirely by credit card, list the amount charged to the credit card here.
Amt Paid Other: If buying something and paying partially or entirely by gift card or store credit or store points earned from earlier transactions, list the amount paid by gift card or credit here.
Expected CC Points: List the number of points expected to be earned via the use of a credit card. In most cases this would amount to 1 point per dollar spent, but could be more if taking advantage of category bonuses, or big spend bonuses, or credit card sign-up bonuses.
Expected Other Points: List the number of points expected to be earned other than through a credit card. Examples include portal points, Rewards Network dining, online surveys, etc.
Expected CC Cash Back: List the amount of cash back expected from credit card spend. This could be from using a cash back credit card or from other rebate programs. Examples include Amex OPEN Savings, Amex Platinum airline fee reimbursements, etc.
Expected Other Cash Back: List the amount of cash back expected from sources other than the credit card. Examples include cash back portals, selling items through EBay, etc.
Expected Earned Gift Credit / Rewards: List the amount of expected gift card credit, store credit, store rewards (as a dollar amount), etc. For example, if the transaction was simply a $500 gift card purchase via a credit card, then $500 would be listed under both "Amt Paid CC" (above) and under this heading as credit earned. Another example is that Sears' Shop Your Way Rewards typically gives points worth 1% of your purchase total. So, if you buy $800 worth of stuff, you would get $8 worth of credit (in the form of points) that can be applied to future transactions.
Types of points earned: List what types of points, if any, are expected from the transaction. Abbreviate as follows: MR (Membership Rewards), UR (Ultimate Rewards), SPG (Starwood), AA, United, Delta, US (US Airways), SWA (Southwest Airlines), Hilton, Marriott, PC (Priority Club), CC (Club Carlson), Hyatt, etc.
Notes (credit card used, other info): If a credit card was used, list the type here. Add other notes as needed for clarity
Colors and comments: In my sample data, you'll see some cells colored green, yellow, or red. Green means that the particular points or cash back expected have been verified. Maybe the portal lists the points as pending, for example. Yellow means part of the transaction has been verified, but not all. Comments are used to explain. Red means an expected verification has not happened when expected; or worse, there has been some definitive indication that points or cash back won't be given. Again, spreadsheet comments are used to explain details.
Regular purchases: I don't plan to track expenses or credit card points from day to day expenses. If I eat out, for example, I won't count the 5X points I get from my Citi Forward card. However, if I plan a big outing with a number of people and I put the expenses on my credit card while they pay me back via cash or check, I would count that. Also, if I eat a meal at a Rewards Network location, I'll count the points expected from the Rewards Network but not from my credit card directly.
Big purchases: If I have any big purchases to make (new fridge, new tires, etc.), I will track the points earned if I go through a portal or do other tricks to earn extra points. As to expenses, I only want to count the amount extra above what I would have paid if I were not trying to get points. For example, if a fridge cost $2000 at Sears, but only $1900 at ABC Fridge Shop, I might still buy from Sears for the points, but I will track the overall expense as $100. That is, I would be paying $100 more to buy from Sears. The way I'll track that, is by listing $1900 in the "expected other cash back" column. In other words, the $1900 value of the fridge is treated as if it is cash back. An example of this is shown in the spreadsheet's sample data.
Mistakes: As points start to trickle in, we may find errors, such as when we have earned a different number of points than expected. Maybe, for example, we forgot that shipping and taxes should not be included when calculating expected points or cash back. In those cases, I expect to simply overwrite the old numbers with the new and add a comment recording what happened (and what the old numbers were).
Time Log
This is a simple spreadsheet for tracking how much time is invested in Million Mile Madness. There are currently just three self explanatory columns: Date, Activity, and Time Spent (hours)
Summary
This tab sums up the data from the other tabs: costs, points earned, and time spent. Here is the summary based on the sample data:
For people playing along, I'll add additional columns to show their results.
Playing Along
If you plan to play along with this challenge, please review the sample spreadsheet and make sure that you understand how you would record various transactions that you plan to make. Let me know (via the comments below) if there's something you don't understand or if you have ideas for improvement. You can make a copy of the spreadsheet now so that you can play around with it. However, please wait until the end of Feb to make a new copy for the actual challenge as I may have made changes by then. At that point, let me know that you're playing along and I'll give instructions as to how to share your results (if you want to).
You can view the sample spreadsheet here.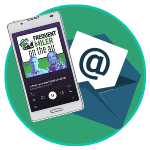 Want to learn more about miles and points?
Subscribe to email updates
 or check out 
our podcast
 on your favorite podcast platform.