Update: This post includes offers that were valid at the time of publication, but have since expired. Please click here to see the best offers currently available.
Let there be no doubt that March came in like a Lion: The British Airways shopping portal promotion caught fire and consumed the Internet when Greg hinted at the chance to earn a lot of miles by signing up for a dating site. Soon enough, the Wall Street Journal was writing about the frequent fliers who bombarded Match.com. In he end, Match.com refunded everyone and no miles were awarded — instantly breaking more hearts than unrequited love.
Undeterred, we stacked on — whether Extreme Stacking Amazon or showing how to Extreme Stack on Tumi luggage to beat Amazon's best prices in years, we kept you up to date on how to save on everything from cookware at Bloomingdale's to in-home dining from the 1800Flowers family, and each day we continue to share our finds through Quick Deals.
Over the past few months, we've seen a steady supply of cheap flights to Europe either courtesy of budget  carriers or the competition they have created in many markets. But even with the abundance of cheap flights, many people still value a more comfortable flight experience and the ability to get a few hours of sleep while crossing the pond. One of our most popular posts of the past month was about a business class fare war from many cities in the US to Europe. Greg told us he stumbled on that sale while preparing the most popular post of the month — How to Find Great Business Class Fares with Google flights, a primer on using Google flights that is a great read for anyone interested in finding the best airfares. Of course, Greg was probably searching for deals to Europe because he has to get to the small palace he rented in England through Wyndham Rewards points (don't cry for me — I nabbed one, too).
Of course, we can't all be so lucky as to stumble on a huge business class fare sale. No worries, we we also published posts on several other ways to save big on business class.  Whether by creating your own business class fare sale with vacation packages, buying points to get a great deal on a business class flight and hotel with Marriott Travel packages, or maybe even using companion tickets to fly in business and first class, we gave you some intriguing methods to fly up front for less.
Marriott Travel Packages came up a number of times this month. We asked whether it is still possible to book a 5 night package or to convert a 7-night package to a 5-night package. We explored ways to invest in change with the Marriott/Ritz/SPG merger and how to buy yourself a Southwest Companion Pass for 21 months and a 7-night hotel certificate for $2225. The Southwest method ends today as transfers from hotel programs will no longer count towards the companion pass as of midnight central time tonight, but ways to find outsized value from Marriott's hotel + flight packages will continue to abound.
Loyalty Program News
The first of this month marked the beginning of the much-anticipated (whether positively or negatively) launch of the World of Hyatt. The transition went relatively smoothly for most members — and some were even able to successfully match themselves to Explorist status, thereby keeping some level of lounge access for one more year. My first Hyatt stay came on the first day of the new program. I spent March 1st at the Hyatt Regency Schaumburg, on the outskirts of Chicago. I booked an award stay there a couple of hours before arrival. As a Globalist, the terms of the new program indicate that Globalists will be upgraded to a standard suite if available on arrival — whether booking with money or points. Sure enough, I arrived close to midnight and was given a spacious suite with a living room, dining area, and bedroom:
On the other end of the loyalty spectrum, Hilton's "re-valuation" of sorts on March 1st moved Hilton Honors ever-closer to a fully revenue-based program. While that initially looked pretty rough, it turns out that the changes might be a net positive to many (most?) members. While I remain a Hilton fan for their customer service and generous promotions, even I have to admit that it's disappointing that a move to a nearly fixed 0.4 cent-per-point valuation is considered a positive development.
Credit Card News
The big anticiaption this month has been what would happen when Amex re-booted its personal Platinum cards on the 30th. It certainly looked like they were driving in the wrong direction with the announced changes, but those changes might have been made more palatable with a massive Sapphire-Reserve-like signup bonus. Unfortunately, Amex fell a little flat — only offering 60,000 points, not even matching the best historical bonuses on most versions of the personal Platinum. With what is now the highest annual fee of the mainstream premium credit card products, I think Amex will have a hard time convincing consumers that they need to carry a personal Platinum — the improved Priority Pass access and Uber credits probably won't be enough.. The Business Platinum [Offer Expired], on the other hand, continues to increase in value thanks to the pay with points 50% rebate [Offer Expired]. That card also gained a new benefit yesterday — now boasting 5X points on airfare booked through Amex travel. It may be possible to get as much as 2.17 cents per point in value towards paid flights with Amex Membership Rewards if you hold the Business Platinum [Offer Expired], though the jury is still out. Check back soon for more data points on that.
Three cards have reached historically-high signup bonuses this month: the Amex Hilton cards (expired) and the Chase Marriott card. All of the offers are excellent — whether a signup bonus worth about $320 on the no-annual-fee Amex Hilton or the 100,000 point + free night on first anniversary offer on the Hilton Surpass, there are good reasons to consider either. The Chase Marriott card makes a lot of sense for anyone looking to get fully vested in the future of the program as we don't yet know which cards and benefits will persist once the merger with Ritz and Starwood is complete.
Finally, the popular 50K offer on the Merrill+ Visa Signature card has returned. There's no telling how long this may last, so this is an offer on which to move sooner rather than later if interested.
Best of the rest at Frequent Miler
Don't miss the rest of these Frequent Miler posts from March 2017!
Miscellaneous
Credit Cards
Manufacture Spend / Meet Minimum Spend Requirements
Miles, Points, and Travel
Best current credit card offer
All of the above offers and many more can be found on our Best Offers Page.
More Deals worth checking out
Bonus Points:
Travel deals:
About Month In Review
Once per month we publish a round up of miles and points related news, highlights of our best posts of the month, and a list of the best ongoing deals. For those who subscribe to our monthly newsletter, this is it. Those who subscribe weekly will find this post listed in the Week in Review section. Those who subscribe to the daily or instant newsletter will receive this post directly, just like any other.
How to Fix Your email Subscription
If you find that you are receiving duplicate emails or would like to change the frequency of your emails, please do the following:
Find the "click here to safely unsubscribe" link at the very bottom of the email. Click the link to unsubscribe.
Visit our Subscribe to Frequent Miler page to subscribe to instant, daily, weekly, or monthly newsletters.
Long term readers who prefer the old style "Quick Deals Only" emails should visit our Advanced Options subscriptions page.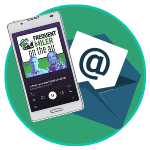 Want to learn more about miles and points?
Subscribe to email updates
 or check out 
our podcast
 on your favorite podcast platform.