Amex Platinum cards come loaded with high end perks such as airport lounge access, hotel elite status, airline fee rebates, prepaid hotel rebates, digital entertainment rebates, Uber credit, and in some cases an "Annual Engagement Bonus" like the one we'll discuss below.
Amex Platinum cards come in several different "flavors".  One of the best is arguably the Morgan Stanley Platinum Card because it offers one authorized user card for free.  The authorized user gets many of the same perks as the primary cardholder (see our Platinum guide for a list of perks, along with which ones apply to authorized users).
Another benefit available exclusively to Morgan Stanley Platinum cardholders is the $695 Annual Engagement Bonus.  Morgan Stanley customers who meet certain requirements get back the card's $695 annual fee each year.  Those requirements used to be very hard to meet.  The old requirements were to maintain a minimum of $1,000,000 in eligible assets and liabilities with Morgan Stanley or have paid at least $10,000 in managed fees/commissions.  Now, as we originally learned from Andy at Deals Points, there is a better option…
Morgan Stanley Platinum CashPlus Account
Through Morgan Stanley's Platinum CashPlus Account, you can earn the annual $695 engagement bonus without anything close to a million dollars invested.
The following steps should qualify you for the $695 Annual Engagement Bonus:
Open a Morgan Stanley Access Investing account and maintain at least $5,000 in the account.
Open a Morgan Stanley Platinum CashPlus Account.
Make sure to register both accounts for online access.
Here are a few key considerations:
You must establish your Platinum CashPlus Account

before

signing up for the Morgan Stanley Platinum card.
The Platinum CashPlus Account normally costs $45 per month ($55 per month starting 2/1/22).  This would wipe out a big portion of the engagement bonus unless you meet the criteria to maintain the CashPlus Account fee free.
Platinum CashPlus Account monthly fees are waived if you maintain the following:

$5000 in total monthly deposits AND $25,000 in Average Daily Cash Balance (in the Bank Deposit Program)
Additional eligible Morgan Stanley investment account (the Access Investing account should qualify)
Morgan Stanley Online enrollment

Eligible deposits, in order to meet the above $5K per month deposit requirement, include:

Direct Deposit of payroll
Incoming Transfers
Mobile Check Deposit
Branch Check Deposit
Incoming Send Money with Zelle®
Incoming Wire
Any Social Security Deposit
Distributions from a Morgan Stanley Retirement Account
Is it worth it?
Assuming you meet the requirements to keep Platinum CashPlus Account fee free, here are the costs involved in earning the $695 Annual Engagement Bonus:
Access Investing account annual fee: 0.35% = $17.50 per year if you maintain exactly $5,000 in that account.  Then there are also fund-specific fees and expenses.  Let's round up the former, and assume the latter is about $30, and call the total $50 per year.
Cost of money for keeping $25K in the Platinum CashPlus Account.  The Access Investing account doesn't earn interest.  So, the cost here is the opportunity cost of keeping $25K here vs. in a growth account.  This cost could vary from almost nothing (which is the current interest rate of most interest bearing checking accounts) to quite a lot if the alternative is investing in the stock market (for example).  To come up with an estimate, let's just call this a 1% cost: $250 per year of interest not earned.
Cost of time for making sure to make $5000 in deposits each month.  There must be an easy way to automate this, so I'm not going to estimate this cost.
Total estimated cost: $300 per year. 
Well… is it worth it? 
You can think of the $300 estimated cost as being the cost to get two Morgan Stanley Platinum cards: a primary card and a free authorized user card.  Consider that both users get airport lounge access and elite benefits, and that the primary user has access to many hundreds of dollars in rebates for airline fees, prepaid hotel bookings, digital entertainment, Uber, and more.  In my opinion, it is definitely worth it.  See this post for more details about Amex Platinum cards and their benefits: Amex Platinum Complete Guide.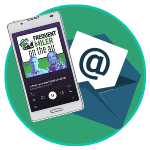 Want to learn more about miles and points?
Subscribe to email updates
 or check out 
our podcast
 on your favorite podcast platform.