The Platinum Card from American Express for Schwab has a unique super power that's often mentioned in passing by the FM Team: it makes it possible to convert your Membership Rewards points to cash at a rate of 1.1 cents per point.  Even if your Membership Rewards points were earned from other Amex cards, simply having the Schwab Platinum card unlocks this capability.  The name for this feature is "Invest with Rewards."
How to Use Amex/Schwab Invest with Rewards
Using the Invest with Rewards feature is simple: Log into your Amex account, click "invest with rewards", then follow the prompts.  In the end, the cash will be deposited into your Schwab brokerage account where you can invest or withdraw it.
1) Log into Amex and click "Invest with Rewards"
Log into your Amex account and select your Schwab card.  On the right, you should see a box showing your Membership Rewards points total.  Beneath that total, you should see a link labeled "Invest with Rewards".  Click it.
2) Enter you Schwab Platinum card info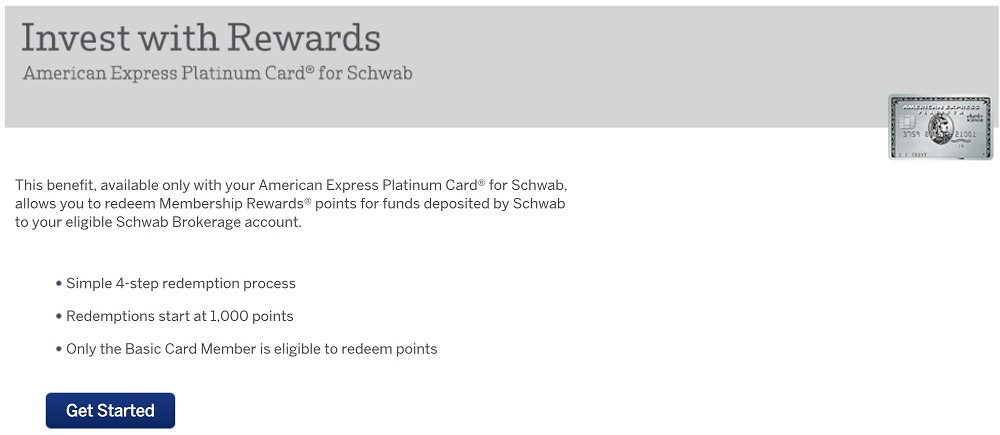 The next screen will invite you to get started.  The screen after that will ask for your Schwab credit card info: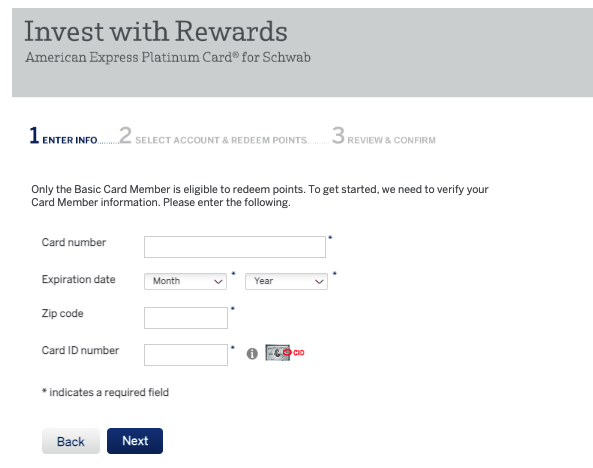 After entering that info, click "Next."
3) Pick your brokerage account and the number of points you want to convert
The "Select Brokerage Account" drop down should auto populate with any valid Schwab brokerage accounts you have. You will then be able to review all of your choices on the final page. If everything is correct, click "Redeem Now." Afterwards, you'll see something like this:
Your redemption has been received and is being processed. Thank you for redeeming your Membership Rewards® points through Invest with Rewards. You should expect to see a deposit from Schwab in your brokerage account in approximately 4-6 business days. If you do not receive your deposit within that time frame, please contact Charles Schwab at 1-866-385-1227.You will receive an email confirmation of your redemption request. In the meantime, please print this page for your records.
Although the notice states that it will take 4-6 business days, normally it's only a few minutes, even if you do the conversion outside of normal banking hours. Occasionally, there can be glitches that will stall the process or cause a delay, but that's fairly rare.
The redeemed points will appear as cash in your brokerage account. Then, you can either invest the funds or transfer them to an external account.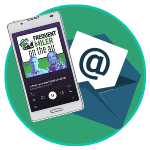 Want to learn more about miles and points?
Subscribe to email updates
 or check out 
our podcast
 on your favorite podcast platform.