Those of us who live in an area served by Shipt (a grocery delivery service) may be attracted to a widely available Amex Offer: Spend $100 or more, get $50 back. On the surface it appears that it's possible to get up to 50% off groceries this way.
I have the offer available on quite a few Amex cards. Between my wife and me, and a bunch of authorized user cards, we have 11 Amex cards with this offer. And by using the multi-tab trick I can easily add the offer to multiple cards that are registered to a single online account. So, it appears that until November 1 I can order up to $1100 worth of groceries and get $550 back as long as I order $100 at a time, and change my credit card each time. That's an incredible deal if true.
Gotcha #1: Membership Required
In order to order from Shipt, you must be a member. Standard membership fees are either $99 per year (with a free 2 week trial) or $14 per month.
Save with coupons or specials. Here are some options I know of:
Use a promo code like $25FREENOW or SAVE25 to get $15 off your first order and $10 off your second.
Get $10 off your first order by using a friend's referral link (here's my referral link). If you do, both you and your friend will get $10 in free groceries.
It may be possible to do both of the above (but I haven't tested it). You can use a friend's referral link and also add a promo code. I'm not at all sure they'll stack though!
Alternatively, keep an eye out for other deals. In order to test out this service, I hopped on a one day half off deal that I wrote about last week.
The best option may be to do the 15 day free trial. Then if you still have Amex Offers left to use after the free trial, change to the monthly plan and pay just one month. That should get you quite close to the Amex Offer's expiration date.
Gotcha #2: Higher Prices
In my area, Meijer is the only grocery store that Shipt supports. I visited my closest Meijer store and compared prices between the Shipt app and real life for 16 different items. In most cases, the Shipt app prices were 15% to 16% higher. A couple of items had lower markups: Meijer milk had just a 10% markup.  On the other hand, a 12 pack of Bell's Oberon beer cost 22% more via the app.
Gotcha #3: Optional Tip
After your items are delivered, you are asked to rate your shopper and then asked for an optional tip.
Of course, you don't have to tip, but the pressure is on once they present that screen. Strangely, the screen says that tipping is only available until October 13th, so maybe this will become a non-issue.  As readers have pointed out, where it says "Tipping Available Until October 13th" means that I have a month in which to give a tip for this order.
There is an advantage to the tip screen. In order to get your $50 back from Amex Offers, you have to spend a total of $100 or more with Shipt. If you end up coming in a little bit under, you can add tip to make up the difference. In this example, my order that came to $92, so I added an $8 tip in order to get to $100 so that my Amex Offer would be activated.
Theoretical Best Discount: 42%
Let's say you sign up for the 15 day free trial so that membership cost becomes irrelevant. In that case, you can maximize the Amex Offer by buying exactly $100 worth of groceries and tipping $0 (note: I'm not advocating that, this is just a theoretical exercise). That way, you'll get $50 back from your $100 spend.
If all of the items in your cart were marked by 15.5% by Shipt, then that means the in-store price for the same items would have been $100 / 1.155 = $86.58. So, by perfectly maximizing the Amex Offer, you would get $86.58 worth of groceries for $50. That's a 42% discount.
Realistic Discount: 34%
It's not easy to charge exactly $100 in groceries. Let's arbitrarily say that you're likely to go $5 over. And let's add in a $5 tip. And let's go with the same assumption of an average 15.5% markup.
In this case, you would be getting $91 worth of groceries ($105 / 1.155) for $60 ($110 – $50). That's a 34% discount.
Is it worth it?
34% off groceries is still a terrific deal.
I'll review my consumer experience with Shipt in a separate post. So far, it has been very good. If you need groceries or almost anything else available at a Shipt supported grocery store (note: gift cards are not an option — I tried), I do think it is worth signing up for the Amex Offer and giving Shipt a try. If you have the deal available on multiple Amex cards that are registered to the same online account, make sure to view the offer on each card in a separate browser tab before loading the offer to each card (otherwise the offer will disappear from the other cards). More here: Complete Guide to Amex Offers.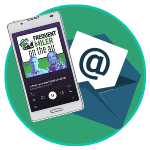 Want to learn more about miles and points?
Subscribe to email updates
 or check out 
our podcast
 on your favorite podcast platform.