Next week I'm off to New York City for a meet-up with some friends. And, thanks to airline miles and hotel points, my trip will be free! Well, not really. I do need to pay taxes and fees to redeem miles. And, I need transportation to and from each airport. And, I need to eat. And, it would be a shame to go to New York without doing some sightseeing. Yikes, this is starting to sound expensive!
To make things interesting, here's my self-imposed challenge: I will travel to New York City and back for $19 out of pocket per day. I plan to fly in on Tuesday, meet up with friends Wednesday evening, and return home on Thursday. So, I have a self-imposed, made-up budget of $19 X 3 = $57. Is this possible?
Rules of the game
This challenge would be too easy if I didn't first impose some rules for myself:
Travel and dine in comfort. This means no hitchhiking, no soup kitchens, and preferably no McDonalds or Burger King if I can help it.
Get good value from my points. It would be very easy for me to pay for anything and everything with my Sapphire Preferred or Ink Bold credit card and then use my Ultimate Rewards points to pay the ensuing credit card bill. That would only get me 1 cent per point value from my Ultimate Rewards points. That's no good! When I spend points, I must get value equal to or better than the Fair Trading Price.
Sightsee. I need to do something. I'm flexible here. Museums, walking tours, events, etc., all would count as far as I'm concerned.
No help from friends. To keep the game honest, other than the meet-up dinner that is already paid for, I won't accept meals or rides from friends (or strangers).
The beginnings of a plan (please help with suggestions!)
Here are my high-level plans so far:
Tuesday
Drive to airport and park off-site. I can park for $8 per day with a coupon. Due to my flight schedule, I think I'll be charged for three days, so this will take a big chunk of my budget: $24
Snack at airport lounge. I've never visited the North Terminal lounge (does one even exist?), but I'm hoping that my Amex Platinum card will get me in. $0
Fly American Airlines Detroit to LaGuardia. Using British Airways Avios I booked a flight for 9000 points + $5 in taxes. The best price Kayak could find for a nonstop flight to the New York City area was $852! So, I'm getting more than 9 cents per point value from my Avios! In case you're wondering, the best one-stop price was $268 (even at that comparison price, I get almost 3 cents per point value which is still very good).
From LaGuardia, I'll need transportation to my hotel. I could take a city bus and transfer to a subway, but I'm not sure how easy that would be. Instead I'm inclined to buy a round trip Express Bus ticket for $21. Ouch.
Dinner for free: I recently redeemed my OpenTable points for a $20 OpenTable check. This can be used to pay at any restaurant that accepts reservations through the OpenTable service. I also have $50 in restaurant.com vouchers that my wife got for free for signing up for a magazine. These vouchers usually require minimum spend greater than their face value (for example, sometimes your bill must come to at least $35 to use a $25 voucher). I'm hoping to find a restaurant where I can combine the OpenTable check with the Restaurant.com voucher in order to eat for free. I might even be able to invite a friend along! Anyone have recommendations for mid-town restaurants that are in both programs? Estimated out of pocket cost: $0
Free hotel: I haven't booked a hotel yet, but I have lots of points of many shapes and sizes. My goal will be to find a nice hotel in which I'll get breakfast for free either because it is automatically included, or thanks to my elite status (Marriott Platinum, Priority Club Platinum, Hyatt Platinum, Hilton Gold, SPG Gold, Club Carlson Gold). I'd like to get free internet as well, but I can always use the data plan on my phone if needed (I have it setup to act as a hotspot). Based on past experience, I think my best bets for ensuring free breakfast (and internet) are to go with Marriott or Hilton. Estimated out of pocket cost: $0
Wednesday
Eat breakfast at hotel. $0
Work in the morning in the hotel. $0
Lunch: I'll be perfectly happy with a cheap slice of pizza at a nearby pizza joint. I tend to drink water most of the time, so lunch should be cheap. Estimated cost: $5
Sightsee. Cost TBD
Dinner / Meetup. Already paid for.
Thursday
Breakfast at hotel: $0
Ride to airport: $0 (assuming I paid for a round trip ticket on Tuesday)
Snack at airport lounge: Again, I'm hoping that my Amex Platinum card will get me in to the AA lounge. $0
Tally
The known expenses listed above come to $55. That means that I would have only $2 left over for sightseeing, transportation within the city (I usually walk anyway), and unforeseen expenses (I can just see it now… "No, you may not carry my bag sir! I don't have money to give you a tip!"). In New York there are plenty of free sightseeing opportunities, so I'm not too worried about that, but $2 seems like too small of a margin.
Help!
My biggest expenses will be airport parking in Detroit, and airport transfers in New York. Do you know of better options? There is a bus that can take me to and from DTW, but once I include the cost of parking near the bus station the cost comes to $24 round-trip, so that doesn't help. And, as I said above, I believe I could take the city bus to and from LGA, but I'm a bit nervous about that since I've never done it before. Also, I'm not sure it would qualify for rule #1 (travel and dine in comfort). Any recommendations would be appreciated!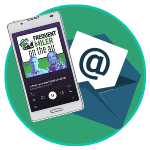 Want to learn more about miles and points?
Subscribe to email updates
 or check out 
our podcast
 on your favorite podcast platform.