In November I described my latest credit card churn in which I focused not on getting hundreds of thousands of points and miles, but on getting credit cards that can be used as tools towards earning points and cash back.  At the time, I said it would be my final big credit card churn.  The idea was that I would focus more on research for this blog than on collecting miles through credit card sign-ups.  Of course, I didn't know at that time that I would soon be planning a mad million mile challenge in which a big chunk of my earnings will necessarily be through credit card signups (see "A crazy million mile idea. Should I do it?" and "Million Mile Madness, it's on").  I also didn't mention that my wife might continue to churn credit cards…
Note: If you're not familiar with the idea of credit card churning, see "Churning 101" at the bottom of this post.
Planning
My wife doesn't like dealing with new credit cards so I do most of the work for her.  With her permission, I fill out the online applications and, where possible, I complete the minimum spend requirements.  What I won't do for her, though, is pretend to be her on the phone.  Reconsideration and card cancellation calls, when necessary, are up to her.  As a result, I try to avoid those situations like the plague… to keep her happy.
So, when planning this churn, I looked for cards where instant approval was likely and where either the card has no annual fee or the card's annual fee is worth the perks the card provides.  The one exception was that I luckily began the sign-ups Tuesday morning when a 100K Amex offer was still alive (see "Amazing Deal! Possible 100K Points Offer for Personal Platinum Card!")
I chose the following cards and applied in the following order:
American Express Platinum Card: 100K points after $3K spend
US Bank Club Carlson Premier Rewards Visa Signature: 85K points after $2500 spend
Barclaycard's US Airways Premier World MasterCard: 40K miles after first use
Chase Priority Club Visa: 80K points after $1K spend
Kohl's charge card: No signup bonus other than a worthless coupon (what?!!!  Yes, more on this below)
Amazingly, every single one of the above applications were approved instantly!  So, once we reach the minimum spend on these cards, my wife will earn 305,000 bonus points!
Now let me explain why I chose this set of cards…
American Express Platinum Card
On Monday evening, Travel-Summary posted this deal that had previously appeared on FlyerTalk, but was then taken down.  This was a trick that made it easy to get a targeted offer for the personal Amex Platinum card with 100,000 bonus points after $3K spend.  I was incredibly lucky that the deal was still available on Tuesday morning when I began the online applications (the deal died shortly afterwards).  Of course, I checked with my wife first to see if she would be OK with this one cancellation call a year from now.  The card has a $450 annual fee that is not waived the first year, but thanks to the $200 per calendar year airline fee reimbursement benefit and the $100 Global Entry application reimbursement, we will be able to get at least $500 value out of the card in the first year without counting the signup bonus!
Key benefits: 100K bonus points, airport lounge access, $200 per year airline fee credit, SPG gold status, rental car elite status, reimbursed Global Entry application.
Club Carlson Premier Rewards Visa
Note: The Bonus Award Night feature of this card was discontinued on June 1, 2015.
I've written about the new Club Carlson cards before (see "Club Carlson rocks our world… Again").  The best of these cards offer an 85K signup bonus and another 40K points each year to easily offset the annual fee.  This was a no-brainer for me.  No cancellation call would be required.  The only tough decision here was whether to go for the personal card with the $75 annual fee, or the business card with a $60 annual fee (yes, my wife has a real business).  Since they have nearly identical benefits it seems like the business card is clearly the way to go.  There are two reasons, though, that I picked the personal card: 1) I was worried that the business card would require a follow up phone call for approval; and 2) If my wife ends up using this card for day to day spend, it would be good to have the extra consumer protections that the personal card offers.  That being said, when I get around to getting a Club Carlson card for myself, I will surely go for the business card.
Key benefits: 85K bonus points, bonus award nights, gold status, 40K bonus points per year.
US Airways MasterCard
There are two different 40K signup offers for this card.  Both offer 40,000 miles after first use, but only one (this one) offers the first year free and a bonus of 10,000 miles every year upon account approval.  For my wife, the bonus 10K miles per year was the key.  I will gladly pay the $85 annual fee each year for 10,000 US Airways miles!
Key benefits: 40K bonus miles, preferred check-in and boarding, 1 US Airways Club pass, 5K discount off award tickets, $99 companion ticket, 10K bonus miles per year.
Priority Club Visa
Chase used to aggressively market this card with a widely targeted 80K signup bonus offer.  I haven't seen that in quite a while, but this FlyerTalk thread details how its still possible to get the offer.  I followed the suggested links, filled out the application, and received instant approval.  This is probably my favorite card to have and to hold, but not to use.  For a mere $49 annual fee, this card gives the cardholder a free night every year (starting with year 2) at any Priority Club property.  Keep in mind that Intercontinental Hotels are part of the Priority Club program.  In expensive cities, these hotels can run $800 or more per night.  Since my wife and I now both have the card, this means that we will be able to stay two nights per year in swanky hotels like these for a combined cost of $98 dollars.
Key benefits: 80K bonus points, annual free night certificate, Priority Club platinum status, 10% rebate on award redemptions
Kohl's charge card
As a general rule, I don't recommend signing up for store credit cards.  Each time you sign up for a credit card, the issuing bank runs a hard inquiry that shows up on your credit report which can temporarily reduce your credit score by a few points.  Because of this, it rarely makes sense to sign up for a card with a bonus worth less than $300 or so (different people set different targets).  The only signup bonus the Kohl's card offered was a 15% off coupon.  Since 15% and 20% off coupons are almost always readily available, this "bonus" is worthless.  So why did I bother?
Even though Kohl's tends to have fairly high prices, they are one of the most dependable stores that I have found for stacking multiple discount and point earning opportunities.  Unlike most other stores, when Kohl's coupons say you get X% off everything, they mean nearly everything including electronics and clearance items.  Plus, it is often possible to buy Kohl's gift cards at a heavy discount (but not through the aforementioned coupons).  Plus, Kohl's frequently offers "Kohl's bucks" for additional future savings.  And, finally, Kohl's has consistently offered 10 points per dollar through the Ultimate Rewards Mall for the past two years or so.  In my experience, all of these discounts and point earnings can be combined (except when using Kohl's bucks, but that's another story…).  In the end, these combined discounts usually add up to almost 50% in savings!
So back to the charge card.  While Kohl's regularly offers 20% off coupons to the general public, they often offer 30% off coupons for cardholders only.  I want in on that.  In future posts, I'll show in more detail how to turn this into a big points earning opportunity.
Key benefits: access to 30% off coupons
Summary
On my wife's behalf I signed her up for 5 credit cards.  Thanks to this, my wife will earn 305,000 bonus points, airport lounge access, elite status with multiple car rental agencies, SPG gold status, Priority Club Platinum status, Club Carlson gold status, extra bonus points and miles each year, a free Priority Club night per year, and larger discounts at Kohl's.  Not bad!
Churning 101
One of the best ways to accumulate points and miles quickly is through credit card sign-ups.  Many in the points & miles community have turned this art into a science:  every 91 days, pick 4 to 8 cards, apply for all in a single day, reap the rewards, and repeat.  People call this "credit card churning."  And, the process of applying for lots of cards in one day is referred to as an "app-o-rama."  For some reason I hate that term so I simply refer to it as a "churn". 
In general, I recommend that for each churn people choose one card from each major player: Chase, American Express, and Citibank; and throw in a card or two from the lesser players: Barclaycard, Bank of America, etc.  That's why I setup my "Best credit card offers" page with a separate table for each bank.  A number of the links on that page are my affiliate links for which I get paid for successful applications, but many are not. I try to list only the best offers available regardless of whether I get paid for them.
There are exceptions to the rule of applying for only one card at a time from each bank.  With each bank you could apply for both a personal and a business account at once.  And, with Citibank you can often get double the sign-up bonus in one churn by opening separate browsers and applying at roughly the same time for the same offer in both browsers.  This is usually referred to as the "two browser trick".  Most people do the two browser trick with Citi AA cards, but it is known to work with some other cards as well.  If you want to know if the trick works with a particular offer, your best bet is to search Flyertalk for a thread dedicated to that credit card.
Many worry that churning will hurt their credit scores.  And, it will, temporarily.  If you are responsible with your credit, though, churning can actually help improve your score.  For details about this, please subscribe to my weekly newsletter (it's free).  Note, though, that if you tend to run a balance on your credit cards or you're otherwise in financial distress, this technique is not for you.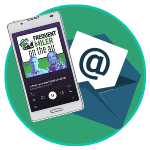 Want to learn more about miles and points?
Subscribe to email updates
 or check out 
our podcast
 on your favorite podcast platform.