MyGiftCardsPlus is currently offering cashback of 10%-20% on a wide variety of gift card brands. That includes some travel gift cards as they're giving 10% cashback on Delta and Airbnb, as well as DoorDash.
The Deal
MyGiftCardsPlus is offering higher cashback rates for a number of brands including 10% cashback for:
Direct link to other deals (see scrolling banner).
Key Terms
Delta & Airbnb – Limit $1,000 per brand per household
DoorDash – Limit $500 per household.
Quick Thoughts
Saving 10% on all these brands is a decent offer and might be preferable to the Airbnb and Delta deals at Best Buy seeing as those offers give Best Buy gift cards free rather than a discount/cashback.
In case you're not familiar with how MyGiftCardsPlus works, you pay full price for the gift cards, but then they pretty much immediately award cashback. In some ways that's even better than a discount because it means you're able to generate more spend. MyGiftCardsPlus is owned by Prodege which also owns Upromise, Swagbucks and more. You link one of those other accounts and the cashback gets sent there. Many people use Swagbucks seeing as they can be cashed out via PayPal, while I use Upromise as it automatically gets sent to my checking account – you don't have to use it to fund a 529 account.
MyGiftCardsPlus sometimes likes to verify your billing address. To do that, they send a postcard in the mail with a code on it. That can be a bit of a pain initially as it means you'll have to wait several days to receive that and so your order won't be fulfilled until that point. However, once you're verified then you should be good to go.
Something to consider when paying for flights with Delta gift cards or stays with Airbnb gift cards is that you could be forgoing travel protections. The 10% savings might be worth that to you, but it's something to consider. Paying for most of a booking with a gift card and the balance with a credit card could provide travel protections on the full amount – it depends on which card you pay with.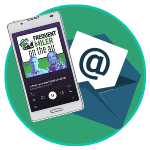 Want to learn more about miles and points?
Subscribe to email updates
 or check out 
our podcast
 on your favorite podcast platform.