Background: Necker Island is Sir Richard Branson's home and favorite hideaway situated in the British Virgin Islands, a stunning and unspoiled area of the Caribbean.  My wife and I are currently enjoying a 1 week vacation on Necker Island.  The usual price for a Celebration Week on the island is just north of $30,000.  Instead, we paid 1.2 million Virgin Atlantic miles.  For additional background, please see "Considering the 1.2 million mile Necker Island challenge," and "Days away from Necker Island."
* The island is normally hired exclusively for up to 34 guests sharing 17 bedrooms on an all- inclusive basis. Rates start from $78,000 per night ($2,294 per person per night). It can also be shared with others during Celebration Weeks; these are held several times each year and allow guests to book individual rooms as opposed to hiring the entire island. Prices for Celebration Weeks start from $30,000 for a 7 night stay.
On Saturday, we awoke at 4:30 am in an Orlando Airport hotel room where we had spent the night. Our 6 a.m. JetBlue flight to Puerto Rico was uneventful.  At the San Juan airport we were booked into a 2:30pm flight to Beef Island, but we managed to fly standby on an earlier flight instead.  Once we cleared immigration and customs at Beef Island, a van picked us up to drive us to the dock.  There, Necker Island staff were waiting with champagne and a speedboat to take the 12 guests who had arrived around the same time to the island.  Please checkout this video for more about our travels to Necker Island:
When we arrived at the island, several staff members and Richard Branson himself greeted us.  The 12 of us were shown to a nearby table for a magnificent lunch and a magnificent view.  Nearly everyone was giddy about being here.  My wife and I really enjoyed getting to know several of the other guests.  While I didn't get a picture of the lunch area, here's the view from the pool which is only steps away:
There are several different buildings containing Necker Island's guest rooms.  Ours was is the Great House.  There, we found that our room was very nice, and that the balcony and view were fantastic:
I was eager to get out to the water, so I headed out to nearby Turtle Beach where I was told that I could snorkel at any time.  Things didn't go exactly as planned.  The exciting snorkeling adventure story can be found in the following video.  Enjoy!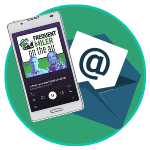 Want to learn more about miles and points?
Subscribe to email updates
 or check out 
our podcast
 on your favorite podcast platform.