Acorns is back with another referral promotion this month: get 5 friends to join and invest at least $5 and you'll get a piece of the $100,000 pie — this month, they are splitting $100,000 amongst everyone who successfully refers at least 5 people.
The Deal
Invite 5 friends to join Acorns who sign up and make their first investment by 3/31/18 and you will split $100,000 with everyone else who gets 5 friends to join
Key Terms
Friends must join between 3/1/18 and 3/31/18 and make their first investment of $5 or more
Referrals who close their account or make an investment that results in a chargeback before 4/15/18 will not qualify
Quick Thoughts
We've written about Acorns several times now. While there are micro investment options with lower fees, the consistent referral promotions that Acorns has been running have certainly made their platform interesting. There have also been a number of good Quick Deals lately taking advantage of Acorns Found Money (see below). How long can they keep up the big referral bonuses? I have no idea — but they have been running referral promos for quite some time now and the bonuses have posted. I think the constant promos make them worth consideration. You receive $5 for each friend who signs up (and the friend signing up also receives $5). If you refer 5 friends, you'll receive $25 plus your share of the hundred grand — which should mitigate the fees for quite a while barring a complete meltdown of the market. With previous promos, the referral promotion has been available in your account immediately upon signup. I can't say for sure that it will this time, but I expect it will (if someone signs up under this promo and can confirm this, let us know in the comments). You'd find your link by clicking "Invite Friends" when logged in.
I can report that I did receive the referral bonus from January in February and I was able to withdraw the money without a problem. It took 4 or 5 business days to post to my account as expected. I've since left a small investment to grow and will see how it goes for a while.
If you're interested in signing up, feel free to use one of our referral links with our thanks — you'll get $5 and so will we:
For more information on Acorns and to see some of the example deals that have sprouted in conjunction with Acorns lately, see:
Where to share your code
Our spam filter automatically blocks comments with a link. If you would like to share your referral link with others, head over to our Frequent Miler Insiders group and post your link in the comments on this deal as a reply to my first comment on the post (referral links not posted following this direction will be deleted). This helps us keep the thread open for discussion below the referral links replies and below this post here at Frequent Miler. Thanks!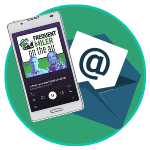 Want to learn more about miles and points?
Subscribe to email updates
 or check out 
our podcast
 on your favorite podcast platform.