Virgin Atlantic has long had a few great partner award sweet spots. Traditionally, the best of the bunch has been flying Delta business class to Europe for 50K one-way, Delta business class to Asia for 60K one-way, and ANA first class for 110K or 120K round trip from the US to Tokyo. The one small hang-up with Virgin Atlantic has been that they charge by the segment, so you only wanted to look for direct flights. However, Thrifty Traveler recently reported on a sweet spot we hadn't previously seen: now that Virgin Atlantic allows (at least some?) mixed-partner awards, you can fly to much of Western Europe for 58K miles one-way by connecting to Air France / KLM flights. It is also possible to connect onward to Africa for prices that are on the high end in terms of mileage but including much less in fees than if traveling only on Virgin Atlantic or Air France.
The Deal
Fly Delta to Europe (particularly to Paris or Amsterdam) and connect onward on flights under 600 miles within Europe for a total of 58K miles one-way via Virgin Atlantic
See examples below and this Thrifty Traveler post for more
Examples
Flying to Europe on Air France / KLM typically carries hundreds of dollars in fuel surcharges, whereas flying from the US to Europe on Delta typically only costs $5.60 in taxes on the way to Europe (and more on the way home). If you can find nonstop availability on Delta, you'll pay just 50K miles and $5.60 from the US to Europe. That much we've long known.
However, Thrifty Traveler has connected the dots on mixed-partner booking. The price remains very competitive if you connect in Europe on a short Air France / KLM flight. The sweet spot is Air France / KLM flights under 600 miles in distance as those will only add 8,000 miles off-peak or 9,000 miles during peak season.
For instance, you can fly from New York JFK to Paris or Amsterdam for 50K miles and $5.60 one way on Delta. However, if you really wanted to go to Bordeaux, you could fly Delta to Paris or Amsterdam and connect to Air France to end up in Bordeaux for 58K miles and $23.
That's certainly not a bad deal in order to be able to book the entire journey on one ticket and save a bundle in surcharges over flying Air France or KLM the whole way.
And it's not just destinations in France — within 600 miles of either Paris or Amsterdam, you could get to most cities in Germany or Switzerland as well as Vienna, Prague, Oslo, Barcelona, and more. On the flip side, if you really want to get to Paris or Amsterdam, you have a host of Delta destinations where you could connect to an Air France or KLM flight of less than 600 miles.
Unfortunately, the next distance band up adds significantly more mileage, so if you're looking at a distance just over 600 miles, you may be better off looking at a separate cash ticket (or keeping an eye out for Flying Blue promo awards within Europe).
I was intrigued to see if the ability to mix partners expands into other regions as well and to some extend it does. For example, I tried a number of destinations in Africa served by Air France. The monthly calendar to Djibouti only shows the "cheapest" price of 97,500 miles and $408 in surcharges. However, if you click on individual dates and find an option where Delta connects to Air France, you can save about $360 in surcharges for an additional 2,500 miles (see below: New York to Djibouti via Delta to Paris and Air France beyond for 100K miles and $45.10).
Paying 100K miles one way to Africa is not a cheap price, but paying just $45 in fees sure beats the alternative through Virgin Atlantic.
I tried searching destinations in the Middle East and Asia to see how they priced when beginning on Delta but had difficulty finding mixed-carrier options. It seemed that on journeys to the Middle East / Asia the search tool defaulted to options entirely on Virgin Atlantic or Air France (or mixed the two of them, which maintains high surcharges). Perhaps you can manually build a good connecting itinerary.
Looking through the list of partners, I couldn't readily see other opportunities for mixed-carrier redemptions that would make a lot of sense given the way other partner charts are set up, but it's possible that I missed something.
Still, this is a great find that makes for another solid option for getting to/from Europe. While most of Europe isn't accepting US tourists right now, this is a great tip to keep in mind for the future, particularly in light of the fact that Virgin Atlantic sometimes has access to many seats on a single Delta flight, making it easier to redeem for a whole family.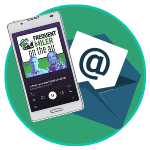 Want to learn more about miles and points?
Subscribe to email updates
 or check out 
our podcast
 on your favorite podcast platform.