I hate phone cases. My wife "Some people" think I'm crazy, but I just don't think it makes sense to buy a sleek, thin, beautifully designed electronic device only to hide it in a big bulky piece of plastic that costs eight bucks. But shortly after the finish line of the 2014 Chicago marathon, I dropped my phone on the pavement. No insurance, no case, no bueno. I now typically do use a case on my phones, but it's minimal. As a compromise, I've paid my monthly cell phone bill with a credit card that offers insurance for the past several years. As you can see above, I recently had the misfortune of smashing a phone (it slipped out of my pocket and face down onto the wood floor and my sleek case didn't quite cut it). The good (enough) news is that I successfully made a phone insurance claim with the Chase Ink Business Preferred Card. However, the process wasn't without a few near-mess-ups and my takeaway is less positive than you might expect given that my claim was paid. Here's my story – and why I'd do it all differently next time.
Credit card cell phone insurance basics
There are a number of credit cards (and even debit cards!) that offer cell phone insurance, but that insurance is not created equally. The cap per claim and the cost of deductibles really vary. It might seem obvious, but you need to consider which card meets your needs based on the type of phone you carry. I'll come back to that later.
Most cards require you to pay your monthly bill in full with the credit card providing coverage. You do not need to have purchased the phone itself with the credit card (in all cases of which I am aware) but rather pay the monthly service bill with it (and even then, the terms typically state that you have coverage from the day after you pay the bill through the end of the following month).
In my case, we have long paid our cell phone bill with my wife's Chase Ink Business Preferred card. That card only offers 3x points for our cell phone bill (my no-longer-available Ink Plus card earns 5x on wireless communication services, but the Ink Plus offers no insurance). We've sacrificed the extra 2x in earnings in order to know that our phones are covered if and when they break. Given that phones can be expensive, we didn't put much thought into this.
Near-mistake #1 was not paying attention to the details of how cell phone insurance works.
Were we eligible for Chase Ink Business Preferred Cell Phone Insurance?
While you can Google the phrase "Chase Ink Business Preferred Cell Phone Insurance" and get a number of different blog posts about the benefit, good luck finding the actual Chase guide to benefits. Chase used to maintain a site with the various guides, but now they basically say "refer to that paper copy we sent you four years ago". Thankfully, Dan's Deals has an actual PDF copy of the Guide to Benefits listed here.
Under the heading "Who is eligible for this protection?" (cell phone insurance), it says the following:
To be eligible for Cellular Telephone Protection, You must be a valid
Cardholder of an eligible U.S.-issued Chase card and charge Your
monthly cellular wireless telephone bills to Your eligible card.
That seemed reasonable enough…until I realized that while the Ink Business Preferred card account is in my wife's name, the cell phone bill is in my name. I suddenly wondered whether we would be eligible for coverage if the bill isn't deemed to be her bill. The line in question is a line we primarily use as a dedicated tethering hotspot; while I primarily use the device itself, the line is used mostly for high-speed Internet access (neither of us use the voice line).
Since my name was on the top of the monthly phone bill, I decided that it would make the most sense for her to add an employee card (AU) for me to make it clear that it is in fact our bill. I further made sure that the line in question had her name attached to it (this can easily be edited in your online account with T-Mobile and I imagine the same is true with other carriers).
I don't know that any of the above was actually necessary, but I thought that submitting cell phone carrier information entirely in my name with her card may not work for this benefit. That's something I hadn't considered before – in the future, I'd make sure that the card we rely on for cell phone coverage and the wireless phone bill are in the same name. I could certainly have envisioned the possibility of the claim getting denied when they saw a name that wasn't my wife's name at the top of the monthly cell phone bill.
In the end, they paid the claim – so I guess the answer here is that we were eligible even though the bill was in my name. That isn't clear to me one way or the other based on the terms, but it is clear enough since they paid it out.
How does Chase Ink Business Preferred cell phone coverage work?
Coverage for this benefit begins the day after you pay your bill and runs through the end of the following month. As I read the terms, you need to have paid the entire bill on your Ink Business Preferred card to get the benefit. Most months since May, I've been putting $20 each month on the Business Platinum card for the temporary $20 monthly wireless rebate, but in a stroke of luck (I'm not kidding) I had actually forgotten to do so for the bill paid before breaking the phone. My bill was paid in late September and I broke the phone just a few days after paying the bill.
In order to file a claim, you have to go to CardBenefitServices.com, where you will be prompted to log in or create a new account. Creating an account will require your email address and credit card number. After setting up an account, you go to "File a claim".
One small snag is that on the following page it asks for the date your most recent wireless phone service bill was paid. In my case, I paid the bill around September 20th and broke the phone around September 25th. I wanted to file the claim right away, but the system won't let you choose a date in the current month as the date the most recent bill was paid (in other words, when I initially went to file a claim in September, I could only choose a billing date as late as August even though my September bill had already been paid). Unfortunately, my August bill had been paid in part with the Business Platinum, so I definitely wanted to use the most recent bill (and indeed the way coverage is worded says that it is in effect starting the day after you pay your bill through the end of the following month, so I was good to go based on the Sept 20th bill being paid in full with the card). In order to select the September billing date, I had to wait until October 1st. Perhaps we could have filed right away over the phone, but we waited a couple of days and did it online.
From there, it is a pretty straightforward process of filling out information like when you purchased the phone, the make/model/IMEI number, etc. You also need to choose the amount you're claiming. In my case, I looked up the cost of the same phone model on Amazon and entered that in the box (it was high at that moment at $390 for the Google Pixel 3a – I'm sure the high price was in part because the model is no longer offered brand new directly from Google).
The rest of the process is pretty easy. The following are the documents I was initially required to upload (note that if I were claiming theft, I would also need a police report, which was an option to upload but obviously not necessary in this case).
I printed PDFs of my wireless telephone account and service provider billing statement. T-Mobile has a simplified bill and a detailed bill (the detailed bill includes the phone numbers you have called and texted with, etc). I just used the simplified form of the bill and that was fine. Associating my wife's name with the individual line ensured that it showed up with her name on our "Wireless Telephone Account" page (the line didn't previously have a name assigned to it since we just use it as a hotspot).
Note that one of the required documents is the credit card billing statement showing that the phone bill was paid in full with the Ink Business Preferred credit card. Again note that you do not need to have purchased the phone itself with the credit card but rather paid your monthly bill with the Chase Ink Business Preferred. The problem was that I wanted to submit the claim on October 1st and the credit card statement cut date wouldn't be for a couple more weeks. I didn't want to continue waiting, so I printed a PDF of the "recent activity" section of the online account that showed the T-Mobile bill being paid in September. That proved to be good enough as I was never asked for the actual statement.
However, as it turns out, I wasn't done. A week after submitting the above information, we received an email asking us to get a "device diagnostic" from an authorized service center.
In the claim center, it recommended that this be an estimate from the Genius Bar for Apple products or an authorized service center for other phone brands. I wasn't sure how strict they would be about this. For manufacturer "authorized" repairs, Google requires you ship the phone to them. I didn't want to do that. I figured that an estimate from any phone repair shop would probably do. I honestly didn't think the phone would be salvageable as it was pretty smashed — I had to handle it with a glove, which came away sparkling with glass fragments every time I touched the screen (I needed to get the phone serial number from the phone settings app for the claim).
However, the shop where I brought the phone told me that it could be repaired and gave me an estimate. Card Benefit Services offers a diagnostic sheet that can be filled out by the shop if the shop doesn't have its own form, but in this case, the shop had its own form.
Of course, the cost of the repair was less than $390, so Card Benefit Services automatically reduced the value of the claim to match the repair estimate. After I uploaded the estimate, a week passed with no word from Card Benefit Services. At that point, I reached out via email to inquire about the status. A couple days later, they responded to let me know that an adjuster was working on it and I should get resolution within about 5 business days. On the fifth business day from there, we got the email that the claim had been approved.
Choosing a payout method required logging in to a slightly different portal using a new username and PIN code they emailed. After verifying personal information, we could choose to be paid via bank transfer or to a debit card (or if no election is made within 48 hours, they will mail a check by default).
We chose bank transfer and entered routing and account information. That process was very simple. My wife dropped off the phone to be fixed the same day we received official word that the claim was approved.
They never asked for the original purchase price of the phone. The terms of the benefit state that you will receive no more than the purchase price less your $100 deductible as recorded on your submitted receipt, but they never asked for the receipt for phone purchase. Maybe that would come into play in other cases. We had gotten a pretty terrific deal on the phone itself (Amazon had the phone bundled with a $100 Amazon gift card for $349 and at the time we used one Membership Rewards point to save $50 more, bringing total cost for the phone and a $100 Amazon gift card down to $299.99 plus $14 in tax). The receipt from Amazon actually showed the phone price as $199.99 and the gift card price as $100, so I was concerned that we may run into an issue there if asked for the phone receipt. I was thankful that we weren't.
Why this didn't feel like a win even though the claim was approved
As noted above, the Chase Ink Business Preferred offers cell phone insurance up to $600 per claim with a $100 deductible. In hindsight, that kind of coverage just doesn't make much sense for most people today.
In my household, we have one expensive phone (my wife's Pixel 3 XL was $999.99 brand new, though it came with $1K in travel gift cards) and one cheap phone (this Pixel 3a) and had recently added a third phone that was also cheap (half price on a promo, so $349.99 after bill credits). With the Ink Business Preferred's insurance, in the event of a total loss of the phone, we just can't really "win".
If the Pixel 3 XL was stolen (the phone that was originally $999.99), we would get reimbursed much less than the original or replacement cost of the 3 XL (imagining "replacement" meaning with the current equivalent "~thousand dollar" model) because of the $600 cap (really $500 after deductible).
Because we got a great deal on the Pixel 3a, getting reimbursed for the purchase price minus $100 wouldn't leave us with enough to get a comparable replacement. If that phone had been stolen and they used the price shown on my Amazon receipt ($199.99), we'd only get $100 after the deductible – not nearly enough to replace the phone with anything comparable (the current comparable model, the Pixel 4a, is $349.99). I understand that this is how insurance works, but in this case the issue is that the deductible makes up 50% of the original cost of my phone. That makes for a pretty bad deal in terms of an insurance payout.
If you happen to have a phone with a value right around the $600 mark, you're probably OK here. Getting $500 to replace a phone that cost you $600 will probably enable you to get something pretty comparable even if not the same exact model (or you could presumably get the same model and have the insurance claim will have reimbursed 83% of the cost). In my case, because I'd gotten a slammin' deal on the phone, the claim wouldn't be paying anywhere near 83% of my cost to replace the phone.
All of that aside for the moment, the far more common issue most of us will face that requires cell phone insurance coverage is exactly the issue in this post: a broken screen. These days, broken screens are pretty cheap to fix. It'll depend a bit on your phone model and whether the repair shop stocks it or needs to order it (in my case the cost of overnighting the parts that the shop did not have on hand made the screen repair a bit more expensive), but many screens can be fixed for about $150. After the $100 deductible, you're looking at getting about a third of the cost to fix it from the insurance benefit.
Again, that's how insurance works — but this illustrates what a bad deal cell phone insurance with a $100 deductible is nowadays. Paying $100 out of pocket (of the $150 total cost) to fix your screen doesn't really feel like having useful insurance. At least, if I were paying for insurance that is only going to cover 33% of the cost of my most likely claim, I wouldn't want to pay much for it.
And yet I am paying for it. As noted near the beginning, the Chase Ink Business Preferred only offers 3x on wireless phone service. My old Ink Plus offers 5x but has no insurance. The total monthly bill is $275 (which includes home Internet service, another line, and some add-ons). I'm giving up 550 Ultimate Rewards points each month by using the Ink Business Preferred. That's 6,600 Ultimate Rewards points per year which would be worth $99 worth of groceries right now. I'm essentially paying the deductible's worth of points every year for this insurance. This is my first claim after years of giving up 5x, so I've essentially paid more than the cost of my phone in the form of Ultimate Rewards points. In hindsight, that feels kind of dumb.
Bottom line
We made a successful cell phone insurance claim with the Chase Ink Business Preferred card. That claim was successful even though the card is in my wife's name and the bill is in my name, which was a relief. However, it didn't feel like much of a win: given that screen repair just isn't that expensive these days, the $100 deductible on the Ink Business Preferred means that insurance is only likely to cover about a third of your repair cost if you break your phone. In a case of theft, I feel like you have to have a phone with a sweet spot value of almost exactly $600 for the insurance to be worthwhile. If you typically buy much cheaper phones, the deductible will be a significant portion of your replacement cost. If you typically by top-end flagship phones (which are often $800-$1,000 or more at present), the Ink Business Preferred's insurance may only cover half the value of the phone. In my opinion, the Chase Ink Business Preferred's cell phone insurance really only makes sense for those who intend to carry mid-market phones and really only those whose primary concern is theft. If you expect it is more likely that you'll smash the screen like I did, I think you would be better off either paying the bill with a card that earns a better rate of return and self-insuring or using a card that offers a lower deductible (most World and World Elite Mastercards only have a $50 deductible and a couple of the Wells Fargo cards have a $25 deductible). Any way you slice it, I am no longer much of a fan of the Chase Ink Business Preferred cell phone insurance. That shouldn't really be news to me – had I fully run the numbers sooner, I'd have realized this sooner. But as is often the case, I didn't need to run the numbers until I needed to make a claim — and now that I have, I'll not be using the Ink Business Preferred in the future.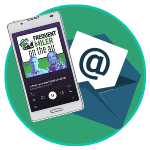 Want to learn more about miles and points?
Subscribe to email updates
 or check out 
our podcast
 on your favorite podcast platform.