There's a really nice deal out for both new and previous Upside customers: through Acorns, everyone can earn $100 back in "found money" on a $600 travel booking through Upside. New customers may even be able to stack that with the current referral promotion to get another $100 back in gift cards on that $600+ booking. Either way, you could stack at least an extra $100 back on the deal we posted a little while ago for JetBlue Mint Class (See: Book Quickly: BOS-SFO In Lie-Flat Beds For $797 RT / $399 OW) or any other trip that comes to at least $600 before taxes.
How to do it
Acorns Found Money
We've written previously about micro-investing app Acorns because of their recent generous referral promotions. For example, in addition to the $5 bonus for each friend who refer, you can earn a monster $1,000 bonus if you get 12 friends to sign up by the end of this month (See: Another $1,060 bonus: invite 12 friends). If you're new to Acorns, feel free to sign up with my link with my thanks. If you have a link to share, head over to our Frequent Miler Insiders group to share it.
Acorns allows you to invest in a number of ways:
ACH transfer from your bank account ($5 minimum)
"Round ups", where you link a credit or debit card and Acorns "rounds up" to the nearest dollar by pulling the "change" from your linked bank account (i.e. You spend $5.72 on a coffee at Starbucks and Acorns pulls "the change" ($0.28) from your bank account to invest it)
Found Money: This is a mix of shopping portal and linked card offers like through programs like Dining Rewards Network and Shell Fuel Rewards, where you spend at a partner merchant with a linked credit or debit card and automatically trigger a bonus.
The "Found Money" category features an interesting opportunity with Upside: get $100 invested in your Acorns account with a trip booking of $600 or more. That will certainly stack on top of whatever gift cards Upside offers on your booking even if you're a current Upside user, which is a great deal.
The interesting thing is that the terms on the Acorns end do not exclude previous users nor do they exclude the use of promo codes — meaning that everyone should qualify for at least that $100 back; new users might be able to use a referral code for Upside and get an additional $100 in gift cards back when they book their first trip.
The full terms and conditions of the Acorns/Upside "found money" do not exclude previous customers nor do they mention any exclusion regarding use of a promo code. I'm not positive they stack, but I don't see an exclusion on Acorns' end. The terms state that you must click through the Acorns link and check out with your valid credit or debit card that is linked to your Acorns account.
To participate in Found Money promotions, you must have an Acorns account in good standing.

Partner:  Upside Business Travel

Contribution:  $100 for each eligible transaction that has been that has been completed with Partner.

Eligible Transaction:  Any purchase from Partner made by clicking the Partner link in the Acorns app and immediately completing the transaction using a valid credit or debit card that is properly linked to your Acorns account.

Limitations:  This promotion is only valid for purchases of more than $600 with Partner. You are only eligible for one (1) contribution with respect to this promotion.

Promotion Period:  You must successfully complete the eligible transaction between midnight (Pacific Time) on February 1, 2018 and midnight (Pacific Time) on April 30, 2018.  Acorns may, from time to time at its sole discretion, extend, shorten, or otherwise modify such time period by posting changes at its website or within the Acorns app.

Notification and Posting:  You will typically be notified within 72 hours of successfully completing an eligible transaction, and contributions to your Acorns account will typically be posted within 120 days thereafter

Acorns is not a party to and makes no warranties regarding any purchase from or transaction with the Partner, and as such shall not be liable in connection with any dispute, faulty or defective merchandise or other issues that may arise in connection with any such purchase or transaction.  While it is intended that contributions to your Acorns account be completed within 120 days from the last date on which any item included within an eligible transaction is able to be returned to the Partner in accordance with the Partner's standard return policy, delays may occur and neither Acorns nor the Partner will be liable in connection with any such delay.  You will be notified via e-mail, through the Acorns mobile application or via other means within 72 hours of successfully completing an eligible transaction included within this promotion, however Acorns will not be liable in the event any such notice is not timely sent or received.  Eligibility to participate in certain promotions may require the allowance of cookies on the applicable mobile or desktop device, and may also require other device settings as determined by Acorns from time to time.

To the extent an Acorns customer believes that they are entitled to a reward that has not been contributed to such customer's Acorns account, such customer must notify Acorns within 60 days from the applicable transaction date by either sending an email to support@acorns.com or completing and submitting a support request at https://www.acorns.com/support/contact.  Acorns will, upon timely receipt of any such notice, investigate such support request, and Acorns' decision in respect of such matter shall be final and binding.

Acorns shall be entitled to terminate or cancel all or any portion of this or any other promotion at any time by either providing email notice to its customers or posting such cancellation or termination notice at its website or within its mobile application.

Advisory services are offered by Acorns Advisers, LLC, an SEC-registered investment advisor. Brokerage services are provided to clients of Acorns Advisers by Acorns Securities, LLC, an SEC-registered broker-dealer and member FINRA/SIPC. Investments are not FDIC insured. Investing involves risk and investments may lose value. Please consider your objectives and Acorns Advisers' fees before investing. Past performance is not a guarantee of future results. "Acorns", the Acorns logo, "Invest the Change" and "Found Money" are registered trademarks of Acorns Grow, Inc. Copyright © 2017 Acorns and/or its affiliates.
Upside explained
Upside is a website focused on attracting and incentivizing business travelers. Their basic business model is to persuade you to book a hotel and flight package by offering gift cards for choosing their preferred operators/hotels. Here's the idea: Let's say that Joe Business from Phoenix has a conference to attend in Chicago. Let's say the conference is at the Big Downtown Chicago Marriott. Joe can go on Upside.com and book the exact flights he wants and book his stay at the Big Downtown Chicago Marriott. Alternatively, they will offer to book Joe at a hotel that's five or ten minutes away for a cheaper rate, meanwhile offering Joe a gift card worth $10, $20, $50, or more to persuade him to book the less convenient hotel. Presumably, Upside earns more commission for this cheaper hotel and is sharing some of that with Joe. In the end, Upside wins (earning more commission than from the Big Marriott), Joe wins because he gets a gift card for his troubles, and arguably Joe's company wins since he expenses a cheaper hotel than he would have had he just booked the Marriott as per his original plan. Some argue the ethics of Joe taking what is essentially his company's money in the form of gift cards, though I'll leave ethics to the lawyers.
Notably, I find that the prices of flights on Upside usually align exactly with what I see on Google Flights. You can't book all carriers via Upside and some fares are bulk/consolidator fares. That can be good or bad (See: Bet You Didn't Know: Is Chase Using Bulk Fares for Sapphire Reserve Tickets? Does It Matter? (Hint: Yes!) for more on why it can be good or bad).
Last year, I took a trip on American Airlines that I booked through Upside. As the partnership with Alaska was still in full effect at that time, I was able to take advantage of my Alaska MVP Gold benefits for priority boarding and main cabin extra seating and I earned miles as expected with Alaska. Further, an Upside rep reached out shortly after booking to let me know that they saw I selected seats and to let me know about some events happening at my destination during my trip. I have been very impressed with Upside's customer service on more than one occasion.
---
Upside referral: A possible stack for $200 back
There is a current referral promotion with Upside. New users can apply a referral code and receive $100 in gift cards after booking a trip of $600 or more (pre-tax price). You can mix and match gift cards and available denominations vary from $5 to $500. There is quite a range of cards to chose from:
If you're new to Upside, feel free to use my referral code with my thanks — it is V1NZP7. When you go to Upside.com, click "promo code" in the top bar and you can enter the code. After applying the code, it should show that you will earn $100 in gift cards as seen here:
Note that it does say "Promo code cannot be combined with any other offer". That may mean that it won't stack with Acorns. However, as Acorns is linked to your credit card purchase in this case, I think it's at least possible that it would stack for new users. Clicking through the link from Acorns does not fill in an Acorns referral code. If you try to stack the two by clicking through the Acorns link, applying the referral promo code, and checking out with an Acorns-linked credit or debit card, I think the worst that will happen is that you'll get one or the other.
An example use that makes a great deal even better
As we posted earlier, JetBlue is currently offering round trip fares in their Mint business class between Boston and San Francisco for $797 round trip (See: Book Quickly: BOS-SFO In Lie-Flat Beds For $797 RT / $399 OW). You can find that price on Google Flights as shown below:
Upside has those flights for exactly the same price:
Stacking that deal with at least $100 back in either your Acorns account or gift cards, a fantastic deal becomes even better — Mint class for a net $700 round trip is awesome. It's even better that it seems that deal is open to anyone with an Acorns account. If you can actually stack both promos and have your net cost somewhere around $600 (depending on how you value the gift cards), all the better.
Where to share your referrals
If you have referral links to share for either Upside or Acorns, head over to our Frequent Miler Insiders group and find the relevant threads for each with the search box (be sure to read the directions there for posting your link). Comments here on the blog with links get caught up in our spam filter and will not post, so head to the Facebook group to share your links. This helps us keep the comments area here open for discussion of the deal. Thanks for your cooperation!
Bottom line
The Acorns "found money" deal is awesome for previous Upside customers, as that type of bonus is usually only open to new users. The fact that the Acorns terms don't state anywhere that you need to be a new user (and that it's a credit card-linked offer instead of a promo code-linked offer) leads me to believe it should be open to anyone. The referral promo may not stack — but if it does, it could make for a really nice deal if you have a booking of $600 or more on the docket.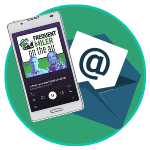 Want to learn more about miles and points?
Subscribe to email updates
 or check out 
our podcast
 on your favorite podcast platform.