Update: 6/15/22: A few months ago GetUpside changed its name to Upside.
Update 5/20/20: Upside has changed its referral program, although it's not clear if this is a temporary change or permanent.
In the past you received 15c off per gallon when referring a new member which was good on up to 50 gallons per fill-up. They're now offering $3 for each new referral, with the person you refer also earning $3.
Whether or not this offer is better for you depends on the size of your gas tank. If your tank is smaller than 20 gallons, this offer is better. If you can fill up with more than 20 gallons though, this offer isn't as good.
Having said that, a lot of us are driving a lot less at the moment so even if you have a large gas tank, you might not have been able to max out the old referral offer.
If you're considering signing up for Upside, I'd appreciate you using my referral link. As mentioned above, we'll both earn $3.
Update: 4/12/20: Upside has increased the value of offers, so in most locations right now you can save at least 10c per gallon – see the end of the post for details.
Update 1/12/20: You no longer need to upload receipts from some gas stations – more about this towards the end.
Update 9/20/19: Another 1,200+ gas stations have been added in Georgia, Texas and elsewhere around the country.
Update 7/2/19: Another 1,000+ gas stations across the Midwest have been added to the app – see the end of the post for more details.
~
The Upside app has recently added more than 2,000 BP gas stations nationwide at which you can save on fuel. That means it's now available in even more cities and states nationwide, including Atlanta, Chicago and Michigan.
I first heard about Upside (not to be confused with this Upside) back in January when Doctor of Credit updated their post about the app and shared that it was available in even more states. Now that we're driving 25-30,000 miles a year, I'll take fuel savings wherever I can get them, so I downloaded the app to check it out. We were in Kansas at the time which didn't have any participating gas stations back then. We're currently in Virginia which has several participating gas stations, but I've since been using up Kroger fuel points for $1 off per gallon, so still haven't had an opportunity to save with Upside.
I've checked out the app a few times though to see how it works. When opening the app, it'll search near you for participating gas stations and will list their prices:
As you'll see above, I could get 29c per gallon cash back at a local Shell station. Note though that 20c of that appears to be a bonus, presumably a new user bonus seeing as I haven't saved with the app yet. As you can see from that image, savings near me currently range from 1c per gallon up to 10c per gallon.
Before filling up, you have to tap the 'Claim' button for the gas station you'll be using and you have to fill up within four hours of doing that. Afterwards, be sure to get a receipt as you have to upload it in order to get your savings/rewards.
For those of you that have vehicle(s) with large tanks, one of the benefits of Upside is that the cash back you earn is good on up to 50 gallons of fuel. Many fuel point/discount schemes limit you to 20-30 gallons per fill up, so in theory 50 gallons is better. That said, you can often get larger per-gallon savings with other fuel reward schemes, so your mileage may vary quite literally. For example, you'd save more by getting 60c off per gallon on 25 gallons with another scheme than 29c off per gallon on 50 gallons with Upside.
Now that Upside has added more than 2,000 BP gas stations nationwide, it's available in more cities and states than before. Here are some examples given by Upside:
Savings from Upside can be stacked with other deals to save even more. For example, Discover is offering 5% cash back at gas stations this quarter, plus you can earn United miles at BP when connecting your MileagePlus account. (n.b. That deal is marked as expired, but that's only for the additional bonus. You can still earn a 200 mile bonus when signing up and 1-3 miles per gallon when filling up.) (Edit 1: As per Vaibhav's comment below, the United/BP partnership is ending on September 30, 2019.) (Edit 2: When this post was originally written, Discover was offering 5% cashback. That quarter has now ended, but Chase is offering 5% on the Freedom card from Jul-Sep, 2019.)
Some grocery store fuel schemes partner with larger gas stations like Shell and BP (e.g. Kroger and Harris Teeter) so that you can use your fuel points there. While those savings stack with Upside, they do reduce the cash back you earn from Upside to some extent. Their FAQs state that's done to keep the gas stations on board so that they don't withdraw from the app, but it's not clear quite how much of the cash back is forfeited.
It's often possible to pick up BP and Shell gift cards for 10-20% off with Amex Offers, Happy gift card deals, etc., so I'd been hoping that would also stack with Upside. That's sadly not the case though – only credit and debit card transactions are included.
It's therefore important to look at all your fuel saving opportunities to work out what your best deal will be. Seeing as we move somewhere new every week, I'll be keeping Upside on my phone as I'm sure there'll be times where the cash back I'd earn with the app would be greater than the savings I could make through other avenues.
One thing to bear in mind when evaluating your savings is that there's a $1 fee if you cash out via PayPal for under $15. If you use Upside somewhat regularly, it shouldn't be too hard to reach the $15 threshold, but it's worth considering.
For example, let's say your car takes 20 gallons each time you fill up and that Upside saves you 5c per gallon each time. It could be more or less than 5c, but that seems like a reasonable estimate based on the 1-9c savings currently available near me. You'd save 20c on your first fill up (15c bonus (see referral below) + 5c standard) which comes to $4. You'd then only need to fill up another 11 times with 5c per gallon savings in order to reach the $15 payment threshold.
If you're new to Upside, you can get an extra 15c off per gallon when signing up using my referral link. I'll also earn 15c off per gallon after you use the app.
Update 7/2/19 – More Stations Added & My Experience Using The App
Upside has added more than 1,000 gas stations across the Midwest. St Louis, Kansas City, Indianapolis and Detroit are now well-represented within the app, while it's also available in other areas throughout the Midwest.
Since I wrote the above post about Upside, I've finally gotten a chance to use it to save on gas. The process was straightforward and the cashback was credited to my account very quickly.
As mentioned earlier, the first step was claiming the offer in the app. Our gas light had come on and our route was taking us directly past a participating Citgo. I claimed the offer and immediately received an email advising what to do next.
After filling up, I made sure I got the receipt from the pump and took a photo of it within the app. As when claiming the offer, I instantly received an email to confirm the receipt had been received.
That email advised that processing the receipt would take anything from 4-24 hours. It didn't even take that long, as 3.5 hours later they sent an email confirming the cashback was credited to my account.
One of the nice features of Upside that I hadn't appreciated before is that you receive cashback after filling up, rather than it giving you an instant discount like most fuel reward schemes do. That means if you pay with a credit card that earns more at gas stations, you'll earn bonus points on the full gas cost, rather than on a discounted amount.
That's especially helpful right now seeing as gas stations are one of the 5% categories on the Chase Freedom card from July-September 2019 January-March 2020.
Update 1/12/20 – No Receipts Needed At Some Gas Stations
Depending on where you fill up, Upside has improved the experience at some gas stations as you no longer need to upload a copy of your gas receipt. Eligible gas stations can be identified by a blue lightning bolt badge next to them.
Instead of uploading a receipt, you just have to claim the offer and pay with a card that's linked to the app. I'd never actively added any cards to the app, but had four saved in there which appeared to be cards I'd used when submitting receipts in the past. You'll therefore need to ensure whatever card(s) you want to pay with at gas stations with the blue lightning badge are already linked in the app before paying.
Update 4/12/20 – Cashback Offers Increased To 10c+ Per Gallon
Upside has stated that they've invested $6 million to boost offers around the country as a thank you to essential workers, although this is available to anyone using the app. They state that in most locations you'll be able to earn at least 10c per gallon. That's obviously regional, but I'm in Albuquerque at the moment and there are many offers for cashback of 15c per gallon.
It's worth looking for the lowest overall price though rather than the largest discount. For example, at the top of the map below, there's a P66 which is only offering 9c back per gallon, but you'd only be paying $1.26 per gallon after the cashback. Other gas stations are offering 15c per gallon cashback, but charging as much as $1.78 per gallon. (n.b. it seems weird typing "as much as $1.78 per gallon" considering how much more expensive gas has been in recent years.)
In some cases you could be earning more than 10% cashback which is very good. If you have a Kroger store near you (or one of their affiliate stores like Fry's, Smith's, Ralphs, etc.), they have a 4x fuel points digital coupon valid until April 15 which can save you up to 14% on gas when buying gift cards, so that might be a better option than GerUpside. Otherwise, the Discover It card is offering 5% cashback this quarter at gas stations (April-June 2020).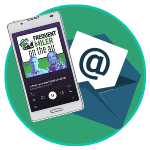 Want to learn more about miles and points?
Subscribe to email updates
 or check out 
our podcast
 on your favorite podcast platform.