Note: Even though this is an April Fools post, the title is true.  Tim is now full time at Frequent Miler!
You'll be seeing a lot more of Tim now.  That's partly because I put a bunch of pictures of him into this post, but mostly because today Tim transitions from part time to full time at Frequent Miler.  And he's already goofing off: he doesn't work weekends.  Sigh.
The unideal candidate
In late 2021, I announced we were looking for someone to work 20 to 40 hours per week.  We received many fantastic applications and eventually winnowed the list to four terrific candidates: two men and two women.  I really wanted to add another woman to the team, so I loved our chances at 50/50.  But the team agreed that, despite being gender-challenged, Tim was the best fit and so I made him an offer.
The scammer
Tim asked if he could start out at 10 hours per week and ramp up to 25 "within a few months".  That turned out to be a bit of a scam: Until now, Tim never actually increased his time beyond 15 hours per week.  But that's OK, exploiting loopholes is practically in his job description (note to self: add that to his job description).
Job performance
Tim has proven to be an awesome addition to the Frequent Miler team.  He looks great in photoshopped team meetings like the one above, and he writes some good stuff too.
Tim isn't perfect, though.  As you can see above, he has a nasty habit of reminding me of how short I am.  I'm hoping that Tim's extra time at the grindstone as a full time employee will shorten him eventually.  We do have precedence for this.  Nick was nearly 7 feet tall before working at Frequent Miler.
First full time assignment
Tim and his wife's honeymoon featured a car accident, and a speeding ticket in every country they visited.  So, Tim is ideally suited for his first assignment: crash rental cars around the world to test out credit card protections.  The first rule of Crash Club, Tim: don't hurt anyone.
To-date, Tim has become privy only to a small part of what goes on behind the scenes at Frequent Miler.  If all goes well with Tim's car crashing assignment (what could go wrong?), he'll be invited to Frequent Miler's inner sanctum where he'll be subject to enjoy rigorous training.  When he's ready, we'll unleash Agent Tim upon the world.  His mission: find covert travel deals and stamp out devaluations.
Welcome to full time Tim!
P.S. If you're wondering whether this post was an April Fools joke… Ummm…  Sort of?  Tim really is starting full time as of today, but I may have taken a few artistic liberties with some of the other details in this post.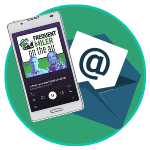 Want to learn more about miles and points?
Subscribe to email updates
 or check out 
our podcast
 on your favorite podcast platform.